Case study: Crisis negotiation platform puts more power in police's hands
First-arriving officers can get things rolling, and specialized teams can communicate with subjects more easily
---
Sponsored by LETS Corp.
By John Erich, Police1 BrandFocus Staff
The problem: Suboptimal options for dealing with barricaded subjects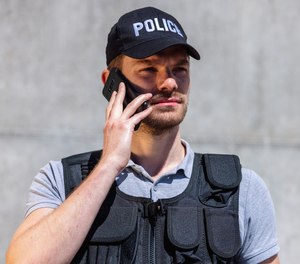 Barricaded subjects can be frustrating for police for several reasons. For one, officers are typically unable to put eyes on such situations and often unable to communicate with those behind them – be they violent criminals or just individuals in crisis.
Unless they can establish some kind of communication link, police have little ability to impact the individual's state of mind and little chance to talk them into a peaceful resolution. And their force options are often limited as well. These factors all contribute to scenes that are inherently dynamic, stressful and unpredictable. 
One historic solution to the problem of dialoguing with such individuals has been throw phones. When situations permit, tactical teams may create a hole in the barricaded structure and toss a phone in a special case inside. If the subject picks the phone up, this allows negotiators to talk to them.
This method has some drawbacks, however. Historically teams have used corded phones for this purpose. That both limited how far negotiators could be from their subject and, for violent types and others who might disrupt a scene, provided an unwelcome visual clue about where police were staged: the cord leading back to them. Such phones also aren't typically carried, which means if one's needed, someone must retrieve one and bring it to the scene – a lengthy process in such tense situations.
"For an agency like ours, agents are spread out throughout the state, so we don't necessarily respond to an office, nor do we have vehicles that carry all our negotiation equipment," said Lauren Powell, a special agent with the North Carolina State Bureau of Investigation (SBI) who's been part of its negotiation teams since 2011 and became a team leader in 2021. "We would have to have an agent drive out of their way to go pick up this big, bulky equipment in a vehicle and take it to the scene. That took extra time and was just not functional. And as heavy as the equipment was, it could be logistically hard for some agents to get it in their vehicles."
Cell phones represent an improvement in many ways: There's no cord leading back to officers' location, and recipients may be more likely to pick up a simple cell phone than a wired older model in a big, suspicious box. But they bring new problems too, one of which is allowing contact with outside parties that might inflame a situation.
In the old days, landline phone service and power to a barricade scene could be cut, leaving the throw phone as the subject's only communication outlet. Regular cell phones can't be similarly constrained. They let subjects talk to family, associates and others who might not be helpful to the goal of de-escalation.
When Powell became a team leader with SBI, she wanted a better answer.
"I saw a need for some updated equipment, rather than the bulky boxes and large coils and the whole setup, to keep up with the times," she said. "Most suspects don't want to take large boxes. They'd rather use a cell phone, and our younger people understand the cell phone and how it works. So the first focus I had was to research new equipment and find a solution with more functionality for our team."
The solution: Powerful software and an optional throw phone
The answer Powell found, the Respond platform from LETS Corp., isn't really about a phone, although it can come with one. It's really about innovative software that provides police teams greater control over the negotiation process.
The Respond platform serves four primary purposes:
It lets negotiators record and deliver voice and text messages to subjects, including third-party statements, from police users' phones and computers to any phone used by the recipient; and lets multiple team members listen to negotiations and communicate among themselves without the suspect hearing.
An optional throw phone comes with LETS Corp.'s Lockdown app, which limits it to talking and texting with negotiators.
It provides remote access to and control of throw phones once deployed, including microphone and camera control to gain insight into the scene.
It requires no special hardware, making it cost-effective and easy to implement and use.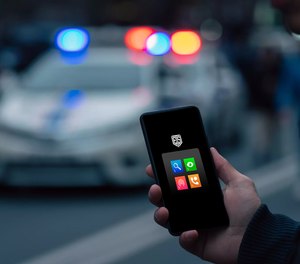 Given the limitations of old corded phones, that last item is especially important. Respond communications need not even wait for a negotiator to get started: Any officer with the app on their phone can call a subject and initiate contact, then just turn control over to specialized colleagues once they arrive or even before.
The ability to record and play third-party statements for subjects is a novel new advance. This allows teams to relay helpful messages from loved ones to those in crisis, rather than allowing conversations they can't control. Those can be recorded live on scenes, if such individuals are present, or via call if they're not.
"That's typically people like spouses, family members and friends. It lets us get a voice in there who can help calm things down," said LETS Corp. Chief Technology Officer Ben Fitzgerald. "We can bring those people in live on the call, but a canned, prerecorded message is something officers have a lot more control over."
Other key attributes of LETS Respond include the rewinding of calls to review the last 30 seconds and allowing a coach or secondary negotiator to talk to the main negotiator without the suspect's knowledge. The platform's throw phone is built to military specifications for durability and comes with AT&T FirstNet connectivity for times of congestion and areas of poor coverage.
The LETS Respond platform is now used in 47 states and three countries and has recently been adopted by parts of the U.S. military and the government of New Zealand.
The results: A safer and speedier resolution
As a statewide agency, North Carolina's SBI doesn't face a large number of barricade/negotiation situations – Powell estimates it sees seven or eight such calls in a busy year. So its agents across the state have had limited opportunity to use the Respond platform in the two years they've had it. Even so, it's paid dividends. In one instance agents turned to Respond and its throw phone in the case of a suicidal suspect barricaded in the cab of a semi who was trying to provoke officers into shooting him.
The man had tried to take a hostage, but they'd gotten away, precipitating the standoff. He had a long-range rifle. Local police were already on scene when SBI personnel arrived. "Based on how everybody was positioned," Powell recalled, "the tactical part of the situation wasn't exactly in favor of law enforcement."
They used a robot to deliver a throw phone to the steps outside the cab door. Agitated by the robot, the man wouldn't open the door and take it, but Powell was able to use the phone's camera and microphone to monitor things from a safe distance. Had he exited the cab of the truck, police would have known without being in harm's way.
"It would have been nice to see him take the phone so I could manipulate the camera," Powell said, "but at least we knew the camera could work at a range where we didn't actually have to see him open the door." The man was ultimately taken into custody, and no one was hurt.
That's one of two SBI cases in the last year that involved the Respond throw phone. It's far more frequent, Powell said, that agents use the platform to communicate with suspects without that element.
"Our deployments really haven't shown all the platform's capabilities yet because we only have so many per year," she added, "but the functionality and ease of use of the product really make things easier. When we're not fumbling with cords and wires and video, we can really concentrate on our training as negotiators and hearing the person and encouraging them to come out peacefully.
"There's nothing worse than being on scene and having to be concerned about equipment failure, rather than doing your job. The LETS product makes it easier to concentrate on our primary responsibility, which is talking and listening, rather than dealing with the equipment."
Discussion
You don't have to be a negotiator or part of a crisis team to find value in LETS Respond. As veteran officers well know, mundane calls with normal responses – intoxicated subjects, domestic disputes, etc. – can escalate unpredictably, turning even the rawest rookie into the first-on-scene at something big. LETS Respond helps such officers get an initial handle on the situation even as they're waiting for reinforcements.
Activating the system automatically notifies the rest of the on-call negotiation team. The designated negotiator can then take over even before arriving at the scene. "That's a feature unique to us – it's very powerful," said Fitzgerald.
Powell also notes the system's secure chain of custody for communications that are likely to serve as evidence. Case communications are easily grouped for administrative review and uploaded into records systems.
"When agents just used their cell phones to negotiate, we might not have any record of that, unless it came through on a text. At times we had to take pictures of it," she said. "This allows the agent to have everything captured go directly into the system and right into their file as a permanent record within the cloud."
For more information, visit LETS Corp.
READ NEXT: What if you could use a mobile app to improve crisis negotiations?

Request information from LETS©
Thank You!