Expand your radio reach by integrating smartphones into your existing system
With the Tango Tango integration service, first responders can connect their existing two-way radio networks with smartphones to augment and extend communications across platforms, channels and agencies
---
Sponsored by Tango Tango
By Police1 BrandFocus Staff                                                  
Police, fire, EMS and other first responder agencies face the same problems with their two-way radio systems: There are usually some areas where coverage is poor or even non-existent due to terrain, signal-blocking buildings or other issues.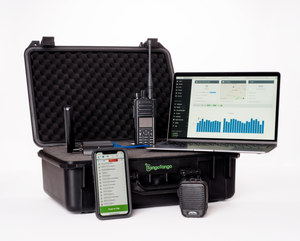 In such situations, it is possible for officers to use their smartphones – assuming that they are FirstNet-certified with preferred wireless network access to ensure reliable communications – but doing so can lead to awkward, slow message transfers between the radio system and smartphone users.
Fortunately, there is a simple, robust technological solution that integrates radio networks with smartphones and the internet to provide reliable connectivity 24/7, no matter where officers may be.
The Tango Tango radio/smartphone integration service uses a hardware box that sits between the first responder's radio network and the world's wireless networks to connect smartphone users via the cloud to their customers' selected radio channels. Tango Tango is technology-agnostic, so it can work with virtually every radio, carrier and smartphone in use today.                                                                                     
Far less expensive than radio rebuilds
For a subscription fee, Tango Tango can eliminate radio coverage issues without the agency having to replace or upgrade their existing radio networks or build radio repeaters to address coverage gaps. Tango Tango manages this service so client agencies can integrate radio with smartphones for additional communications capabilities without an additional workload and equipment to manage. The company offers a 30-day free trial to let first responders try out the system for themselves without commitment.
"Common use cases are police departments where they may not have the best radio coverage, and they want to be able to stay in touch with their team 24/7," said Tango Tango's Adam DePasqua. "Tango Tango allows agencies to provide reliable radio-like coverage and connectivity to every officer in their jurisdiction, without actually having to issue a two-way radio to each officer. It's a great solution for any team – big, small, rural or metropolitan."  
Increased connectivity, interoperability
Tango Tango-enabled first responders can talk over their radio networks via their smartphones and vice versa. This FirstNet-approved service also supports encrypted push-to-talk voice, GPS location services, emergency alerting, audio recording and text/multimedia messaging.
Using Tango Tango can also expand an agency's reach far beyond the limits of their radio networks to anywhere that the internet and wireless telephone networks exist. This not only eliminates radio cover gaps within an agency's own jurisdiction but enhances interoperability with other agencies during large-scale mass response situations.
Tango Tango can also access FirstNet wireless channels for added redundancy. For example, when Hurricane Michael devastated Florida in 2018, the state radio repeater went offline, eliminating interoperability and rendering many agencies' radios useless. But Tango Tango users were able to connect.
"Our radio system was not compatible with the host agency," said Captain Mark Pergola of the Seminole County Sheriff's Office in Florida, which sent officers to the state's panhandle to support recovery efforts. "We were able to utilize Tango Tango to conduct our emergency communications via cellphones. Even with limited cellular coverage, out deputies were able to communicate on the Tango Tango application. It provided us with emergency communications when radio towers were inoperable."
Radio reliability and interoperability are important for any response, not just disasters, and Tango Tango helps connect neighboring agencies that might provide mutual aid but don't use the same radio frequencies. Prior to having Tango Tango, officers with the Arab Police Department in Alabama were unable to communicate via radio with responders from neighboring jurisdictions. Tango Tango has eliminated that communications barrier, says Chief Ed Ralston.
"What brings us together with the Tango Tango app is being able to talk to the surrounding agencies that we work with and be on a common frequency," he said.
Satisfied customers                   
The best measure of any company is their customers' opinions. When it comes to Tango Tango, the company's testimonials page shares comments from police and other first responders pleased with the service. Many of these comments and videos share the cost savings and ease of use afforded by the service, but there are also anecdotes sharing use cases and successes. In particular, one officer shares how the radio/smartphone integration helps reduce the equipment burden on officers, as well as help them respond faster:
"One of my favorite benefits of Tango Tango is that it keeps our officers from having to carry another device around. In an emergency, the more radios, pagers and other items we have on us, the more we're slowed down," said Arel Valdez, a major with the Berrien County Sheriff's Office in Georgia. "However, regardless of where we are or what we are doing, we all have our cellphones on us 24/7, so it makes sense for our mobile devices to connect with each other in emergency situations, too. Tango Tango allows us to do that, and we've already seen its impact."
In short, the radio/smartphone integration offered by Tango Tango is easy to deploy and can help make communications issues caused by radio network problems a thing of the past.
"We had limited coverage with our radios until we started using Tango Tango," said Chief Deputy Mason Bynum of the Dale County Sheriff's Office in Alabama. "You can't beat the price for what you're getting."
For more information, visit Tango Tango.
Watch Next: Why Over 120 Clark SD Emergency Responders Use Tango Tango

Request information from Tango Tango
Thank You!