How new smart radio features help keep officer focus where it is needed most
Motorola adds new interfacing options, applications and remote management features to its mission-critical radios
---
Sponsored by Motorola Solutions
By Becky Berry Johnson for Police1 BrandFocus
The implementation of new technology is a challenge for any industry. In law enforcement, it's especially important that new tools are easy to use and reliable and purpose-built to avoid delays, downtime and information silos that can negatively impact public safety.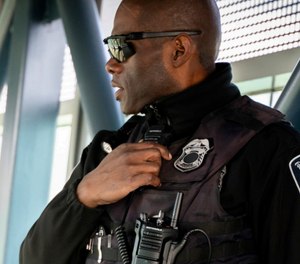 To help address these challenges, Motorola has updated a tried-and-true tool in the public safety officer's tool belt – the radio. The APX NEXT Mission-Critical P25 All-Band Smart Radio introduces a trifecta of "smart" technology enhancements – interface, applications and management tools – designed to meet the needs of law enforcement while remaining, at its core, a radio.
Enhanced radio features
First, the APX NEXT maintains the traditional hard keys and knobs that users are familiar with. While the channel knob, volume knob, emergency button and zone switch retain their overall functionality, they have been modified in subtle ways to improve usability. From the slight angle adjustments and modified torque needed to turn the volume and channel knobs to the location and sizing of the emergency button, each update to the classic radio has been considered and optimized based on feedback directly from public safety officers.
In addition, the APX NEXT introduces digital microphones and speakers that provide volume leveling and enhanced noise cancellation. Automatic audio control allows an officer to set the volume at a preferred level, which the radio will apply to all incoming and outcoming transmissions. This means that whether the person on the other end is whispering or yelling, the incoming audio will automatically adjust to the volume level set by the officer. The APX NEXT also offers enhanced audio to eliminate background noise and increase volume without sacrificing clarity. 
Touchscreen controls
One of the major updates the APX NEXT offers is the addition of a rugged touchscreen designed to recognize and respond to an intentional touch command with a SmartTouch interface. All APX NEXT functions are accessible within three screen taps, reducing the time it would take to scroll through a litany of options using an analog radio. SmartTouch also incorporates large touch targets and high-velocity user interface design to aid in an officer's ability to quickly find what they need.
SmartTouch is also designed to reduce false actuations. While the smart radio is waterproof, allowing for use in the rain, the SmartTouch screen does not register raindrops as a touch command. However, it does recognize a true touch command made by gloved hands, whether through thin latex gloves or thick tactical gloves, even when wet.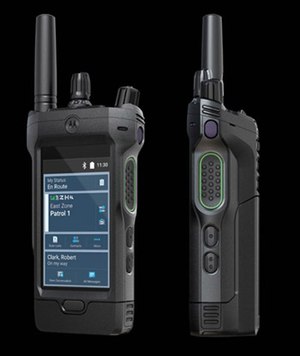 Natural voice operation
The third introduction to the APX NEXT interface is a natural voice option featuring the world's first public safety-specific virtual assistant, ViQi (pronounced "Vicki"). With a press of the ViQi button on the radio's front grill or the XV Remote Speaker Microphone, you can control functions including volume, channel and zone or checking your status using just your voice.
Anything you could do manually using the classic knobs and keys or SmartTouch can be performed with ViQi. The ability to interact with the radio through voice commands allows officers to keep eyes up and focus forward when responding to a critical situation, where focus matters most.
Real-time data sharing
Motorola also sought to address law enforcement's request for real-time information sharing with this radio update. The APX NEXT incorporates four proprietary applications to meet this public safety demand:
ViQi Virtual Partner: The ViQi application on APX NEXT provides more than just voice control for radio functions. With an initial voice command, users can initiate a real-time search feature that responds to natural language queries.
ViQi Virtual Partner can search state and federal databases while an officer is in the field and inform the officer of the results with a discreet and proprietary notification response system developed by Motorola.
SmartConnect: The APX NEXT also offers a new-to-the-market feature with the addition of embedded LTE (cellular data) and SmartConnect, an application that automatically transitions between LMR and LTE coverage based on signal strength and availability. The APX NEXT constantly monitors its LMR coverage. Once its drops below a certain threshold of connectivity, the radio will automatically switch to LTE, maintaining your crucial P25 functionality and configurations.
This automatic switching from LTR to LTE and back again ensures that communication remains uninterrupted when you are out of range of your radio network while driving or when entering a building that has great LTE coverage with repeaters inside but low LMR coverage penetration.
SmartLocate: The embedded LTE also supports the SmartLocate application, which communicates an officer's location with faster relay than LMR coverage. The transition to LTE for location tracking also frees up the LMR system for more voice traffic.
SmartProgramming: Advancements in communication technology evolve rapidly, most often through software updates. By using the broadband coverage afforded by the embedded LTE, radio management teams can send mass updates to select radios or all radios via the SmartProgramming feature. The APX NEXT will receive the transmission and prompt you to download the update at your convenience, which relieves the cumbersome task of returning your radio to the office for hands-on updating.
Each of these smart applications supports real-time information sharing, whether it be a database query during a traffic stop or continuous connectivity to avoid any lapse in communications. These features allow officers to remain focused in the field and confident in their ability to relay and receive mission-critical information as it is happening.
Radio management made easy
Adopting new technology can be a headache, but Motorola also makes initial implementation of the APX NEXT radio by your department seamless.
In advance of receiving the physical radios, a department will receive the information necessary to assign a codeplug to each device purchased so that deploying a new radio is as easy as opening the box, putting in the battery and turning it on. With a quick download of its new identity from the cloud-based system, the APX NEXT is ready to go.
An LTE subscription is included in the APX NEXT service package, so that's one less thing to purchase and implement before the radio is ready for use. The APX NEXT also has full interoperability with Motorola's existing line of APX radios, which eases integration into a department's current radio fleet.
The APX NEXT Mission-Critical P25 All-Band Smart Radio offers a combined solution to the technology management, workflow and real-time communication challenges of law enforcement. The radio's new smart applications and features make deployment and everyday use easy so that officers can remain focused in the field.

Request information from Motorola Solutions
Thank You!