Badge deflects bullet, saves Tenn. cop shot during traffic stop
Dept. had recently switched to heavier badges, made by Blackinton
---
Editor's note: The claim that a badge stopped Officer Joshua Smith's bullet
turned out to be false
, authorities later reported. Indicted on two counts of filing a false report and one of fabricating or tampering with evidence, Smith was later fired from his job.
By Police1 Staff
The Memphis Commercial Appeal contributed to this report
There is a lot of equipment that police officers must rely on daily to keep them safe and protected, but the badge isn't usually one of them. However, in Oakland, Tenn., officer Joshua Smith was very grateful he was wearing the thicker, heavier badge his Chief had just ordered.
During a fairly routine traffic stop, Smith was shot at by the driver and his Blackinton B2172 Badge stopped the bullet aimed for his chest.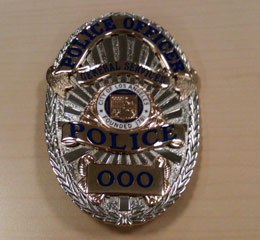 "The chief said the officer was complaining about it being too heavy," Oakland Mayor Bill Mullins said. "He said he wouldn't be complaining anymore."
In the early morning hours of Dec. 24, Smith had pulled over a Chevrolet Tahoe or Suburban for weaving in traffic with expired tags. He attempted to administer a field sobriety test, but a passenger exited the vehicle and refused to get back in. The passenger then said something to the driver in Spanish before pulling a knife.
The driver then drew a gun and shot Smith in the chest. The officer was knocked to the ground, but still managed to fire two shots at the fleeing suspects. The department did not know if he hit either of them.
Smith was wearing body armor, but the point blank shot could have penetrated it. The oval badge was a Blackinton B2172, and is made from a thick, 12-gauge, brass alloy with an applied seal – the district's seal was virtually destroyed by the shot. The badge allowed Smith to walk away from the incident.
"We were very pleased to hear how our badge saved a life," said Blackinton's Director of Sales Tim Convery. "We told Chief Hogwood we'd be more than happy to make a new badge for the officer."
Oakland Police Chief Keith Hogwood had ordered the heavier badges only a few months prior to the shooting. He admitted that their previous badges would not have been able to stop a bullet like the thicker Blackinton model did. Officer Smith was examined at Baptist Memorial Hospital-East in Oakland and released.
Blackinton plans to get the badge from the Oakland Police Department to be made into a memento for Officer Smith.
"We'll encapsulate it in Lucite for him so he can have the badge as a souvenir for all-time," said Convery.


Request product info from top Police Badges companies
Thank You!