How it's made: A ZT knife designer explains the production process
Learn how Zero Tolerance Knives are designed and produced in Oregon with the end user in mind
---
Sponsored by ZT Knives
By Rachel Zoch for Police1 BrandFocus
A knife is a must-have tool for many officers, but knives vary widely in features, materials and craftsmanship. Zero Tolerance Knives is an American manufacturer known for its use of high-quality materials and collaborations with renowned knife designers.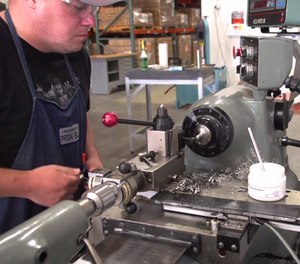 Police1 sat down with Jim MacNair, senior designer for ZT Knives, to learn how the company produces its knives, from concept to customer.
What goes into the making of a ZT knife? What's your design philosophy?
We start by thinking about who the customer is. Who is this knife intended for?
At the design level, we'll start with sketches. We'll lay it all out on paper and start to figure out the functional aspects. Once we have a basic concept that we like, we scan our sketches and bring them into SolidWorks (computer-assisted design software).
From there we start laying out the functional geometry in 2D, drawing the profile of the knife and adding the pivot location. We start making sure that the blade can open and close and fits in the handle. We build the lock geometry and figure out the details of screw placement, clip location, etc. Once we have that all worked out, we take the profiles of the various parts and start building them as 3D models.
What are the most important features for your law enforcement customers?
Our law enforcement customers are often buying their own knives for work. It tends to be something that departments don't provide. They generally are interested in the higher-end, beefier, USA-made knives. At the same time, the price point needs to reflect the fact that they are paying for their own gear.
We try to build a product that's a good value for officers while also being very sturdy and having a secure, functional grip. We're concerned about officers being able to get the knife open with gloves on or in wet conditions, and keeping a secure grip during use.
Most of our knives have what we call a flipper. It's a small tab at the back of the blade that sticks out of the spine of the knife in the closed position. You place your index finger on the flipper and pull back on it, and that causes the blade to open.
The ZT models I would generally recommend for police officers would be either one of our 0350 or 0566 models. They're mid-sized, have textured G10 scales for grip, and they feature our SpeedSafe assisted opening. They're easy to deploy and easy to hang on to.
Tell me about the manufacturing process. How are these designs turned into reality?
Our machinists manufacture the parts with CNC (computer numeric control) machinery. That way, we get very consistent parts. We laser cut larger components like the blade and the liners that go underneath the handles first. We machine these blanks to very precise tolerances so that they are consistent and precise.
From there, there are several different directions the part can go. Blades will get heat treated and have the bevels ground, handles will get machined, and pivots are turned on our screw machines. Almost all of our parts will get tumbled to take off the sharp edges and smooth out burrs. Some parts will even go out for coatings or anodized finishes to enhance the performance and appearance of the knives.
Finally, the finished parts are separated into jobs and released to the assembly team. Our assemblers, sharpeners and laser operators are very skilled, and their efforts greatly impact the feel and performance of the finished knife.
What about quality assurance?
All throughout the manufacturing process, quality assurance is key. We're checking parts as we go because if a bad part makes it to the assemblers, we're wasting our time.
The operators are checking their parts as they go to make sure that they not only fit and function right, but that they look good. They'll pull out a part if it doesn't fit or if there's a problem with the appearance. We have lots of parts that end up getting reworked because they don't meet the high standard that we expect.
Each person in the process needs to put a little art into their job. The guy programming the grinder has to make sure that the blade is not only ground right, but that it's a high-quality finish. The inspectors must make sure every part meets our standards. The assemblers are skilled craftsmen who make sure that everything is lining up right, that the blade is centered between the two handles and that the knife opens smoothly but with authority. There's art in all these processes, and they're all important.
When the knife is finished, we have inspectors at the end of the line, checking it all out before it goes in the box. They make sure the lock doesn't fail. They inspect the appearance very carefully. They make sure it functions smoothly. They pull out knives that they find to be blemished, although so often with our blemished knives, the average person can't pick out the flaw. It may be as small as a tiny spot in the finish or a small scratch.
When you pay for one of our knives, you get a little more with it. We have a very good warranty department that we take a lot of pride in. We like to support our customers, so if they ever have an issue, they can send it back to us. We will fix it. Even if it's an issue that isn't covered by warranty, we want to take care of them.
How long does it take to build a ZT, from the parts to the finished knife?
It's a multi-stage process, so it usually takes a couple of months. Up front, we have the design/R&D process, then the programming phase, then making fixtures for production.
After that, it's not as simple as laser cutting a part and sending it straight to machining – there are multiple processes in between that the parts go through that are just as important, but less well known. Annealing, heat treat, double disc grinding, heat treatment – they all take time.
Most of our products have about 15 to 40 parts in the final assembly, and each of these parts follows a path to be become a finished component. From sketch to finished product, it takes six months to a year, depending on the complexity of the product.
How do you interact with your customers, especially in law enforcement?
We're always happy for feedback. We want to understand how our customers use our products, and it's invaluable to hear what works and what doesn't work for them. We want to know what they really use their knives for. What do you do with them? We're always happy to listen. Send us an email, give us a call.

Request information from Zero Tolerance Knives
Thank You!