How your agency can save time and money with an online warrants tool
Produce fully signed warrants and execute them more efficiently with the web-based WarrantNow platform
---
Sponsored by WarrantNow
By Police1 BrandFocus Staff
The time and resources needed to manually produce and process warrants are unpredictable and can significantly impact an agency's budget and scheduling.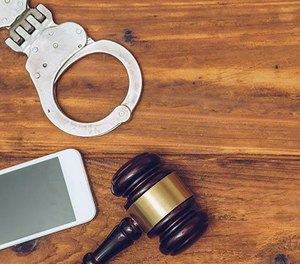 Many police tools are now available online or in the cloud, including a platform to help officers produce warrants and secure a judge's signature within minutes – without ever having to leave the station or their cruiser.
WarrantNow, a secure online service, enables officers and judges to produce and sign warrants anytime, anywhere. This saves time and money and helps officers spend more time catching bad guys and less time on paperwork.
Save Time, Save Money
The usual, manual process – an officer drafts and prints a warrant and must track down a judge to secure a signature – takes an average of two hours before a warrant is ready to be served.
With WarrantNow, the process can be reduced to just 15 minutes. Officers enter case and suspect information in preloaded templates anywhere they have internet access. The automated process can be used on any device, so they never have to leave the scene or their cruiser.
The process:
Officer identifies a situation that requires action.
Officer logs on to WarrantNow and fills out the warrant form with suspect data from RMS or other trusted source.
WarrantNow automatically notifies each reviewer.
Judge logs on and approves the warrant.
Officer executes the warrant.
Once the warrant is created, the officer can alert a judge immediately to review and sign the warrant online. Judges are able to sign warrants electronically – anytime, anywhere – without having to wait for an officer to arrive at their location.
WarrantNow not only saves money by allowing officers to use their time more efficiently, it is also eco-friendly. Reducing time on the road to get warrants signed saves gas money and paper costs.  
Do More With Less
Reducing the traditional, time-consuming process for warrants enables officers to spend more time on patrol and other core duties. The 24/7 access enabled by WarrantNow can be a force multiplier, particularly for small departments where each officer must cover a multitude of roles and a lot of ground.
The platform was created to solve a problem for police in the river parishes of Louisiana, where the police station, judges and courthouses were separated by bodies of water – so getting across to have warrants signed was a 45-minute trip or more each way, says Brian Johnson, WarrantNow president and founder.
"Less driving means less gas used," Johnson said, "and judges can sign off on the warrant anywhere they are, so no hassle trying to find them during off hours or weekends."
Reducing the time between opening the case and securing the warrant helps preserve evidence and improve officer safety as well, because suspects are less likely to become aware of a warrant before police arrive.
"We allow the warrants to be signed and ready to serve in 20 minutes or less, leading to less time for offenders to even realize they are being watched, and less time to fortify or run," Johnson said.
And because the officer doesn't have to leave the scene to secure the warrant, that officer is more aware of what they are going into when they serve the warrant.
Easy to Use and Customize
WarrantNow is easily configured to match the workflow required by each specific jurisdiction or state, and the preloaded templates minimize the time needed to enter suspect data.
The system also provides safeguards for proper procedure. Senior officers can review warrants produced by newer officers, and automation means less paperwork and fewer errors. Paperless filing also means expedited filing and less likelihood of mishandling paper warrants.
Judges and officers can access and review their archived warrants, and the secure, web-based system can be configured to grant a district attorney access to warrants relevant to pending cases.
Additionally, version 2.0 provides agencies with the ability to adjust warrants in real time as laws change.
Secure, Subscription-based Service
Because WarrantNow is a web-based tool, there's nothing to download, install or maintain. Everything is done in the cloud on a secure CJIS-compliant system powered by Amazon Web Services. Multiple servers are always running to ensure around-the-clock access.
WarrantNow is available as a yearly subscription of about $7 a month per user. Johnson estimates that a department can save more than $100,000 over a year of use, based on a study of the reduced overtime and mileage logged by one of the larger agencies using the platform.
"Just the mileage alone adds up quickly in what is saved," he said.

Request information from WarrantNow
Thank You!