Decontamination: Why it matters for officer safety (white paper)
Take steps to defend personnel against exposure and infection on the job in order to avoid expensive lost time and medical costs
---
Sponsored by Decon7 Systems
Workplace safety is important for any industry, but it's particularly tricky for law enforcement. Officers must enter all kinds of environments where conditions are not under their control, such as a drug lab full of dangerous narcotics or a homicide scene contaminated with bodily fluids.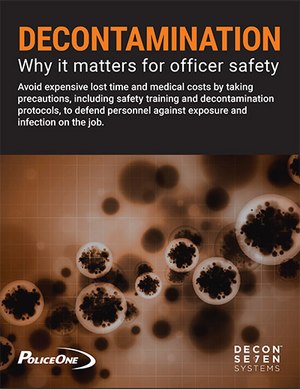 The hidden costs of inadequate decontamination range from lost time, morale and productivity due to illness to direct costs of remediation, employee medical care and replacement equipment.
Download this free white paper to learn how to avoid these pitfalls by providing safety training for officers and establishing decontamination protocols for vehicles and facilities.
What you'll learn:
What are the hidden costs of inadequate decontamination?
How agencies can mitigate these risks and help defend personnel against exposure and infection.
How often do officers come in contact with bodily fluids or narcotics on the job?
How to neutralize both narcotic and biological threats.
Fill out the form below to download the free white paper: