PRESS RELEASE
Black Hills Ammunition introduces a new Advanced Rifle Cartridge for 2023
---
New for 2023- 6mm ARC (Advanced Rifle Cartridge) 103 Gr. ELD-X®
The  6mm  ARC  (Advanced  Rifle  Cartridge)-  Developed  initially  by  our  friends  at  Hornady,  this cartridge was designed to provide increased performance in the M4/AR-15 platform. The M4/AR-15 is a terrific rifle. It is lightweight, accurate, reliable, and has  good  magazine capacity. It is arguably the most popular rifle in America and for good  reason. It has defended  America for over 60 years, at home and abroad. With the best 5.56mm ammunition it's hard to beat, but the new 6mm ARC has significant advantages in the M4/AR-15.

The well known Black Hills MK262 5.56mm ammunition uses a 77 grain match projectile at 2740 fps from a 20" barrel. In comparison, the 6mm ARC pushes  a 103 grain Hornady ELD-X®  at 2600 fps from an 18" barrel. What does  this mean? Due to the higher ballistic coefficient and weight of the 6mm ARC projectile, it beats the best 5.56mm ammunition in terms of retained energy and reduced wind drift at all ranges. The trajectory is nearly identical to 500 yards, and past that range the 6mm ARC clearly has the advantage.

Many states don't allow the .223/5.56mm for hunting of big game. The 6mm ARC is an answer to that concern. To significantly "up-gun" from the AR-15  has  previously meant  going to the significantly  heavier  and larger  AR-10  platform.  The 6mm ARC is  purpose  built for the lighter and handier AR-15. More power, same  package, what's  not to like?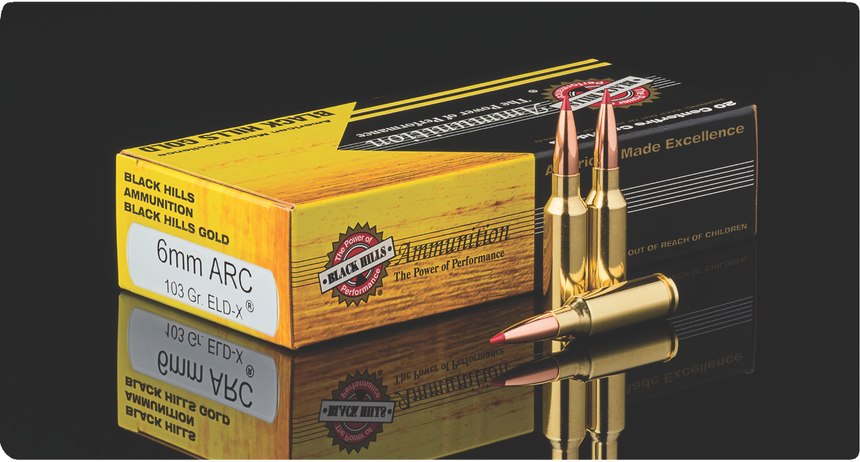 About Black Hills Ammunition section:
Our recipe for success is to make ammunition the only way we know how, the best it can be, and further, to treat our customers fairly and provide outstanding personal service. This simple formula has worked for us. We would be honored to share this homestyle recipe with you. We now have a crowded 21,000 square feet of manufacturing, and supply thousands of loyal dealers across the country. We produce new ammunition for all four branches of the U.S. Military, including all current contracts for 5-56 match ammunition. We supply ammunition to most the U.S. firearms manufacturers and many custom gun makers. In addition, law enforcement agencies nationwide rely on our ammunition for duty and training. Visit black hills ammunition, inc. online for more information.

Request more info from Black Hills Ammunition, Inc.
Thank You!