PRESS RELEASE
Black Hills Ammunition New for 2012- .204 Ruger, .300 Whisper and 5.56mm 69gr MatchKing
---
Black Hills has announced three new loads for 2012. The first caliber is the .204 Ruger. The new round uses the explosive Hornady V-Max™ projectile that has proven to be one of the most accurate and effective bullets available for use on varmints.
The second is the .300 Whisper. This cartridge is the brainchild of JD Jones of SSK and has been around a long time as a proven wildcat cartridge. This versatile 30 caliber cartridge is designed primarily for use in M4/M16/AR-15 family of rifles and allows for use of a wide weight range of projectiles. Initial Black Hills loads for this cartridge are a 125 grain load that essentially duplicates 7.62x39 ballistics, but with far superior accuracy, plus a 220 grain Sierra MatchKing at subsonic velocity.
Last year, Black Hills introduced two 5.56mm loads, a commercially packaged version of the famous military MK262Mod1 5.56mm 77 grain load, plus a 50 grain TSX. The success of those two loads led to customer requests for a 69 grain MatchKing for use in AR15s with 1/9 twist barrels. Black Hills has always been responsive to customer demand and this year is offering the 69 grain SMK loaded to 5.56mm pressures and velocities in military specification brass, and utilizing temperature stable, flash suppressed propellant.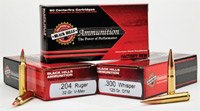 Request more info from Black Hills Ammunition, Inc.
Thank You!