The day I built a Steiner T5Xi scope
Follow Curtis' adventure at the Steiner manufacturing plant in Greeley, Colorado
---
The following is paid sponsored content by Steiner Optics.
By Sean Curtis for Police1 BrandFocus
Modern optics systems have evolved dramatically over the last few decades, allowing us to see sharper images, at further distances, and under various lighting conditions.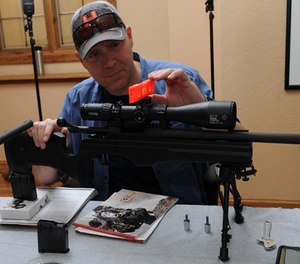 Recently, Steiner Optics invited me to attend a unique event with a handful of other writers: a day building a T5Xi scope in their facility, mounting it to a rifle and shooting it at an outdoor range.
Counting myself among those who love but poorly understand how advanced optics function, I happily agreed.
The Steiner T5Xi scope
I went to the company's headquarters in Greeley, Colorado to test the Steiner T5Xi scope. (Utilizing German engineering and glass this product in manufactured in Greeley, Colorado.)
We were told we would be building and later testing at the range a T5Xi, in particular, a 5-25x56 model.
The T5Xi is nearly 17 inches long. The one-piece, 34mm tube scope is designed to see extremely far away and assist in delivery of accurate fire.
The optic also is a first focal plane style, which means the reticle increases in size as the shooter zooms in to deeper magnification. 
Building the Steiner T5Xi scope
When we got to the Steiner manufacturing plant, we were herded into a small locker room, where we dressed in protective, Steiner garb (including jackets, hair nets and shoe covers) and then were allowed to enter the assembly room before being introduced to our guides for the day.
A group of patient assemblers, similarly clothed, awaited us within the sanitized confines of the clean room.
For the next several hours, I built the scope. I switched from person to person at different points in the assembly process. I learned each person depended on the other in a successive chain until the final product was perfect, including installing 10 lenses.
I assembled the lenses, along with nearly 100 other pieces before arriving at the final product. I soon learned it took a trained eye—not a novice like myself—to successfully pass inspection.
It was then tested. I estimate a total of 50 recoil tests were conducted, which consisted of banging the scope into a pad on a workbench with nail hammering force—loosening up any previously unforeseen particles for removal.
During final inspection my T5Xi was scrutinized, submerged, pressure tested, and shaken in an impactor 375 times. I watched with pride when it finally passed muster.
Testing the Steiner T5Xi scope
The following day we were instructed by sponsored precision rifle shooter Andy Reinhart on mounting the scopes to Tikka .308 rifles.
Product manager Martin Noller explained the concepts behind the advancements on the T5Xi, such as the Never Lost Turret System with second rotation indicator, and the SCR reticle. Noller explained the SCR reticle was designed with input from a number of shooter from different fields.
We then headed to a private range to witness our scopes in action. After a brief period of bore sighting and zeroing at 100 yards, we settled into some shooting. From bench rests or prone, we fired the rifles, guided by spotters and armed with a conveniently provided dope sheet.
Metal targets of various sizes were arrayed down a long range. With known distances, I was able to adjust the mils on the T5Xi's elevation turret and hit with ease—culminating in hits out to1,100 yards.
Based on my testing, the T5Xi is an amazing piece of hardware, making immense distance shots easy. The T5Xi is impressive because of the people behind it, from design, to assembly, to sales and support.
Check out my personal photos from my experience learning how the T5Xi is assembled below.
For more information about the T5Xi, contact Steiner Optics or fill out the form below.

Request information from Steiner-Optics
Thank You!