A tactical evolution in thermal optics: Using darkness to an officer's advantage
This red dot optic from Steiner operates in all lighting scenarios without the need for night vision goggles
---
Sponsored by Steiner
By Sean Curtis for Police1 BrandFocus
Steiner is a name known for driving innovation and their recent release has set a new standard for protectors facing danger in the darkness.  The CQT (Close Quarters Thermal) is a red dot optic capable of operating in all lighting scenarios without the use of night vision goggles (NVG). This unit mounts directly to a weapon and overlays thermal imaging as users sight though it. Law enforcement officers equipped with this technological marvel can take advantage of its rich features as they flow between the worlds of light and dark.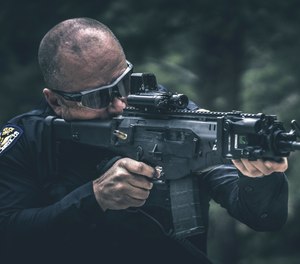 Reticle and viewing options
Steiner has a heritage of combat-proven durability and the CQT is no exception being built to full MIL-SPEC standards and rated waterproof to 20 meters. Within this rugged exterior lies a traditional look-through red dot with five reticle options.
Shooters can choose between a 2.5 MOA red dot only, red dot with crosshairs, red dot with non-intersecting crosshairs, red dot circled with crosshairs, and a red dot in a box. The display is user friendly and has an intuitive interface for the options menu. Within, shooters can adjust the CQT in order to establish zero as well as accessing twenty display brightness levels to fit mission parameters. In addition, the optic has four levels of digital zoom and can detect man-sized heat signatures at just under 400 meters, or vehicle-sized heat signatures out beyond 1,000 meters.
One of the greatest features of the CQT is its diversity of viewing thermal targets. Users can choose between Full Thermal, Outline Mode, and Patrol Mode. While full thermal provides traditional shades of green to distinguish various temperature differences, the other two modes offer additional utility to law enforcement. Outline mode is optimized for situations where there is fog, smoke, or other particulate matter that tends to white out thermal. The display gives you a green outline of the heat signature. Patrol mode cuts to the chase and registers temperatures of 98 degrees or more, allowing officers to focus on two-legged threats.
The CQT is compatible with flip-up magnifiers and is powered by two CR123A batteries giving it a runtime of eight hours in thermal mode, and 1,000 hours on red dot alone.
More usefulness with less gear
One of the obvious benefits of having a red dot optic with thermal overlay is making NVG unnecessary. Since the technology performs well in both full-light and dark scenarios, it has ultimate usefulness without having to add more gear. An officer responding to an armed subject call may leave a well-lit building heading into a dark alley and still be able attain their target in either setting.
In all but the darkest settings, officers will enjoy greater situational awareness utilizing the CQT. While NVG do provide optimum viewing in these scenarios, they also narrow a user's field of view from 120 degrees down to as little as 40 degrees. The CQT allows officers to keep both eyes open while providing a red dot focus overlayed with thermal target data.
Officers equipped with the CQT may use the dark to their advantage when seeking or pursuing dangerous subjects. While use of white light can be beneficial, it also has the added detractor of giving a suspect the officer's location. Switching to thermal mode robs bad guys of an equal playing field and gives the advantage back to the officer.
In scenarios where police are seeking felonious suspects in dense cover such as debris or foliage, the thermal capability of the CQT helps officers quickly locate and identify them. This crucial advantage is paramount because it allows the officer more control in how the encounter comes out, rather than leaving the suspect to decide on their own.
Uses where the CQT shines
Imagine an officer responding to a call for shots fired during the night. As they approach the scene with their CQT equipped patrol rifle, they enter the building prepared to engage. Witnesses tell the officer the armed suspect headed out the back, so the officer gives chase. The officer then sees the suspect fleeing across a dark field. From behind cover he gives commands for the suspect to stop. The dark is no longer a safe haven.
SWAT officers have understandable uses for the CQT. Securing buildings on warrants or clearing them looking for suspects present a lot of unique and dangerous challenges. Often, even during the day, there are poorly lit areas within these structures that are extremely risky for officers. Switching the CQT to thermal mode can put the advantage back in SWAT's court, potentially saving lives.
Stacking Up
The CQT is a rugged, duty-rated, red dot that gives officers the distinct advantage of thermal vision. With three different viewing modes and a bevy of customizable options, cops can set them up just how they like. Having thermal distinctly gives them a number of advantages in their work. Officers face threats from so many different angles on the job – Steiner is leading the way to make sure the dark is no longer one of them.

Request information from Steiner-Optics
Thank You!