PRESS RELEASE
SIG SAUER unveils a NAPED P320 Carry Size Thin Blue Line Pistol for NAPED members only
---
Leading firearms company for law enforcement, military and civilians is supporting the National Association of Police Equipment Distributors with special offer on popular pistol.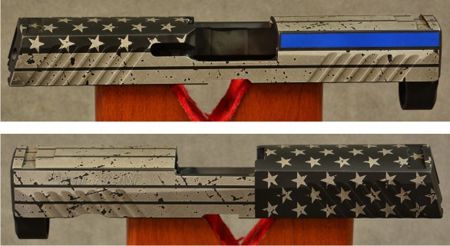 NEW BERN, N.C — SIG SAUER Inc., a NAPED associate member, will be offering a special edition P320 Carry sized Think Blue Line (230CATBL) striker-fired pistol to NAPED member distributors at the Annual General Meeting to be held in Savannah, Georgia, June 8-10, 2018. The 320CATBL will be offered only to NAPED member distributors for the remainder of 2018.
With more law enforcement agencies choosing the P320 for their duty pistol, it was an obvious choice for SIG SAUER to offer an exclusive to the law enforcement distributor membership of NAPED. The SIG SAUER P320 pistol is equipped with XRay3 pistol sights for fast target acquisition under all light conditions. Increasingly popular with law enforcement, the pistol is comfortable to carry and use. The modular P320 and a choice of grip module sizes accommodate officers of all hand sizes while offering superior accuracy and reliability. The NAPED P320 will also feature a unique slide finish with a thin blue line commemorating the men and women in police duty.
"We are very pleased that SIG SAUER is providing NAPED's membership with this unique product for our customer base of law enforcement and public safety officers only," Tim Brown, president of NAPED and GT Distributors said. "Not only does this demonstrate SIG SAUER's commitment to our law enforcement, but to this association and what NAPED means to our particular sales channel."
The National Association of Police Equipment Distributors is a non-profit association for law enforcement and public safety distributors/dealers, manufacturers and industry professionals for the purpose of developing strong business relationships and offering the best quality products and services for law enforcement professionals.
The NAPED Annual General Meeting will be held at the Westin Savannah Harbor Golf Resort & Spa in Savannah, Georgia, June 8 – 10, 2018. Until June 1, 2018, NAPED is running a special membership price of $200 off the first year's membership.
For more information on how to take advantage of all that the NAPED association offers both distributors and manufacturers, contact director@naped.com.
Like NAPED on Facebook at http://www.facebook.com/NAPEDGroup
About National Association of Police Equipment Distributors (NAPED)
NAPED was created by bringing together law enforcement distributors, industry professionals and manufacturers to form a network for the purpose of mutually sharing the vast amounts of market experience, resources and product knowledge comprised within its membership. NAPED acts as a forum for member manufacturers and distributors to form long-term, profitable relationships. www.naped.com
About SIG SAUER Inc.
SIG SAUER is headquartered in Newington, New Hampshire, with manufacturing facilities in Exeter, New Hampshire and an Epping, New Hampshire training academy. It is the largest member of a worldwide business group of firearms manufacturers that includes J.P. Sauer & Sohn and Blasé GmbH, in German and Swiss Arms AG in Switzerland. SIG SAUER is an ISO 9001 certified company with over 1,600 employees. www.sigsauer.com

Request more info from North-American Association of Uniform Manufacturers & Distributors (NAUMD)
Thank You!