This firearms maker offers expert training for LEOs
The SIG Sauer Academy offers more than 110 instructional courses in the safe and effective use of firearms, both at its dedicated facility and on location around the country
---
Sponsored by SIG Sauer Academy
By James Careless for Police1 BrandFocus
Two truths about police and firearms: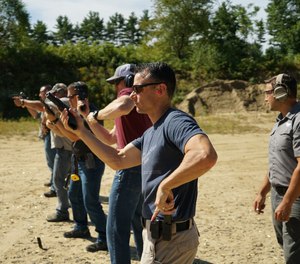 Comprehensive officer training is key to the safe and effective use of these firearms.
No one knows police firearms better than the people who made them.
Given these two truths, it makes sense for police officers, firearms trainers and precision shooters (i.e. SWAT) to get their SIG Sauer firearms training directly from the SIG Sauer Academy. Located on a 140-acre site in Exeter, New Hampshire, the Academy, opened in 1990, has become a go-to destination for officers seeking the very best in firearms instruction.
Located close to both Boston Logan International Airport and Manchester-Boston Regional Airport, the SIG Sauer Academy makes expert-level firearms training accessible for police departments – and individuals, whether they use SIG Sauer firearms or not. In the same vein, the academy provides courses to law enforcement agencies on their premises so officers can experience expert training close to home, without the added expenses of travel.
Expert training for law enforcement
The academy, the only training facility operated by a major firearms manufacturer, is staffed by more than 80 expert instructors – all with deep backgrounds in military and/or police work – whose skills are constantly being updated to meet the evolving needs of law enforcement.
"Police are central to our business," said Scott Reidy, director of training. "We've been offering high-quality courses for 30 years and have developed such a level of expertise that owners of other companies' firearms come to us for training as well."
The SIG Sauer Academy also has over 100 adjunct instructors located across the United States, who are available to provide on-site training for law enforcement agencies.
"Our people come from law enforcement and military backgrounds, and they are available to travel to police departments to provide instruction on their own gun ranges," said Michael Marotte, manager of media relations. "This includes providing armorers' courses to help departments properly maintain their firearms in their own facilities."
General firearms courses include pistol, rifle, precision scoped rifle, shotgun and armorer certification (the people who disassemble, inspect, service and reassemble various weapons without voiding their warranties). Courses designed specifically for law enforcement include:
Police pistol training.
Active shooter response instructor.
Police marksman/sniper.
Counter ambush tactics for law enforcement.
SWAT training.
MACTAC (Multi-Assault, Counter Terrorism Action Capabilities).
Tactical medicine.
Night vision operations.
The academy also offers advanced courses for law enforcement, such as "Bullets and Vehicles" and "Live Fire Team Tactics."
Stress inoculation and exposure to a variety of shooting situations
Today's law enforcement officers face a bewildering array of potential shooting situations. The SIG Sauer Academy site offers a sophisticated complex of training facilities to help trainees prepare for a variety of threats.
"We have 26 live fire ranges," said Reidy. "They include a 1,000-yard range, two live fire shoot houses, an indoor range, 'Area 51' with nine different shooting bays, and a 270-degree auto defense shooting range with vehicles in place. We also have a tactical training area for SWAT and active shooter training."
The capabilities of these ranges offer a wide selection of challenges to help trainees develop a broad array of skills.
For instance, the Team Live Fire Shoot House (built by Action Target) provides 72 different entrance options, plus moveable walls, moveable targets and a catwalk. Meanwhile, the 270-degree shooting range includes a structure in the middle that allows shooting to the right and left with pistols, structures in the back so that students can engage targets at the 50 yard line, and numerous targets around the perimeter walls.
The Conex City tactical training area has been built using 14 Conex shipping containers and is well-suited for active shooter, SWAT and force-on-force training scenarios. It has multiple rooms, hallways, internal and external doorways, internal and external stairs, a catwalk and three breaching doors to train officers in the use of pry tools, rams and shotguns.
The cadre of SIG Sauer adjunct instructors can often create equivalent training experiences on a police department's own range to provide a realistic shooting experience.
"Nothing prepares an officer better for a live fire situation than live fire training that inoculates them against the intense stress of these incidents," said Reidy. "At the SIG Sauer Academy, we let students experience that stress in training and learn to work through it so that they will be at their best when they face the real thing.

Request information from Sig Sauer Academy
Thank You!