How technology can save LE agencies time and money when testing applicants for hire
Don't compromise on standards in difficult recruiting times; here's how one company is helping agencies better identify whether an applicant is a good fit
---
Content provided by Guardian Alliance Technologies
By Jeff Brinkley, Mason City Chief of Police
Background investigations have never been more important than they are today. We need to find the best officers we can as efficiently as possible. We must get it right in the eyes of our community and those who empower us to make hiring decisions. Our process also needs to demonstrate the professionalism of our agency and that we are technology savvy. Guardian Alliance Technologies background investigation software can help us with all of this.
There is nothing more frustrating than going through the time and expense of putting someone through a written test, only to find out that they can't be hired due to one of the most common disqualifiers. It wastes law enforcement agencies' scarce time and resources. Sometimes an applicant may meet minimum qualifications, but there is history or behavior that currently prevents them from being viable.
Guardian Alliance Technologies' background investigation software can fill this crucial gap for law enforcement agencies. One time-saving feature is the "Concerns Report," which tells the investigator if there could be immediate disqualifiers and provides a list of areas where the investigator may want to focus or obtain more information.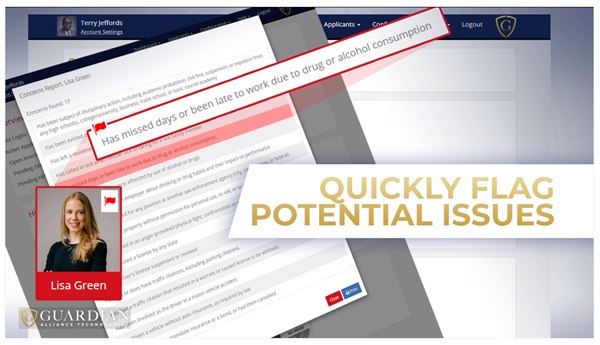 The software is a game-changer for our department and hundreds of other law enforcement agencies across the United States. Lieutenant Whitehill of Nixa Police Department in Missouri explained, "Guardian has really helped us with our whole process. Before, we would hold a test, spend money on the overtime to give the test, only to find out that the large majority of these applicants are not even eligible. Now, with Guardian, we can view the red flags prior to doing the other testing, so we are only giving the physical and written tests to people who are actually eligible for hire. We are saving a lot of time and money."
Right now, Guardian provides the "Concerns Report" free of charge to law enforcement agencies as part of the "Triage Center." Any law enforcement agency can use Guardian to invite their applicants to apply to their agency. Once the applicant fills out the online universal personal history questionnaire (PHQ), the background investigator can view the "Concerns Report" for each applicant.
Improving efficiency and documentation
One of the most important features of Guardian's online PHQ is that it is universal. If an applicant changes his or her answers, the background investigator will be able to see what was changed, added or deleted. This gives the background investigator a chance to evaluate that specific change to the PHQ. It may be as simple as updating personal information or it could be that an applicant is trying to look better on paper.
As a police chief, I am always looking for ways to make the best use of the budget dollars that are entrusted to our department. Guardian is money well spent and it has really improved the efficiency and documentation in our background investigation process. It is an important tool to help law enforcement do more thorough background investigations in less time.
It's very important that we don't compromise on standards in difficult recruiting times. Guardian helps us do a better job of identifying whether an applicant is a good fit for our uniform and our community.
I highly recommend that agencies take a look at Guardian and try it out for themselves. For more information and to view an online demonstration, go to guardianalliancetechnologies.com.
Be honest and accurate
Lastly, a few words of advice to law enforcement applicants: Your integrity with your employing agency starts when you complete your application.
Be honest and accurate in how you report your personal history. Just because you have a couple of bumps doesn't mean you are unemployable in law enforcement.
It is important that you own your mistakes and take responsibility for them. We aren't looking for perfect people in policing, but we must have honest people who are accountable. This is what our communities demand of us in policing today.
About the Author
Jeff Brinkley began his policing career in 1995 as a patrol officer. He worked his way through the ranks, and in 2016, he joined the Mason City Police Department as the Chief of Police. He holds a Master of Public Administration degree from Iowa State University, where he also received a Bachelor of Liberal Studies degree. Jeff is a member of the FBI National Academy Associates and is an Iowa Chapter Past-President. He is also an Associate Teaching Professor at Iowa State University in the Department of Sociology and Criminal Justice. Chief Brinkley serves as a member of the Guardian Alliance Technologies Advisory Board.

Request information from Guardian Alliance Technologies
Thank You!