JusticeXchange helps LE find suspects using the largest offender information databases in the U.S.
The JusticeXchange database follows millions of records and the progress of other cases in more than 30 states
---
The following is paid sponsored content by Appriss.
By Police1 BrandFocus Staff
Searching booking records for suspect information can be laborious and time consuming—unless you have the right analytical tools at your fingertips.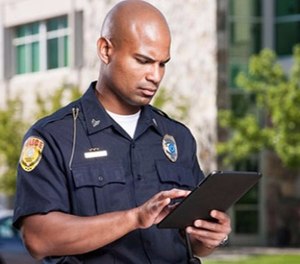 A leading booking software system your agency should consider is Appriss' JusticeXchange, an integrated justice solution that provides a near-real-time database of booking information for investigators via its connected jail network.
Here's how it works.
JUSTICEXCHANGE OVERVIEW
JusticeXchange is a software network that lets connected jails using their system throughout the United States share booking information.
Currently, JusticeXchange leverages records from thousands of local, state and federal justice information systems and other public records databases. That's over 100 million data transactions in near real time, said Jarrod Carnahan, an Appriss company representative.
The database entries in JusticeXchange follow more than 2 million offenders and the progress of other cases and proceedings in more than 30 states. The software has interfaced and currently are loading around 77 percent of the nation's booking data.
JusticeXchange is a subscription-based, scalable system that can be configured based on each agency's unique requirements. The  Appriss team pulls the data into their system from multiple booking systems and other databases; it is all done automatically, without the agencies having to set up new hardware or software systems themselves.
A BROAD REACH
JusticeXchange is the first step to finding booking information on an individual.
The software lets users cast a broad net to find suspects. Unlike other local, state and federal databases that may request multiple keywords like name, birthdate, latest address and other information, with JusticeXchange users can search broadly using just a name.
Carnahan compared it to a simple Google search. A user can plug in just a name, like John Doe. JusticeXchange searches its databases to find booking information in its connected network and provides a list of records that could potentially be John Doe.
Once a user finds John Doe, investigators can then plug that information into other databases for further information, such as the National Criminal Information Center or a state equivalent.
INVESTIGATE LEADS
Another use of JusticeXchange is to generate investigative leads using a watch feature.
The watch feature enables users to 'watch' for a specific suspect or person of interest to be booked into any facility within Appriss' network covering nearly the entire country.
When that suspect is booked, a notification will be sent to the administrator in near real time. This provides actionable data to investigators so that, if needed, they can place a hold on the individual, add extradition requirements and more.
A detective may want to speak to a person of interest in a criminal investigation but can't locate that individual. Without enough cause to obtain a material witness warrant, the detective is left with only conventional methods of locating someone who often doesn't want to be found.
"Any law enforcement officer with access to that system will be notified of the warrant and can make an arrest, when appropriate," Carnahan said. "If you're an investigator but don't have enough information for a warrant, you can set a watch and be notified if your crook is booked into any jail."
PREDICTIVE DATA
JusticeXchange also has a predictive policing feature.
LinkedUp, a visual analytics tool within JusticeXchange, lets users view how individuals booked for a crime may be connected to others, such as family relationships, accomplices and more.
The module within the software can be customized to show the relationship between two suspects, and its ability to connect the dots using analytics further helps investigators find their suspects.
For example, if John Doe and Joe Doe were booked at the same prison at the same time and both had previous convictions for manufacturing meth, if John gets booked for meth there is a good chance Joe also was involved and should be questioned.
GROUP WATCH OPTION
A group watch module within JusticeXchange is customizable to each agency's specific needs.
This module is ideal for getting notifications on groups or types of suspects. It can be used to monitor small or extremely large groups, meaning users can monitor one or two people or also monitor entire populations.
For example, agencies can monitor an entire population of sex offenders. This group can be monitored systematically with real-time notifications.
'This becomes particularly valuable when agencies are tasked with monitoring thousands of active warrants, sex offenders or other populations,' Carnahan explained.
The group watch module also can track active warrant populations.
Appriss' JusticeXchange integrated justice solution gives law enforcement the tools needed to find, watch and get notified of suspects' movements within the U.S. jail system. It is the solution LE needs to get real-time, actionable data that can keep communities safer.

Request information from Appriss Inc.
Thank You!