Which under door camera benefits your department most?
You don't only have one type of screwdriver in your toolbox
---
Sponsored by Tactical Electronics
By Dustin Dodd for Police1 BrandFocus
In the rapidly changing, dynamic and high-stress environments faced daily by police departments across the nation, gathering up-to-date information in real time is critical to maintaining tactical superiority. Police use of force has never been more under the microscope than it is today. Accurate information is vital to ensure the safety of citizens, agency personnel and even the perpetrator to bring about a peaceful resolution to a conflict.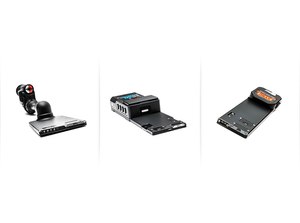 From day-to-day patrol, search warrants by detectives, human trafficking and narcotics stings to SWAT, breaching and explosive ordnance disposal (EOD) deployments, maximizing control of a tactical situation requires a strategy that must ebb and flow like the tide. The more quickly precise information can be obtained and accurately incorporated into the force application decision-making process, the higher the likelihood of success and the lower the likelihood of future litigation.
OVERCOMING VISUAL LIMITATIONS
Scouts who are routinely deployed to get eyes on an objective are limited by walls, doors, covered windows and the like. Robots and drones can be deployed, but they encounter the same physical limitations as your personnel and will need access to the building to truly serve their purpose. How many times can you think of that a drone crashed on a mission or the robot got stuck and became a couple-hundred-pound roadblock?
Stacking up can avoid some of these issues and will increase flexibility when problems arise, but sending in your people has its own limitations, and deploying personnel negates the advantages of operating remotely. Entry team personnel may think they have the powers of Superman, but they don't.
Tactical Electronics has released three under door camera systems. These camera systems deliver real-time visual inspection of closed rooms and barricaded areas, thus providing modern-day law enforcement with the covert intel-gathering tools they need.
MODULAR OPTIONS WITH CORE
The CORE Under Door Camera is utilized by SWAT teams and EOD units across the country. The system uses multiple low-light sensitive color cameras to provide video inspection from multiple angles. The eight-inch-long insertion panel is a mere 0.26 inches thick and can easily slide under the door. Real-time wireless video allows operators to see the unseen and gain the critical information needed to bring about a swift and safe resolution to a conflict.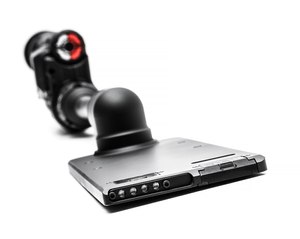 The modularity of the CORE Under Door Camera allows for multiple mounting options. This camera system can mount to both a handheld CORE Grip or a telescoping 8, 10 or 17-foot POLE Grip to provide an extended reach from a more tactically advantageous position.
To meet every department's tactical and budgetary needs, the CORE Under Door Camera is available in a 1-camera, 2-camera or 4-camera configuration. The dual camera provides forward and upward views of a room, perfect for seeing the threat beyond the door – or the defensive countermeasures and barricades attached to it.
The 4-camera further expands your visibility of a room, allowing for lateral views to the left and right. The encrypted video is streamed wirelessly to a CORE Monitor, a TE1 Monocular or the TE View App, available for Android devices.
Complete with high-intensity infrared LED illumination, the CORE Under Door Camera's LEDs can be dimmed remotely to any operational parameter. The camera can also be hardwired to deliver the same high-quality footage in RF-restricted environments. Powered by only three CR123 batteries, the CORE Under Door Camera provides a lot of power from a lightweight source.
TOTAL OPTIMIZATION WITH SWIFT
Specifically designed for rapid deployment, the SWIFT Under Door Camera is perfectly situated to be the camera of choice for breachers and detectives serving a search warrant. This camera system can easily fit into the double M4 magazine pouch commonly found on the front of a load-bearing vest, enabling rapid and accurate recognition.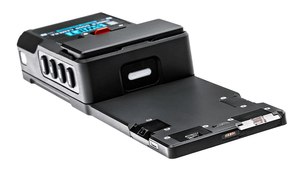 Running on two CR123 batteries, the SWIFT Under Door Camera powers four cameras for maximum viewing angles of a room. Its 950-nanometer infrared LEDs illuminate the target, allowing personnel to gain the advantage in low-light or no-light environments without being detected.
The SWIFT Under Door Camera's tactical accessory port (TAP) provides USB and ethernet connectivity to MANET radios as well as an auxiliary 12-volt DC power input. Coupled with its standby mode and a spin-up time to go hot within 10 seconds, the SWIFT Under Door Camera delivers throughout the lengthiest deployments. An integrated 5-gigahertz Wi-Fi radio allows for wireless video to be streamed to multiple Tactical Electronics monitors or the TE View App, which is available for Android devices.
REMAIN COVERT WITH SYNC
The stealthy SYNC Under Door Camera is ideal for narcotics and human trafficking operations. This plug-and-play camera is designed to be powered and viewed on any Android mobile device for optimal ease of use. The SYNC system also illuminates a dark room with undetectable 950-nanometer infrared LEDs. The combination of IR LEDs with forward and upward camera angles provides operators with real-time video in low-light to no-light environments.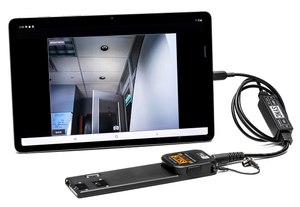 At less than two inches wide, the seven-inch-long camera can easily be stowed in a cargo pocket for quick use while maximizing mission performance, sliding under most doors or around corners. Ideal for plainclothes operations, the SYNC Under Door Camera is an integral tool when you need to remain covert.
With the right tool in your toolbox tailored to the needs of the mission, Tactical Electronics can help you master the environment by maximizing the information gleaned during high-risk situations to plan effectively and handle change decisively.
Visit Tactical Electronics for more information.
Read next: Paws before boots: See through your K-9's eyes
About the author
Dustin Dodd is an active-duty detective supervisor for a municipal police department in the California Bay Area. He was sworn in 2001 and his assignments have included K9 handler, explosive ordnance disposal, SWAT explosive breacher, drivers training instructor, traffic accident reconstruction, and computer and cellular phone forensic examiner.

Request information from Tactical Electronics and Military Supply
Thank You!