PRESS RELEASE
SwabTek donates presumptive narcotics field test kits to help prevent fentanyl/other poisoning of Sacramento County sheriff and Sac PD canine teams
---
Sac County K-9 Units Demonstrated Use Simulation at SSO K-9 Training Academy
SACRAMENTO, Calif., — As Northern California's first responders prepare for projected and substantial increases in narcotics use and overdoses through the holidays and new year, Northern California's law enforcement agencies are particularly concerned about the often overlooked – and most greatly at risk – potential victims of deadly Fentanyl and other narcotics poisoning: the drug detection and law enforcement canine officers.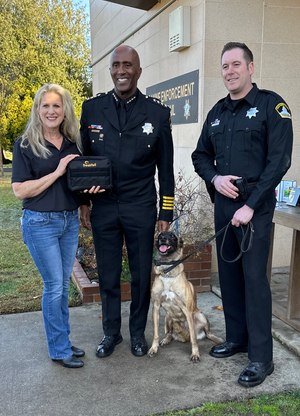 To substantially reduce this risk and better protect Sacramento's canine officers and their handlers, the manufacturer of SwabTek today donated multi-drug, presumptive narcotics field test kits for every canine law enforcement team in the Sacramento County Sheriff's Office and Sacramento Police Department.
Accepting the donations during a brief demonstration event at the Sacramento County Sheriff's Office K-9 Training Academy in Carmichael, California, Sacramento County Sheriff Jim Cooper described the need and timeliness of the donations; and the increasing hazard of deadly narcotics exposure that the canine teams are facing.
"The rates (of Fentanyl poisonings) have gone up. The seizures have gone up. And you are seeing more-and-more of it coming into our country," stated Sheriff Cooper. "These officers run across it day in and day out; and they seize it. A lot of these dogs do narcotics detection. That's their job to do that, and search. And they find these things (Fentanyl), and by then it's too late…this (SwabTek testing) is a tool that we can use ahead of time, to ensure the dog's safety, as well as the handler's safety. So, it's very timely."
Citing reports by the Drug Enforcement Agency (DEA) the American Veterinary Medicine Association (AVMA), SwabTek Vice President of Corporate Relations Drisha Leggitt explained to the attendees why the manufacturers of SwabTek, chose to donate the presumptive narcotics field tests to the canine teams.  According to the Federal Drug Administration (FDA), working dogs, like narcotics detection dogs, are particularly susceptible to narcotics poisoning because they may inhale or inadvertently ingest the powdered or liquid drugs. Because Fentanyl and Fentanyl-related drugs are so potent, only a tiny amount may very quickly cause canine officer overdose and death.
Fentanyl is a type of synthetic opioid that is 50 times more potent than heroin; and the Center for Disease Control estimates it is responsible for more than 100,000 U.S. overdose deaths in the past year.
As SwabTek products are the world's only dry reagent presumptive narcotics field tests set on paper, SwabTek's simple and safe technology replaces the hazardous liquid chemicals and reagent dropper bottles required by traditional field test kits – and are thus, completely safe to use around the dogs (and the community).
"Our company decided the best way to keep our canine officers and their handlers safe was to donate free test kits for every canine team in Sacramento," Leggitt reported. "Frankly, we hope our tests are never needed and the canine teams are never at risk. But if they are exposed, we hope our tests will provide our first responders with vital information to keep their dogs, themselves, and their fellow officers, safe." 
Leggitt presented Sheriff Cooper with a donated SwabTek "Go Bag" consisting of 60 SwabTek Narcotics Test Kits, in a single, zippered tactical bag for easy transport. Leggitt also presented all of attending Canine Officer teams with lightweight, portable presumptive field test kits, appropriate for the canine units' standard medical field bags. The Canine Kits include two screening tests each for the major narcotics classes of Fentanyl and other opioids, amphetamines, cocaine, and cannabinoids.
Video demonstrations of the SwabTek tests donated are available here: https://bit.ly/SwabTekTestDemos.
Leggitt completed the donation by reminding attendees that while SwabTek kits will help identify deadly narcotics, the canine law enforcement teams also need funds and further donations for additional protective equipment, NARCAN and other prescription medicines to treat suspected narcotics exposure, veterinary care, ongoing training, and more. And encouraged others to investigate donation opportunities through the SSO and SPD nonprofit agencies.
Cooper concluded: "It's tough out there these days. These dogs and their handlers do searches day in and day out -vehicles, houses, yards, property searches. And they come into contact on a daily basis with (deadly narcotics). We want to be sure they're safe. And if they do come into contact with Fentanyl, this (SwabTek field test) is the tool to help keep our canines safe. They're invaluable parts of our family. And we want to make sure they are around for a long time. So, anything that can keep our dogs and their handlers safe – it is so important…Thank you to SwabTek for donating and being involved and caring about that." 
Following the donation, SSO canine officers demonstrated identifying suspected substances, and conducting field exercises simulating the situations where the SwabTek presumptive narcotics field tests would most likely be utilized.
Video and photos from the December 28, 2022, media event and SwabTek presumptive narcotics field test information are available here: SwabTek.com.
About SwabTek:
SwabTek is a US-based manufacturer that produces the world's only dry reagent detection tests for narcotics and explosives. SwabTek's simple and safe technology replaces the hazardous liquid chemicals and reagent dropper bottles, breakable glass ampules, special neutralizers, and complicated execution and disposal procedures that are required by traditional field test kits. Using only a pre-moistened swab to sweep a potential narcotics exposed surface – and then on to a simple, enclosed card displaying color when the narcotics are present, SwabTek tests are easily stored, stowed, and deployed; requiring minimal training to administer. For more information and video demonstrations: SwabTek.com.

Request more info from Swabtek
Thank You!