Capture, manage and share multimedia with Motorola Solutions Digital Evidence Management Solution
Learn how this system will help you successfully capture and manage the overwhelming deluge of video evidence your department is becoming more reliant on
---
The following is paid content sponsored by Motorola Solutions
By Doug Wylie for Police1 BrandFocus
With each passing year, body-worn camera and related software suites for law enforcement continue to evolve and improve.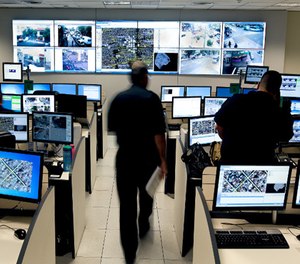 This includes Motorola's Digital Evidence Management Solution, which combines a police body camera with a high-quality radio speaker-microphone and touchscreen interface, and is integrated with a cloud-based storage and management solution called CommandCentral Vault Digital Evidence Management Software.
Here is a precis on each of the main components of the system.
THE Si500 BODY-WORN CAMERA
The Si500 body camera is a 3-in-1 device, incorporating a flexible body-worn camera, a rugged remote speaker microphone and a touchscreen video management device.
It has all of the same functionalities as a radio speaker-microphone, but adds in the ability to record body-worn video. It offers an intuitive user interface that combines voice communications, video, voice recording and still images, said Jerry Napolitano, Smart Public Safety Solutions, Motorola Solutions.
Both body-worn camera and remote speaker microphone feature intelligent recording capability along with the best-in-class audio quality of an APX radio. Napolitano said it delivers an exceptional combination of rugged hardware, powerful software and Wi-Fi connectivity for video upload.
The body camera unit has a screen that can be worn facing outward, so that individuals can see that they are being recorded or will be recorded as part of a preview function. Or, it can be flipped around so the screen is facing the officer's body. That is basically driven by whatever policies an organization might want to implement, Napolitano said.
"In some communities they may want that engagement to be kind of discreet, right? In other areas, they may want to engage with citizens and make them aware that they are being recorded in order to change their behaviors," Napolitano said. "So the agency has the ability to switch that just by inverting it and turning it the other way."
Further, because the lens on the device can be adjusted up or down by 210 degrees, the view can be changed to suit the size and stature of the officer, he said.
COMMANDCENTRAL VAULT DIGITAL EVIDENCE MANAGEMENT SYSTEM
CommandCentral Vault is designed to help agencies save valuable time and costs that are oftentimes associated with digital evidence management activities.
Agencies can seamlessly accommodate all digital evidence from a host of external sources all from this single application — not just body-worn footage collected from the Si500 units on officers in the field. This includes content from the device or imported from external sources such as fixed video cameras in places like interrogation rooms, fingerprint stations, Sally ports, and more. To facilitate this extensive amount of content, storage capacity scales overtime to account for retained content.
In addition, it is compliant with the Criminal Justice Information System (CJIS) security policy and has full audit logging capabilities to ensure that evidence is protected. Also, Amazon Web Services (AWS) along with Motorola Solutions and Socrata have come up with powerful tools to assist police using analytics to derive critical insights, reduce crime, deploy resources more effectively and ultimately arm officers with information they need to protect their citizens using cloud-based Amazon Web Services.
CommandCentral Vault also acts to eliminate manual, time consuming processes from digital evidence management. Anything that is associated with the video — the officer's name, the location, the time, the incident type — become searchable meta-markers. There is even logic that can be associated to further tag content to automate the retention of the content.
Finally, CommandCentral Vault requires less time and energy from personnel in the management of the files. Napolitano said this is because using the Si500 body-worncameras allows the officers to do classifications in the field in real time on the device itself without the use of a secondary device such as a smart phone. This eliminates the need for officers to spend time in front of a computer to annotate their video
"For example, if an officer has a classified video as petty larceny, and petty larceny has a retention policy of 90 days, as soon as the officer tags it as petty larceny and no one requests that video within 90 days, it's going to automatically get deleted," he said. "That allows them to manage the storage cost or that overall evidence very seamlessly with a minimum amount of IT needs.
All of these components together place Motorola's Digital Evidence Management Solution as one of the key ways to run a body-worn camera program, including its high-quality radio speaker-microphone touchscreen interface and reliable video cloud-based storage and management solution. Consider it to help manage the deluge of video evidence from BWC and other devices facing your department.
NEED A WAY TO TRACK YOUR BWC COSTS? CHECK OUT THIS CALCULATOR
Check out this Digital Evidence Management Solution Cost Calculator to determine the budget you will need for a body-worn camera program. Just enter the number of cameras that your agency intends to buy, total number of officers who will use cameras and other data points. Click 'calculate' and the calculator provides estimates on the number of terabytes of storage that will be needed, the upfront equipment costs and more.

Request information from Motorola Solutions
Thank You!