Why it's time to replace your legacy technology with a modern digital evidence management system
If your agency has been putting off investing in a modern digital evidence system, you may be putting your agency at a disadvantage
---
Sponsored by Axon
By Police1 BrandFocus Staff
It would be an understatement to say that technology has substantially transformed law enforcement in the past 20 years. Imagine a clerk having to search paper records to tell you if the suspect at location has a prior record of violence or if a vehicle has been reported stolen.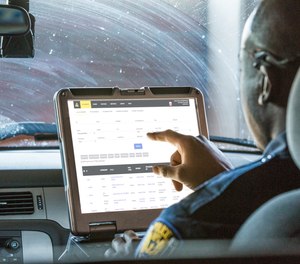 Imagine investigating a bank robbery without security footage or an assault on an officer with only eyewitness interviews instead of body-worn camera video.
From body-worn and in-vehicle cameras to computer-aided dispatch to evidence management systems, technology has come a long way in helping law enforcement offers respond more quickly, more efficiently and more effectively, and with greater situational awareness.
Forward-thinking law enforcement agencies that may have adopted each of these technologies as they (and the grants to fund them) became available may now be struggling to get these independently-acquired systems to integrate with each other, hindering rather than helping the efficiencies they were intended to create.
The challenge in keeping up
Robert Murphy, director of product management for Axon's digital evidence management systems, sees three potential problems that agencies with a patchwork of legacy technologies may encounter.
1. Data silos. Information stored in separate systems adds unnecessary complexity to investigations, especially when it comes to creating disclosure packets for prosecution. "As years have gone on, these agencies have built up a collection of systems where only a limited number of them talk to each other," said Murphy. "Your job is to basically find where everything is and bundle it up and just hope that you didn't miss anything."
2. Multiple devices and formats. Video from closed-circuit TV cameras, surveillance cameras, bodycams, in-vehicle and drone footage, digital photos, audio recordings and other evidence may have different and even proprietary file formats that make it difficult and sometimes costly to review within a single playback application.
3. New forms of evidence. Citizen-provided evidence from sources like smartphones, home doorbell cameras and security systems can be extremely useful, but only if the law enforcement agency has the tools to collect this growing body of community-sourced evidence effectively.
"That evidence can be extremely valuable in an investigation," said Murphy. "That's just not a problem that truly existed 10 years ago because not everybody had a cellphone, security camera or doorbell camera or anything like that."
What to look for in a digital evidence management system
If your law enforcement agency is still relying on a patchwork of legacy systems, you may be missing opportunities to streamline evidence management and efficiently gather and share actionable insights that can help keep officers and citizens safe.
Here are five key features to look for in a digital evidence management system that will remain functional and relevant, even as types of digital evidence grow and agency needs change:
1. Streamlined ingestion of data
Today, evidence is collected at most calls for service, requiring officers to spend additional time processing and organizing that evidence. With digital evidence growing at an exponential rate – and with numerous formats – the ability to manage, access and search that data is becoming increasingly difficult.
"Regardless of what happens downstream, if you can't ingest various sources of data into the system, then what value is the system overall?" said Murphy.
Murphy recommends that law enforcement agencies look for a system that can ingest various types and formats of digital data from multiple sources, whether through a desktop or mobile application where users can upload or capture media or through an application programming interface (API) that links systems together.
2. Indexing and searching capabilities
With the volume of data comes the need to find relevant evidence quickly. In a higher-profile crime, you could be dealing with gigabytes if not terabytes of digital evidence, says Murphy. Whether it's using location metadata to determine what evidence was collected at or near the crime scene or leveraging image recognition or optical character recognition (OCR) technologies that can extract words from images to find associations, it's essential to have a tool that helps with the identification and searchability of evidence.
3. Playback support and workflow management
With the challenge of multiple sources of digital evidence, having one digital evidence system that can play back multiple formats is a necessity. Being able to place images and videos side by side in a gallery view helps investigators to identify patterns and make connections that otherwise might not easily surface.
Also important is to be able to feed disparate sources like security footage, cellphone photos, bodycam video and other digital evidence into workflows that can automatically narrow selections to meet specific criteria like time, date and location. The workflows should also allow evidence to be annotated with investigative notes and searched for keywords so the investigator can focus on the most pertinent, actionable intelligence.
"You need an organizational system where you can associate evidence with an incident," said Murphy. "Your digital evidence management system should be able to add notes, start the investigative process, implement access controls and start building a case."
4. Digital sharing
While legacy systems may still require investigators to burn data to a disc that then gets hand-delivered to various parties, the volume of evidence and amount of data storage needed make this impractical and inefficient.
"You're dealing with hundreds of gigabytes of evidence pertaining to a case," said Murphy. "Legacy systems may require you to deal with DVD technology that really only handles about 9 gigabytes per disc. So, you can imagine the sheer quantity of that data, the cost of those discs and the cost of the time, and it adds up."
A better option is a digital evidence management system that allows secure digital sharing of evidence with prosecutors, defense attorneys, courts and other parties via email or a cloud-based file hosting service. This allows evidence to be easily and quickly shared with the necessary parties while preserving the integrity of the evidence and the chain of custody.
5. Mobility
So much of society today is based on a mobile device like a tablet or smartphone, says Murphy, but a lot of the workflows of legacy evidence management systems are very much desktop-based. When officers spend the bulk of their time at the scene of an incident collecting evidence, it makes sense to provide tools so they can begin processing and organizing that evidence onsite.
A modern digital evidence management system needs to support and enable mobile-based workflows so investigators can capture, review and manage evidence through mobile experiences rather than requiring the officer to complete work on a desktop computer back at a workstation.
Additionally, the digital evidence management system should be configurable to automatically upload evidence into CJIS-compliant cloud storage, saving time and ensuring that no evidence gets lost or misplaced, even if the device it was captured on is lost or damaged.
The prevalence of mobile devices also adds opportunities for law enforcement agencies to collect evidence directly from citizens' smartphones, tablets and doorbell and security cameras. With Axon Citizen, agencies can invite individual witnesses – or the entire community – to submit photos and videos of an incident directly to law enforcement.
Tools for the demands of modern policing
The amount of digital evidence being generated is outpacing the ability for officers to review it, says Murphy, therefore it is important to have tools that can streamline the investigative process. The goal of any of these systems is really to help make law enforcement more effective and efficient in gathering insights, whether by generating transcripts to speed the evidence review process or using artificial intelligence to detect and flag certain activity.
A system like Axon Evidence can help law enforcement agencies manage the influx of data and share evidence efficiently. Axon Evidence also includes AI-based tools that provide significant time savings through functions like automated redaction and transcription that can reduce several days' worth of work into hours. Even better is that all the power of the Axon Evidence digital evidence management system is packaged into a user-friendly experience that's as intuitive as consumer applications, shortening the amount of training time needed to get users up to speed.
"At the end of the day, the whole purpose of all of this is to save time," said Murphy. "Anything you can do to streamline the process of review, of collection, of organization, of any of that administrative work, that adds up into hours you can be back on the street."
Get more information from Axon.
Read next: Will your department thrive or be left behind in today's data-driven world? (eBook)

Request information from Axon
Thank You!