In effort to protect K-9s, more cops carry naloxone
With a prescription from a veterinarian for specific K-9s, human naloxone can be used on them
---
By Renatta Signorini
Tribune-Review
PITTSBURGH — Derry K-9 Blade was instrumental in sniffing out a large shipment of heroin in a vehicle on Route 22 in September, just as he was trained to do.
But his handler, Chief Randy Glick, said it's scary that the 8-year-old Dutch shepherd could have inhaled a deadly substance in the line of duty.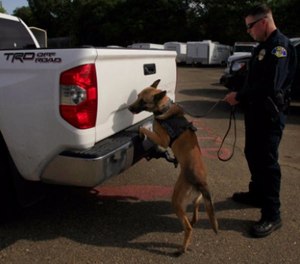 "A block of heroin, if that had been fentanyl. ... You just don't know," Glick said.
Some law enforcement officers in the region have started carrying naloxone in case a K-9 falls ill while sniffing out drugs during detection work, such as raids and searches of cars and homes.
A few K-9 handlers said while the dose they carry isn't designed for an animal, they would use it in an emergency.
State trooper handlers will be trained this month to administer naloxone to their K-9s, a spokesman said.
"It's very concerning," said Westmoreland County Sheriff Jon Held, whose department has a 4-year-old Belgian Malinois K-9 named Diesel. "Fentanyl and carfentanil can be absorbed through the skin and also inhaled through the air. The dog's taught to sniff."
Naloxone reverses the effects of opioid overdoses and has been distributed widely in the region to police officers, firefighters and the public in response to a nationwide drug epidemic that killed a record 174 people in Westmoreland County in 2016.
Synthetic opioids such as fentanyl and carfentanil can sicken human officers, even if they take extra precautions when handling drugs, wearing protective clothing and not field-testing specific narcotics.
• A Washington Township officer had to be revived with naloxone Sunday after coming in contact with suspect heroin, fentanyl or both at the scene of a one-vehicle crash in which the driver was intoxicated, police said.
• An Ohio officer overdosed last month after patting down a suspect whose shirt was covered in fentanyl powder.
• Three Florida sheriff K-9s were sickened after searching a suspected drug house last year. Police believe the dogs touched or inhaled a tiny amount of fentanyl. All three were given naloxone and recovered quickly.
For a K-9 whose job is sniffing out those powerful painkillers, it's up to handlers to make sure the dogs aren't in a dangerous situation that could turn deadly in seconds, said Jeannette Patrolman Jim Phillips. He has always been concerned about the job hazards for K-9 Arees, a 4-year-old German shepherd.
"Now, more or less, it's time is of the essence," Phillips said. "He's just as much at risk as a human officer."
With a prescription from a veterinarian for specific police dogs, human naloxone can be used on them, the Food and Drug Administration says. In a video released last year, Jack Riley, a deputy administrator for the Drug Enforcement Administration, urged police to be cautious when handling powerful opioids and added a specific warning about police dogs.
"Fentanyl can kill our canine companions and partners just as easy as it can humans, so please take precautions for their safety, too," he said.
K-9 handler and trainer Bill Sombo of North Huntingdon has been advising handlers for years to carry naloxone for their animals. K-9 officers that bark, scratch or jump when they detect drugs can easily put miniscule but deadly particles into the air, he said.
"When that happens, obviously, he's closer to the drugs than we are," said Sombo, an Elizabeth officer and master trainer who owns Strategic Law Enforcement K-9 Training Inc. "K-9 officers — all officers, period — have to be on top of their game."
A handler should flush the dog's nose with water immediately and administer naloxone, he said. Symptoms of opioid exposure in dogs, as with humans, include sedation, pinpoint pupils, vomiting, stumbling and a slow respiratory rate, said Dr. Martha Smith-Blackmore, a veterinarian and adjunct professor at Tufts University.
Some handlers said they aren't sure if naloxone — it comes as a nasal spray or intravenous shot — is safe for their animals.
"In the past, we would call an ambulance and the medics would have intravenous Nankeen," said Springdale Township police Chief Mike Navigable, referring to the drug's brand name.
But in more rural places like Derry, waiting for an ambulance might take awhile, Glick said. He wants to start a program to inform area handlers of the appropriate dose based on a dog's size and determine who could supply it specifically for K-9s.
"They're all in danger," he said. "Not only are they police dogs, but they're a member of our family."
Some handlers noted they need to be extremely cautious when their K-9s are working. The animals will follow the scent "without any regard to their safety," said Greensburg Detective Chuck Irvin, whose K-9, 8-year-old Dax, is semi-retired. The department doesn't have doses specifically for Dax or K-9 Falco, a German shepherd, but officers carry naloxone, he said.
Phillips is hesitant to send Arees into vehicles for searches now. Arees' aggressive reaction to finding narcotics could "stir something up and make it airborne."
"I carry a dose, and if he ingests (drugs), he's going to get it," Phillips said. The naloxone he carries is not specifically for the dog.
Pittsburgh officers have been trained to immediately recognize symptoms of K-9 drug ingestion, said Sgt. Chad O'Brien. The department's K-9 unit consists of 22 dogs, nine of which are trained in narcotics. The officers all carry naloxone.
"The current epidemic does concern handlers," he said. "They take additional precautions" including a safety walk-through of a scene prior to a dog being deployed.
The Associated Press contributed to this report. 
———
©2017 Tribune-Review (Greensburg, Pa.)
McClatchy-Tribune News Service

Request product info from top K9 Police Training companies
Thank You!