How a Minn. PD defined LE's role in treating cardiac arrest victims
The Rochester Police Department's use of AEDs is the difference maker in cardiac arrest survival rates
---
The following is paid content sponsored by Philips
The role of a police officer is constantly evolving – particularly when it comes to responding to medical emergencies. When a person suffers from cardiac arrest, seconds count. The Rochester, Minnesota Police Department's decades-long work in responding to these emergencies is a prime example of how utilizing cops in a situation where a minute could mean the difference between life and death can lead to incredible results.
The department has a long history of responding to medical emergencies dating back to the 1930s. Given the nearby Mayo Clinic's limited ambulance services at the time, the department took it upon themselves to act as an unofficial extension – providing medical transportation when the hospital could not. This was the birth of what has become the city's standard operating procedure: to use all available services – fire, police, and EMS – in collaboration to give a victim the greatest possible chance of survival.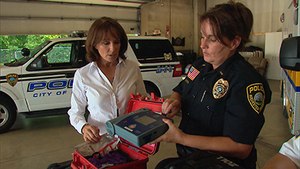 Over the following decades, responsibilities shifted, but the department would continue to have an active (and unique, compared to most police agencies at the time) hand in medical treatment. While the department would eventually discontinue patient transport and some other medical services, their use of automated external defibrillators (AEDs) would come to set the standard for what a law officer's role could (and, the department argues, should) be in responding to victims of cardiac arrest.
Improving patient outcomes
The American Heart Association reports that for every minute that a person is in cardiac arrest, the chances of successful resuscitation decrease by 7-10 percent. Given that officers are already out in the streets in large numbers compared to an ambulance service, they have a far greater chance of arriving to a scene before paramedics do. In 1990, Dr. Roger D. White of the Mayo Clinic approached the department to study just how much of a difference officers equipped with AEDs could make in the survival rates of those who suffered a cardiac arrest incident.
"I realized two things," Dr. White said. "Number one, police were available 24 hours a day on the streets. And because of their proximity to many cardiac arrests by virtue of their mobility, I figured they were going to be able to get there quickly. Secondly, at that time, defibrillators were becoming increasingly compact and easy to use and easy to maintain. With those two factors in mind, I felt that it was time to do a trial with police officers using these smaller, easier to use, compact defibrillators."
The department started small. They had four Firstmedic 510 AEDs – one equipped squad car for each quadrant of the city. The cumbersome defibrillator – what Sgt. Steve Franks, who started his career at the department two years prior to the program's rollout, described as the equivalent of an "ammo can" – weighed nearly 14 pounds.
"It was a pretty good armrest," Franks said.
Despite the limitations of the tech and the low number deployed in the field, the city's survival rate of civilian-witnessed sudden cardiac arrest with ventricular fibrillation (VF) present (the most common life-threatening cardiac rhythm disturbance) went up to 50 percent within the first two years – a 66 percent improvement.[i]
The department expanded from there. In 1996, they added 12 of the smaller, lighter Heartstream (now Philips) Forerunner AEDs to their fleet and retired the 510s. The department would continue their relationship with Philips throughout the years because of the ease of use of their products and their low-energy (a less powerful shock to achieve the same result) design.
"When Heartstream, which eventually became Philips, learned of the work I was doing with police they asked if I would try their new AED," Dr. White said. "Because it was low-energy, in which I was very interested, I agreed to try them in police cars. I was pleased with their performance and the officers liked working with them. I am a strong proponent of low-energy defibrillation so their devices fit well."
A collaborative effort
The department would eventually outfit all of their vehicles and the fire department with Philips AEDs. They upgraded from the Forerunner to the FR2, and are currently transitioning to the newest Philips AED, the HeartStart FR3. Rochester's police, fire and ambulance services are all dispatched to a medical emergency whether or not they know precisely what the circumstances are. Typically, the police or fire departments are at the scene a minimum of two minutes before an ambulance can arrive. Whoever arrives first assesses the victim and, if needed, deploys the defibrillator. All agencies are cross-trained to ensure the maximum likelihood of helping to save the life of the victim.
"We're very much a team," Franks said. "If they [fire or paramedics] get there first and we need to hold an IV bag, for example, we'll fall in place and do that. It's a blend and a team effort between these agencies.
"There's a joke between fire and police that it's kind of like cats and dogs: which one's better? But I'd say in this area we have a pretty close relationship and a respect for what each of us does when we have these types of situations."
Since the beginning of the program, the survival rate of victims who were treated by police and fire has progressively increased. Dr. White's study combines responses by both fire and police services, but he says police defibrillate the majority of the survivors. From 2009-2015, 63.5 percent of cardiac arrest incidents caused by VF that were witnessed and called in by a bystander ended in survival.[ii] These survival rates are quite remarkable when compared with data from other studies. While numbers vary, data gathered in an '2015 update' by the AHA reported survival rates after bystander-witnessed VF at 31.4 percent (Resuscitation Outcomes Consortium) and 33 percent (Cardiac Arrest Registry to Enhance Survival).
Anyone can use an AED
Although the department has rendered medical aid since the early beginnings of their history, Franks stresses that any police officer, no matter their level of experience, can deploy a defibrillator with ease.
"It's certainly nothing to have any hesitation about," Franks said. "It's a cool tool because it's the only one that police have that's going to tell you exactly what to do and when to do it."
Once activated, the device provides the user easy to follow, step-by-step instructions on how to deliver a shock. The department undergoes a simple, two-hour annual refresh training session to keep everyone up to date with current protocols. And, according to the department, such a program isn't cost-prohibitive. Their budget allocation to support the program in 2006, for example, was $1,500 – which breaks down to about $200 per life saved.
"It's so common to have defibs available – they put them in schools, churches – it just makes sense to have them in squad cars and be able to treat a victim as quickly as possible," Franks said. "We've had officers that have been able to help save victims that they have known personally.  I can think of a time where one officer was credited with two saves that were about 72 hours or less apart.  We're a very medically oriented community being in the shadow of Mayo Clinic, but hats off to these officers – they are very eager to respond to the calls."
Given the department's impressive results that eagerness should come as no surprise. To learn more about Philips AEDs, visit their website.
References
1. Rochester Police EMS History. (n.d.). Retrieved January 9, 2017, from http://www.rochestermn.gov/departments/police/early-defibrillation/history
2. Okubo, M., Hess, E., Atkinson, E., White, R. (2016). Improving Trend in Survival From Ventricular Fibrillation in Out-of-Hospital Cardiac Arrest in Rochester Minnesota. Circulation. 2016;134:A14037

Request information from Philips
Thank You!