How technology proved to be a secret weapon in the epicenter of the Asian drug trade
Operation HOPLON aims to weaken the global trade in narcotics by disrupting the illicit precursor chemical supply using Raman technology
---
Sponsored by Rigaku
By Laura Neitzel, Police1 BrandFocus Staff
The country of Myanmar, formerly known as Burma, has been a conflict zone since at least the 13th century when Mongol invaders toppled the ruling empire. Bordering China to the northeast and Laos and Thailand to the east and southeast, Myanmar lies in the infamous Golden Triangle, an area second only to Afghanistan in world opium production and the first in the production of methamphetamine. Myanmar's methamphetamine is the number one drug threat to Asia and the Oceanic countries.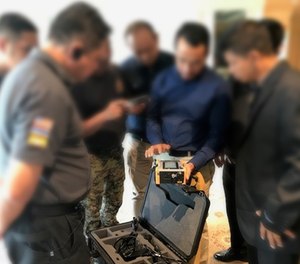 Today, ancient trade routes that once carried silk and spices from Asia to the Middle East and Europe now carry illegal timber, weapons, jade, exotic animals, victims of human trafficking and narcotics.
Decades of civil war among its many ethnic groups, corruption, violent coups and alliances with autocratic regimes in and out of the country have made space for rebel groups and Transnational Organized Criminal (TOC) groups to trade illicit goods with impunity. The largest such group, the United Wa State Army (UWSA), autonomously control a large swath of territory along the Chinese border that is the epicenter of opium and methamphetamine production in Myanmar.
"Eastern Shan State has this protective umbrella around it, which prevents anyone from coming in and affecting any law enforcement," said Michael Brown, a 32-year veteran of the DEA who served in Myanmar as the DEA country attaché. "You think of the Wild West – this is the Wild West times ten on steroids. The government can't do anything to stop or interdict their criminal, terrorist, or insurgency activities. We are not talking about few guys making meth in a bathtub; this is an illicit industrial drug production operation."
Undeterred and untouchable, the UWSA make money not just in trafficking narcotics, but also in taxing narcotics and the precursor chemicals that pass from China through Myanmar and make their way to clandestine methamphetamine laboratories through Eastern Shan State. The UWSA, working side by side with other insurgency groups and TOC actors have created an impenetrable narcotics fortress that even the Myanmar military cannot stop.
The challenges and dangers seemed almost insurmountable, and the mission of Myanmar Counter Narcotics Police Force's Drug Enforcement Division (DED) to combat drug trafficking in the region seemed nearly futile.
But Brown had a strategy and a secret weapon that would prove highly effective in disrupting the Precursor Chemical Supply Chain (PCSC).
A sound strategy and a missing piece
"If you can get chemicals into those areas, then you can mass produce as much methamphetamine as you want. There's no limit on what you can produce," said Brown. "But here's the trick: For chemicals to get in, they have to first cross a legitimate barrier managed by the police before they can get into the Eastern Shan State, where police then lose their access."
The strategy was, then, for law enforcement to sit on those critical highway infrastructures and look for precursors coming in and drug shipments coming out through those choke points. The theory was that damaging the supply chain of precursor chemicals would make the costs of manufacturing narcotics skyrocket – a simple reversal of the laws of supply and demand that would have a negative financial impact on the drug traffickers and the precursor chemical suppliers.
Although the strategy was sound, there was a remaining challenge. The DED didn't have the technology to help them positively identify the chemical precursors in question, which were often unlabeled or intentionally mislabeled as a legal chemical that might be used for legitimate industrial purposes.
"If it's just someone in a pickup truck with six 55-gallon drums of some liquid with no label, we can't seize it because we don't know what it is," said Brown. "And this is how the police were getting beaten by the drug traffickers, basically in plain sight."
To solve this gaping hole in capabilities, Brown sought out technology that would enable DED to detect and identify narcotics, cutting agents and precursor chemicals. Brown found the solution in Rigaku's ResQ CQL handheld 1064nm Raman spectrometer.
Identifying bulk and trace amounts of substances
"I thought this [the ResQ CQL] could be the answer to significantly degrading what I call the Precursor Chemical Supply Chain, from China into Myanmar, for the lesser production of narcotics," said Brown.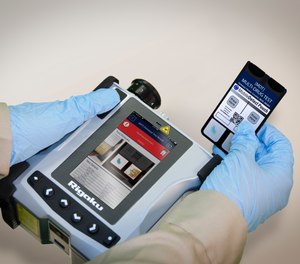 The Rigaku ResQ CQL chemical analyzer is a field-ready handheld Raman tool that provides both bulk and trace analysis of narcotics, explosives, hazardous chemicals, precursors and chemical warfare agents in seconds. It combines a 1064 nm handheld Raman spectrometer for the identification of bulk substances when scanning through packaging or colored substances, along with QuickDetect colorimetrics that allows for quick and easy detection of non-visible trace amounts.
By combining capabilities into one handheld unit, ResQ CQL meets drug analysis standards and gives law enforcement the ability to identify a range of narcotics as well as precursor chemicals on scene.
Equipping DED with the right tools
Then DEA Country Attaché Brown acquired three of the Rigaku ResQ CQL analyzers and gave them to Myanmar's DED in a ceremony that was marked by the U.S. Embassy in Myanmar.
The transfer of the equipment was conducted in support of the DEA's longstanding partnership with the DED related to the investigation and disruption of significant drug trafficking organizations in Myanmar, says Brown. In addition to the equipment, DED officers went through a hands-on training program where they learned how to use the CQL devices.
Within a few months of the pilot program, DED officers made several significant precursor chemical seizures of mislabeled chemicals that were going to be used for methamphetamine production.
"You simply had to have a scanner, go up to a truck and do a scan on the liquids or solid materials that were being transported – and then boom! There you go," said Brown. "You just degraded a potential shipment of chemicals that were going to go to a drug lab."
In several cases, drivers who were arrested for smuggling mislabeled chemicals became informants who identified clandestine locations where precursor chemicals were being staged for transportation into Eastern Shan State, where they would be used to provide methamphetamine. This created a domino effect that eventually led to larger seizures.
"For the DED, the CQL was a major game changer," said Brown. "This was a purely technology-based solution to a very complex law enforcement problem that didn't require DED to execute enforcement operations in dangerous jungle-insurgency areas or risk being shot."
Proving the strategy works
Brown estimates that the DED could have degraded the supply chain by 75% if they had the proper number of scanners and training to implement a nationwide or region-wide interdiction strategy, solely targeting precursor chemicals.
After implementing the program, Brown's tour in Myanmar ended and he was reassigned to Washington, D.C., and another DEA special agent was assigned to continue and expand the program. There were plans to purchase 12 more CQLs when Myanmar underwent another coup. The military took over the government, and then the U.S. State Department froze all U.S. assistance to the Myanmar government, ending the program.
Brown speculates that without initiating a more extensive Raman-based interdiction strategy, drug traffickers will continue to increase the importation of critical precursors for the production for methamphetamine. He was told by in-country sources that traffickers burned down a police check-point station and destroyed one of the CQLs – a testament, perhaps, to the threat the device posed to the cartel's ability to conceal their chemicals.
Although the mission in Myanmar was cut short, it served as a proving ground for Brown's strategy and the effective use of Rigaku's CQL devices to disrupting the precursor chemical supply chain.
Because the strategy was successful in Myanmar, it can be successful elsewhere. Brown predicts that repeating the strategy globally and equipping more law enforcement agencies with the CQL technology will make a huge impact on the ability of cartels to manufacture and traffic narcotics.
"No matter how much money you have, or influence or guns, if you can't move your product from point A to point B, then the rest of your organization suffers," said Brown. "So, if law enforcement globally were to focus on the precursor chemical supply chain – identifying it and choking it off – look at the effect that would have globally on the production of narcotics. It would be staggering, in a relatively short time period."
Today, Brown directs Operation HOPLON, Rigaku's unique technical drug interdiction assistance program for law enforcement. The mission of Operation HOPLON (aptly named for the bowl-shaped shield Spartan warriors carried into battle) is to help reduce the ability of TOC actors and their proxies to smuggle precursor chemicals across international borders by offering equipment, training, and ongoing support to domestic and international law enforcement agencies.
By providing assistance to law enforcement agencies across the globe, Operation HOPLON is positioned to have an impact that reverberates far beyond Myanmar – and help turn the flood of narcotics decimating communities around the world into a trickle.
To learn more about Rigaku's ResQ CQL devices, visit rigakuanalytical.com.
Read Next: How a handheld analyzer eliminates the need for narcotics officers to open suspicious packages

Request information from Rigaku Analytical Devices
Thank You!