How voice-powered technology is improving in-field reporting
Mobilize your department with mobile dictation tools and increase in-field reporting efficiency, recruiting and safety
---
Sponsored by Nuance Communications
By Cindy Coleman for Police1 BrandFocus
As individuals continue to rely heavily on their mobile devices, cops from the baby boom generation retire, and more millennials enter the workforce, the demand for agile tools to access and share information at any time and from anywhere continues to grow. And with one-in-three people in the American workforce part of the millennial generation, the demand to access information and work from any location will lead law enforcement agencies, like other organizations, to transition from traditional paper in-field reporting to the use of mobile tools to dictate, edit and share reporting away from the station and across multiple devices.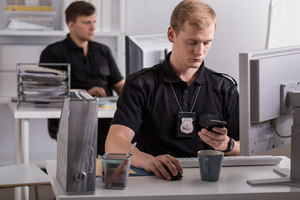 The rise of these new mobile dictation tools brings many benefits to law enforcement. 
INCREASE INCIDENT REPORTING EFFICIENCY
Whether a traffic stop, automobile accident or domestic disturbance, reports must be filed for every incident. Paperwork stacks up, hand-scribbled notes are often hard to decipher and writing incident reports can take hours back at the station. According to the Nuance Dragon 2018 Role of Technology in Law Enforcement Paperwork annual report, more than 50 percent of an average eight-hour shift is spent on paperwork and 25 percent of an officer's day can be spent at the station on reporting versus engaging with the community, according to law enforcement professionals who participated in the national survey.
Along with speeding report turnaround, mobile dictation also enables officers to create more accurate and detailed reports. "Because officers can dictate their reports in-the-moment, they are creating a report narrative, capturing the immediacy and specificity of an incident without the need to recall details from hours before or decipher hand-written notes hours later," said Mark Geremia, vice president and general manager, Dragon Professional and Consumer, Nuance Communications.
MOBILIZE YOUR WORKFORCE
Millennials are a large group within today's workforce who have grown up with technology at their fingertips and are accustomed to being mobile – connected anytime, anywhere, texting on cell phones, sharing photos on Instagram and communicating on Facebook and Twitter. Millennials and mobility are a perfect match.
It's not just millennials, however; bike cops and mounted police can also benefit from the ease and portability of voice recognition technology for incident reporting.  Seventy-seven percent of law enforcement professionals recently surveyed said they would be interested in exploring new technology to help with their incident reporting process.
"Cloud-sharing apps and robust reporting solutions can give officers the ability to create, collaborate and share incident reports all in real-time from any location," said Geremia. "Incident reports started in the field can be completed back at the station or where most convenient for the cop while on-duty."
ATTRACT NEW RECRUITS
Law enforcement departments are facing a recruitment and hiring crisis as "career-for-life" baby boomers retire and exposure to chronic stress and trauma is a growing part of the job.  To remain competitive in hiring the next generation of law enforcement officers, agencies should be cognizant of the "anytime, anywhere" mentality of a younger workforce and consider integrating professional-grade mobile dictation solutions into work processes.
"Law enforcement organizations need to tap into these intuitive mobile tools to improve their documentation processes, as well as employee productivity and satisfaction," said Geremia.
INCREASE SAFETY
When an officer's head is "bent-down" typing into a laptop in a patrol car, the officer is more vulnerable to ambush. With cloud-based voice recognition solutions, officers can dictate continuously without time or length constraints. Dictating in-field reports allows an officer to keep his or her eyes on the surroundings and be more situationally aware while sitting in a patrol car.
DRIVE MOBILE PRODUCTIVITY
As law enforcement agencies seek to decrease the paperwork overload of incident reporting, improve reporting efficiency, attract and recruit a younger workforce and increase situational awareness, they may consider integrating a cloud-based, professional-grade mobile dictation solution such as Dragon Anywhere Group into their mobile documentation workflow.
Agencies can give millennial officers the mobility they demand with a cloud-based workgroup accessible via their mobile devices to efficiently keep up with documentation in the field, back at their desk or travelling to incident locations – all by voice.

Request information from Nuance Communications
Thank You!