Case study: BriefCam helps Hartford Police Department achieve city-wide change
---
Protecting residents and driving growth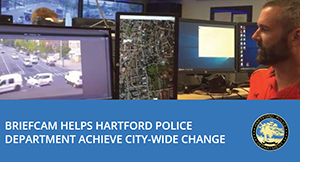 The Hartford Police Department has a sweeping and difficult challenge that is common to all cities and towns. It must protect the city's approximately 125,000 residents and myriad businesses while it develops strategies to decrease crime.
However, the Hartford PD sees their role as more than just protecting Hartford residents, the HPD is striving to revitalize the city and drive economic growth by making Hartford into a city that draws visitors and new businesses.
To further these goals, HPD created the Real Time Crime Center that includes a wireless FluidMesh system enabling the HPD video surveillance cameras to be placed almost anywhere city-wide. Deploying a surveillance system of this size would generally require 30 new officers to review and react to the footage in a timely manner.
The Hartford PD needed a solution that would enable it to quickly review and search massive volumes of video, and transform it into a source of actionable intelligence. BriefCam was chosen to solve this challenge.

Request more info from BriefCam
Thank You!