How EOC video systems are creating smarter, safer police response
An EOC is essential to providing situational awareness to officers responding to a major incident. Here's how video systems take it a step further.
---
The following is paid content sponsored by Cisco.
By Police1 BrandFocus Staff
An emergency operations center (EOC) is the heartbeat of a disaster response.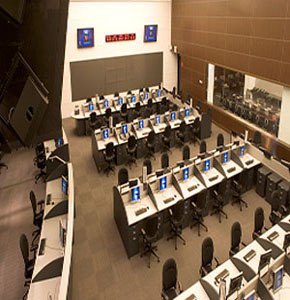 Police and other first responders deployed at an incident depend on information funneled through and then disseminated by EOC dispatchers for improved data, so they can make better informed decisions and communicate across disparate agencies—enabling a more effective police response.
But without the right tools at an EOC, information isn't as robust.
That's why EOCs continue to invest in new technologies, including video communication systems, in order to improve collaboration across agencies to deliver better data to police in the field.
"In fact, EOCs are finding video is rapidly becoming the de-facto medium for communication," said Bob Stanberry, business development manager for connected justice and public safety at Cisco. "This is because video leads to increased situational awareness for a more coordinated response."
EOC Video Systems
There are a number of video systems that can be used by an EOC to improve data gathering for better situational awareness for cops at the scene.
Digital signage can display crucial information, such as broadcast and cable television, maps and graphs, on large-screen – often video wall – displays that enable all personnel in the EOC to share information that is common and relevant to all. These video systems also can function as a display for a group videoconference to discuss the response across local, state and federal agencies.
Other video collaboration technologies like Cisco WebEx and Cisco TelePresence enable users to share computer screens, engage in desktop-quality video chat and perform online conferencing with face-to-face interactions. Stanberry said using these technologies helps build relationships and ensure communication is clearer, as body language can be interpreted and expressions shared.
"Not only do both these systems support team building, but also the ability to truly interact virtually with colleagues from across the globe," he said.
Another key video technology used by EOCs to provide better information to cops in the field is IP video surveillance. These systems can be set up around a city and let dispatchers monitor emergencies in progress.
Compared to traditional analog CCTV systems, IP based-video systems provide higher quality and the ability to view video on multiple classes of devices simultaneously, from traditional CCTV monitors, computers to smartphones and other devices—providing responders at all levels access to the same information.
"It provides inherent advantages for responder safety, responder awareness and investigations," Stanberry said
EOC Video Applications
Video can connect local, state and federal agencies across borders in an instant. This can help get police and other first responders the right resources at the right time without delay, Stanberry said.
There are so many applications for video and EOC that can help them better serve cops and other first responders at an incident, he said. Video systems can connect dispersed staff without waiting or paying for the person to travel during the emergency. That means a police chief across town can check in with the EOC from their location via a smartphone, tablet or desktop computer's web camera and make decisions without having to travel through potentially hazardous environments to meet with colleagues.
"Instead, the chief can use a mobile device for virtual face-to-face communications with the EOC," Stanberry said.
Video also lets incident managers view data and presentations in real-time—whether from a different agency or video from a cop at a scene. With that data, EOC decision makers and their law enforcement partners can develop more efficient response strategies, Stanberry said.
"Public safety officers are able to send video back to the EOC in order to give a clear picture of what has happened," he said. "Then they send the correct response based on what they are seeing over video, and everyone is able to connect through video providing intelligence that will help coordinate the response."
Video technologies are increasingly ubiquitous. Having video at an EOC can increase safety for law enforcement and other first responders, improve situational awareness and increase intelligence in order to serve the community.
For more information, visit Cisco.

Request information from Cisco
Thank You!