Special delivery: Using police robots to deploy chemical agents
Safariland experts explain how the Robotex Avatar can deploy its Tri-Chamber distraction devices.
---
This article, originally published October 13, 2015, has been updated with current information.
The following is paid content sponsored by Robotex.
By Dan O'Shea for Police1 BrandFocus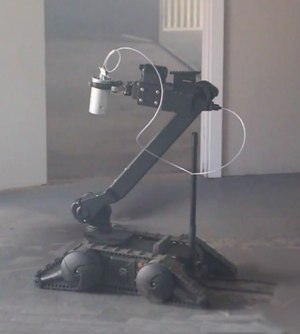 As robots become a common tool for police forces, agencies are discovering new and innovative ways they can be used to defuse dangerous situations and keep police out of harm's way.
This is because robots are a great, safe option for delivering chemical agents into a structure where police are trying to find or flush out assailants.
I recently talked to two experts about how robots, like the Avatar from Robotex, can change how chemical agents are delivered for a safer, more effective police response.
Robots and chemical agents
Departments now have the option of sending a robot into a building remotely where it can complete preliminary searches and deploy command activated devices such as chemical agents, said James Morgan, Senior Technical Instructor with the Safariland Training Group.
Morgan said during its training sessions with police departments, Safariland runs through all aspects of how police tactical teams can use chemical agents in confrontations with assailants.
Morgan said his company works closely with Robotex, as their suite of products can be used with their Avatar robot.
"Both companies are dedicated to helping keep officer safe. When we combine our technology, that level of safety grows much larger than most officers could have imagined," he said.
He said this is because robots offer an effective method for delivering chemical agents into the scene of a confrontation, helping keep police and bystanders safe while defusing dangerous situations.
"It's all about being able to merge different technologies that with minimal training the people on the ground can achieve the desired results in a much safer manner," Morgan said.
Recommended Devices
Morgan recommends using Safariland's Tri-Chamber device to deliver chemical agents into the scene of a confrontation. The Tri-Chamber is a canister which is designed to keep the pyrotechnic material inside it using an "S" pattern design of vents, making it impossible for flames to escape the can.
With the new release of a pyrotechnical OC formulation, officers can probe for or engage suspects with an extremely effective agent that will decontaminate rather quickly once the problem has been resolved.
The robot is able to remotely deploy the canister while the Tri-Chamber ensures a secondary incident isn't started—like a fire.
"We can control the temperature of the can," Morgan said. "It still gets hot, but not hot enough to cause a fire."
Robots and distraction combined
The Tri-Chamber canister can be placed on the extension arm of a Robotex Avatar robot and, when outfitted with a radio controlled mechanism, and ignited remotely when or wherever it is needed inside the structure.
The Avatar's radio controls allow it to be easily maneuvered inside the structure over and around obstacles, while its video camera and two-way communications capabilities mean police always have the ability to see and then communicate with the assailant, Morgan said.
"One of the things I like most about the Avatar is its redundant capabilities: the camera, so you always know what's going on; the two-way communications system lets you remotely talk with people near the robot; and the fact that there are multiple steps you need to go through to place and fire the pyrotechnic," he said. "There are safeguards in place to ensure a safe deployment."
Once the robot arrives in the right spot, the Avatar's extension arm can be controlled to place the Tri-Chamber canister exactly where the tactical team wants it placed. Often, it is placed in front of closed door where the assailant is believed to be.
When ignited, the chemical agent will seep under the door into the adjoining room. The assailant can be identified by his coughing in response to the chemical agent, Morgan added.
"Assuming he volunteers to come out, police have successfully used the robot and chemical agent in tandem to turn the table on the individual," he said. "Police now can deal with him in a neutral environment instead of a closed location that he controls."
Provides flexibility
Using the robot to deliver the chemical agent also grants police a degree of flexibility.
For instance, if police are in one part of a large building, clearing out other rooms or delivering hostages to safety, the robot could carry the canister into a warm area of the building still needing to be searched. 
It can drop the device, then back up and monitor the area while the police team is still busy consolidating, Morgan said. If the assailant tries to enter the area, the robot operator can initiate the device to deny him access.
Robots are increasingly the best tool for safely maximizing the effectiveness of chemical agents when officers are faced with dangerous circumstances and assailants. These two technologies together can keep officers, and bystanders, safer.
For more information, visit Robotex.