PRESS RELEASE
PDC launches academy's Advanced SEND protocol
---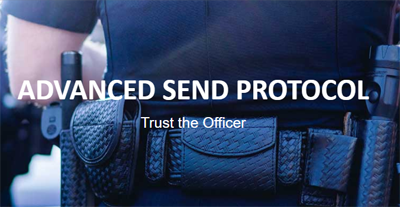 Priority Dispatch Corp.™ (PDC™) is excited to announce the release of Advanced SEND, Protocol 38.  This latest evolution of the SEND process is now in ProQA® and allows emergency dispatchers to more effectively handle calls for assistance from police officers, sheriffs, security, federal agents, highway patrol, or military police. The protocol walks emergency dispatchers through the process of evaluating and recording a reporting officer's on-scene assessment and guides them in sending the most appropriate resources.
Advanced SEND is fully integrated into ProQA® software. It will help emergency dispatchers work more efficiently and develop better relationships with police officers. In addition, communication center management will handle resources better. This will help them earn more trust from law enforcement and from the community in general. Police officers will appreciate Advanced SEND as well. This protocol trusts on-scene officers to use their professional judgment and skill to recognize situations such as uncontrollable hemorrhage, when to send a lights-and-siren EMS response, and how to evaluate serious vs. non-serious injuries. 
Advanced SEND has these other benefits:
It helps emergency dispatchers and on-scene officers spend less time on a task.
Emergency dispatchers can easily obtain and enter required key information in ProQA, resulting in a specific response code for that event.
With the officer's precise information, the emergency dispatcher will send only the necessary resources.
Emergency dispatchers and officers provide more accurate information, so there is more safety and less liability. This helps reduce lights-and-siren responses.
"With the release of the Advanced SEND Protocol, more agencies will be able to implement a streamlined process for medical assistance calls directly from scene officers, allowing them to return to the situation at hand promptly, knowing the right resources are on the way," said Bonni Stockman, Associate Director of Instructor Services with the International Academies of Emergency Dispatch® (IAED™).
Emergency dispatchers will also appreciate that Excited Delirium now has its own determinant code in Advanced SEND. Also, with 22 Determinant Descriptors and specific suffixes now in Protocol 38, emergency dispatchers have total control with programmable, locally defined responses.
For more information about Advanced SEND and PDC, visit the website at http://www.prioritydispatch.net.
About Priority Dispatch
Priority Dispatch supports emergency dispatch centers around the world with the technology, tools, and training required to meet the needs of all types of dispatch environments. As the exclusive licensee and distributor of the IAED's unified protocol systems, Priority Dispatch integrates these protocols with the technology of ProQA® Paramount software. ProQA enables emergency dispatchers to respond confidently and accurately with time-tested and proven logic from the top minds in our special industry across the world, plus the expertise of over 90 million dispatch calls a year.

Request more info from Priority Dispatch
Thank You!