4 steps to freeing up resources for community policing
Community policing is an effective way to reduce crime and strengthen relationships with the public. The challenge is finding ways to do it within police budgets and time constraints.
---
Sponsored by Nuance Communications
By James Careless for Police1 BrandFocus 
The concept of community policing is an old idea that once again is gaining popularity with law enforcement agencies, and for a good reason. When police officers spend their time on the streets, they get to know the citizens they're protecting – and their presence makes these citizens feel safer (and more comfortable with paying taxes for police work) as a result.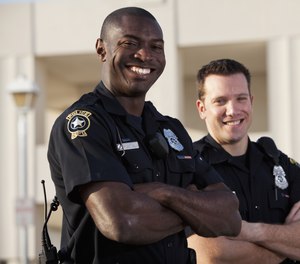 The presence of officers on foot or bicycles helps deter criminals because law enforcement is visible. Citizens are also more likely to alert police of potential crimes when they've formed trust relationships with local officers. This helps shift the focus of police work from responding to crimes after they happen to preventing them before they occur.
Add the fact that friendly officers walking around the neighborhood are regarded positively in the media, and community policing becomes a desirable law enforcement strategy.
The challenge for police is to free up resources to support community policing – which may require greater staffing than other models – without compromising their departments' overall operations.
Here are four steps to achieving this goal.
Step #1: Determine community policing targets
Community policing should not be treated as a 'one size fits all' solution. There are some areas (such as high crime neighborhoods where people are on the street) where police on foot and bikes make good sense. But there are others (such as sparsely populated industrial parks with great distances to cover) where officers in patrol cars remain a better option.
Determining which areas are best suited for community policing and which are not is critically important to using time and resources effectively.
Step #2: Determine and provision community policing priorities
Once a police department has determined which areas would benefit most from enhanced community policing, it is time to prioritize who gets first call on these resources.
Making this call correctly comes down to determining a department's community policing priorities.
These priorities will vary from one jurisdiction to another. A city that relies on the tourism trade may want to beef up community policing in tourist areas first. Another that wants to take down street drug dealers may opt to add street officers in these areas above all else. A third may want to reassure merchants (and the media) in popular shopping districts and add more foot/bike officers there.
Step #3: Streamline officer reporting and administration duties in the field
To free-up time for community policing, law enforcement agencies should evaluate their officer's documentation workflow in the field. Deploying smart tools, like voice recognition software, to alleviate the paperwork burden on officers is one such strategy.
Mandated paperwork devours resources for police departments. In fact, over half of police officers spend three or more hours daily filling out paperwork back at the station or in their cars, according to the 2019 Role of Technology in Law Enforcement Paperwork Annual Report compiled by Nuance Communications.
Given the necessity of police documentation for prosecuting criminals, the amount of paperwork can't likely be reduced for police departments. But a change in methodology can make a difference in how much time is spent doing it.
Specifically, allowing officers to dictate their reports into their mobile digital computer (MDC) configured with voice recognition software like Dragon Law Enforcement can slash the time needed to fill out paperwork, while enhancing report quality and accuracy. This is because Dragon Law Enforcement converts the officer's speech into text, allowing them to create, edit, and file reports using departmental templates anywhere they have access to their MDC. Research indicates that dictating police reports is up to three times faster than typing them, and Dragon Law Enforcement provides up to 99% accuracy transcribing voice into text. This approach also enhances safety as officers can dictate using a handheld microphone, like the Nuance PowerMic III, while remaining "heads up" and situationally aware. Finally, because the process of dictating (as opposed to typing or handwriting) becomes nearly effortless, incident reports are captured with greater immediacy, detail, and specificity.
Step #4: Track time savings from voice recognition software
The amount of officer time freed up by voice recognition software often comes as a surprise to their commanders who are pleased to see the gains in officer productivity and job satisfaction – all the more relevant when recruitment and retention of patrol officers is a challenge.
While simply empowering officers to complete incident reports on their shift in less time is a significant benefit, Chiefs and their Command Staff know time freed up by moving to voice recognition software is a resource best used strategically. Accordingly, many agencies measure the time spent on paperwork before and after officers move to platforms like Dragon Law Enforcement. Once they understand how much "free-time" is released back to the department, management can allocate it wisely.
A revolution in police work
Moving to voice recognition software is as important an advancement for law enforcement as deploying police radios and replacing handwritten reports with a modern Records Management System (RMS). Law enforcement agencies can enhance community policing by taking this technological step to streamline reporting by speaking reports into their RMS, rather than typing them manually.
About the Author
James Careless is a freelance writer with extensive experience covering law enforcement topics.

Request information from Nuance Communications
Thank You!