PRESS RELEASE
PoliceOne & TASER RISE Awards Named 2015 FOLIO Marketing Award Finalist
---
Second year of content-focused program highlighted exceptional law enforcement examples, including community partnerships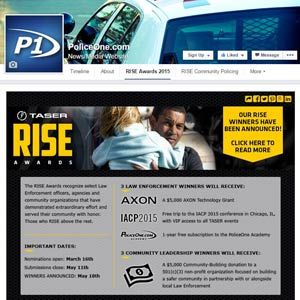 SAN FRANCISCO – PoliceOne.com, the leading online resource for the law enforcement community, today announced that it has been named a 2015 FOLIO Marketing Award finalist in the Content Marketing/Sponsored Content Package category for its PoliceOne & TASER RISE Award program.
PoliceOne.com was nominated in the Content Marketing/Sponsored Content Package category alongside leading publishers The New Yorker, The Atlantic, The Economist, Outdoor Life and B-Metro.
For the second year in a row, the RISE Awards - a partnership between PoliceOne and TASER International - generated almost 200 reader nominations highlighting exceptional law enforcement achievement, leading to multiple editorial profiles of RISE nominees written by the PoliceOne team. The program, which counters negative portrayals of law enforcement in the mainstream media by shedding light on positive policing examples, added a category focused on community partnership in 2015. All told, the program generated more than 1.5 million Facebook and email impressions, driving substantial brand awareness and goodwill for TASER among PoliceOne's law enforcement audience.
The FOLIO Marketing Awards recognize successful marketing campaigns executed by the media industry's most innovative marketing professionals. Produced by FOLIO, the leading publication serving the entire magazine and online media industry, the awards are an acknowledgement of the growing importance of marketing at the center of the magazine media enterprise.
"Brands are increasingly recognizing the importance of high-impact content marketing strategies, and public safety companies are no exception," said Jon Hughes, Vice President of Content for Praetorian Digital. "We are very happy to be recognized for our work on the RISE Awards, which represent an ideal content marketing partnership between media and brand that has resulted in content of legitimate educational value and interest to our readers. TASER has been a fantastic partner for this project, and we were happy to see the second year of the RISE Awards reach even greater levels of success than the first."
With an average of 5 million unique visitors per month and over 1.5 million registered members, Praetorian Digital's web properties have become the leading online news and information resource for police, fire and EMS professionals. In addition, Praetorian holds a strong lead in social media for public safety with a Facebook community of more than 2.7 million fans across 12 official pages.
Last month, PoliceOne won three FOLIO Eddie Awards for editorial excellence, taking home prizes in the Best Online Community, Best Use of Social Media and Best Online Column categories.
Winners and honorable mentions in each category will be announced at a celebratory breakfast on December 2, 2015 in New York City.
About Praetorian Digital
Founded in 1999, Praetorian Digital is the leading digital media company in the public safety and local government market. Our properties are visited by more than 6 million public safety and local government officials every month and count over 1.5 million first responders and government personnel as members. Praetorian owns and operates PoliceOne.com, FireRescue1.com, FireChief.com, EMS1.com, Corrections1.com, Military1.com and Gov1.com as well as more than 15 topical websites providing resources ranging from accredited online training to grant funding assistance. We are deeply committed to providing cutting-edge information and resources that help first responders, government officials and military personnel better protect themselves and serve their communities. For more information, visit www.praetoriandigital.com.
About FOLIO
The Eddie & Ozzie Awards program is presented by Folio:, the leading publication serving the entire magazine media industry. The FOLIO: family of products also includes the monthly FOLIO: magazine, weekly eNewsletters, FOLIO: Webinars, MediaNext Show, The MediaMashup Conference, The Eddie & Ozzie Awards and The FOLIO: 100. For more information, visit www.foliomag.com.