3 cons of using paper to track firearms
Departments may hurt their operations by sticking to paper tracking versus investing in software
---
The following is paid content sponsored by Armorer Link, Inc.
By Amalia Deligiannis for Police1 BrandFocus
Like any organization, law enforcement agencies have to do administrative work. This includes tracking when, where, how and by whom firearms and their accessories are deployed.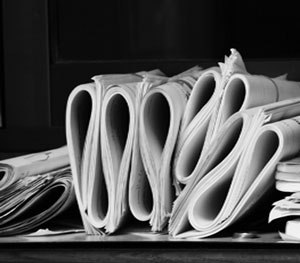 Usually an officer is designated as the armorer and in charge of tracking firearms. And while software can help these officers better manage tasks like tracking firearms, rounds and their accessories, a recent Police1 survey found 70 percent of agencies still use some type of paper-based system for firearm tracking.
These systems have major drawbacks, ranging from inconvenience and extra cost to flat out increased liability.
Here are three cons to using paper-based systems to track firearms and why firearms software is a better option for modern police agencies.
1. Paper-based systems take time to fill out while human error can lead to useless data.
Armorers spend the majority of their day recording the details of firearm tracking when using paper, said Joe Ganete, a former police armorer and president and CEO of Armorer Link, a cloud based software that manages the tracking, training and maintenance of firearms.
This is because armorers must gather and write down a lot of information to track firearms and manage an armory, Ganete said. This includes cataloging any new firearms ordered and information about each gun, such as the manufacturer, the serial number, the description and the date.
Once a gun is in the system, the armorer has to record the maintenance of all firearms and handle returned firearms, which involves writing down the manufacturer, serial number, description of the weapon and date as well as document the name and payroll number of the officer.
This can take up hours of an officer's time, Ganete said.
"Every time a piece of data is gathered they have to physically take the time to pull out pen and paper," he said. "The hours wasted using paper systems can add up fast."
Then there is human error. A major concern within agencies is transposing numbers when documenting firearms.
"There's a lot of numbers used in our industry, and it's only one number that separates one employee from the other," Ganete said. "Someone can miswrite a '5' or a '6' and then send that information to a different person."
Because it is written on paper, it is hard to find until much later as paper doesn't have a system that can double check for errors, he said.
With software, a user is prompted to add specific data fields and offers alerts if data is not entered into the right field, Ganete said.
In addition, software offers the same questions and prompts each time so data is gathered consistently by multiple users.
2. Storing, managing, retrieving and sharing paper-based firearm tracking paperwork is not easy.
Retrieving paperwork and finding information in a paper-based system is time-consuming and sometimes impossible. 
Based on Ganete's experience as an armorer, it takes about six minutes to retrieve and file a document.
Another issue is finding the physical space to store firearm-related information. The larger the agency, the greater the task of storing and managing paperwork related firearms becomes, Ganete said. Firearms are checked in and checked out on a daily or weekly basis.
"All of that paper needs to be stored somewhere, and that extra real estate inside a department's headquarters costs money," he said.
They also need to track the service of firearms, the retrieval of firearms that are being decommissioned and those that need repair because they were damaged in the course of duty.
"Somehow, all this firearm movement needs to be tracked," said Ganete.
Paper makes it more difficult for armorers to share information, especially when tracking firearms that are in different locations.
With a software suite, users can query the system to find the data they need. It can be sorted by specific fields, like rounds fired, as well as easily identify users via a search field.
"You're able to query the data to find the information you need," Ganete said.
3. Paper documents can be vulnerable to getting lost, stolen or damaged.
There are a lot of unknowns when you have paper documents floating around, according to Ganete.
This is especially true in a busy police department or agencies that do a lot of training, Ganete said.
"An officer can fail to put a document back from where it was retrieved from, or it can get it mixed-in with another document," he said. "It is human error but also the result of an inefficient paper system."
Paper records on tracking firearms may be kept in an office room or a file cabinet. While the office and cabinet can be locked, they can be broken into, Ganete said.
"This leaves it open to theft and tampering," Ganete said. "A firearm tracking document can be removed from a secure location, destroyed, damaged or edited."
Documents also can be damaged or lost because of a natural disaster, fire or flood.
"Unless you have taken the appropriate measures to secure the document, you run that risk of something happening to that document," Ganete said. "There is no back-up system to make sure that data is secured."
Instead, password-protected software suites keep data protected. While data can be housed onsite, new cloud-based technology offers additional security by keeping data tucked away offsite.
Paper-based systems are passé. They cost too much money and time, as well as lead to lost firearm data. Now is the time to ditch the paper and adopt software to help track your agency's firearms.
For more information about firearm tracking software, visit Armorer Link, Inc.

Request information from Armorer Link
Thank You!