How an Okla. PD drives high resident satisfaction with community-centered policing
"We serve at the public's discretion and should partner with them to understand what the public's priorities are," Chief JD Younger said
---
Content provided by Polco
By Jessie O'Brien
The residents of Oklahoma passed a temporary tax to build a $40 million public safety building a few years back. Today, the building is a symbol for the confidence community members have in their police department.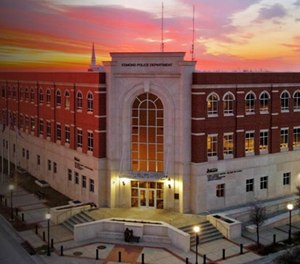 Community-centered policing has been the prime philosophy of the Edmond Police Department for years. That strategy cultivates buy-in from residents and fosters collaboration. As a result, feelings of safety in Edmond are well above national averages. And residents are willing to cooperate with police officers when they are needed. 
Understanding Resident Priorities
Edmond PD prioritizes a healthy partnership between officers and residents.
"That relationship is where it has to start," said Chief JD Younger. "We have to continue to remind ourselves that the police are public servants. We serve at the public's discretion and should partner with them to understand what the public's priorities are."
So, EDP employs multiple strategies. The City launched the Community Oriented Policing Leadership Council (COPLC), made up of police and residents, to determine what's most important.
COPLC members are elected by the mayor and city council. That mix of people results in constructive conflict, Younger said.
To understand resident priorities, the City of Edmond also conducts The National Community Survey (The NCS) by Polco. The NCS measures resident satisfaction with their community and government services, including safety services. It helps the city and police department understand and track their performance. And because the city regularly conducts The NCS, they can track their performance over time.
"If you're in a community that does not currently use some type of survey instrument, and you decide to, I would applaud that," Younger said. "You should look at each year for what it has to offer, but the trending data is the best type of data."
The survey results show only 5% of residents say improving safety, crime and policing are their top priorities.
But Younger says the department remains proactive, despite high approval ratings. They support other departments that may be struggling.
For instance, Edmond survey results reported lower ratings for mobility (roads, traffic and transportation). To help alleviate traffic concerns, EPD patrols the most top-traveled intersections to improve safety.
"Data informs us – not just the police, but the entire community –  how the police department fits within [other departments]," he said.
Cultivating Positive Relationships and High Resident Satisfaction
The police department also participates in community events like the Special Olympics, 5Ks, youth programs and more. While on patrol, officers are encouraged to talk to residents and be involved.
"We are staffed around the philosophy of community engagement. Our staffing levels are such that we have the time available to have longer conversations with citizens. We are not just running from call to call," he said. "I know that is not the case with every other community."
As a result, The NCS shows 96% of Edmond residents feel safe in the city during the day.
"The test of police efficiency is not how many arrests we make, it's the absence of crime and disorder," Younger said.
These feelings of safety are not just due to the police department alone. Residents themselves also play a major role in the partnership.
For example, in 2022, the Edmond Police Department experienced its first line of duty death. Sgt. CJ Nelson died in a crash while patrolling on his motorcycle. Crowds came out to show support at Nelson's memorial.
"[Resident-focused policing] is about getting into the community and making those connections," Younger said. "It's about the relationship and the ability for the community to come to their police departments and express their concerns or questions or their love and support. Both are equally important."
---
About the author
Jessie O'Brien is the head copywriter at Polco, an accurate and reliable community engagement platform. Hundreds of police leaders trust Polco for insights from surveys, data analytics, and more. Learn more about Polco for Police Departments at polco.us/law-enforcement-insights.

Request information from Polco
Thank You!