How police can benefit from open data
Studying and sharing non-sensitive information can provide valuable insights and build trust in the community
---
Sponsored by Amazon Web Services
By Laura Neitzel, Police1 BrandFocus Staff
The concept of "open data" may raise an eyebrow for a law enforcement officer whose job is to keep people and property secure. In an environment where many police may feel their actions can be vilified, some agencies are reluctant to invite scrutiny, not realizing that by offering greater access to their data, they build trust with the community.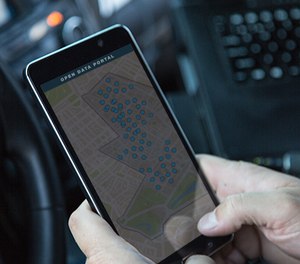 Former Dallas Police Chief David Brown learned this in 2012 during the aftermath of an officer-involved shooting of an unarmed black man by a white police officer. Allegation of racial bias soon followed, and Chief Brown realized that to get ahead of the story and dispel rumors, he needed to share as much information as possible.
"Citizens, and particularly our activists, who had preconceived notions about where and who this force was being used on really had to take a look at their previous beliefs because the data didn't support it," Chief Brown told a gathering of leaders at an open data conference. "Facts became the great equalizer for us and put us in a position to open up more of a dialogue with our critics."
By organizing non-sensitive data into data sets that can be shared with any interested individual or organization, a police agency can provide transparency, promote trust and gain meaningful insights from the data, while doing so in a secure and compliant environment.
What is open data?
Open data is raw data that can be downloaded and analyzed by another person or organization. Instead of a high-level summary, open data gives people access to data at a detailed level – providing not just aggregate data, but incident data in a downloadable, digital format, at no cost, and for use without restriction.
Enabling citizens with access to police data may sound counterintuitive. But, in fact, letting citizens see the raw data shows the true scope of what law enforcement officers deal with on a daily basis. As any officer knows, a single allegation of racial bias in a use-of-force incident can explode into a perception that the whole department is biased, when, in fact, an analysis of the data will show the opposite is true.  Opening data lets a police agency tell an accurate, unmitigated and more complete story.
According to The Police Foundation's Law Enforcement Executive's Guide to Open Data, "with increased access to accurate information, police officers and community members alike are empowered to develop a fact-based perspective on community-police relations by understanding the actual public safety and crime problems within their jurisdictions and how the police are responding to those problems."
The Police Data Initiative promotes the use of open data to encourage joint problem solving, innovation, enhanced understanding and accountability between communities and the law enforcement agencies that serve them. Partners include the International Association of Chiefs of Police, the Police Foundation, technology company Socrata and the U.S. Department of Justice Office of Community Oriented Policing Services (COPS).
Through the Police Data Initiative, more than 130 police agencies across the nation have shared data sets they have identified as important to their communities. These data sets are used, among other purposes, to track progress on performance goals, identify crime trends and hotspots, improve traffic safety, measure response times and call volume, reduce opioid deaths and show transparency around issues such as workforce demographics, officer complaints and use-of-force incidents.
How open data helped New Orleans, Louisiana, transform city operations
"If you want to tell the whole story of what's going on in your community from a public safety perspective, there's no better way than to release all your data that shows, in granular detail, the whole story," said Oliver Wise, director of Data Academy at Tyler Technologies' Data & Insights Division and former director of New Orleans' Office of Performance and Accountability.
As a pioneer in the field, Wise oversaw the use of open data to transform city government in New Orleans, post-Hurricane Katrina. Half of the city's workforce had been laid off after the hurricane, the city was over budget by about 25 percent and morale was abysmally low.
"The entire senior leadership team knew that we needed to take a brand-new approach to management and saw the huge potential for data to transform how city government was managed; how we created accountability for results; how departments could collaborate with each other; and importantly, how we could improve engagement and trust with our community," he said.
Wise first used open data to tackle a pervasive problem in New Orleans – urban blight. Citizens didn't just want to know that the city was responding to the problem; they wanted to know the status of specific troubled properties in their own neighborhoods.
"The City of New Orleans partnered with Socrata (now a division of Tyler Technologies) to put that data on a centralized platform in the cloud, very affordably, and we opened that data to the public so that they could see the data we were using," Wise said. "Because the data was already in the cloud and open, any citizen could look up a property by address to see how it was working its way through the code enforcement process."
When the New Orleans Police Department was put under a wide-ranging Department of Justice consent decree in 2012 that required them to initiate reforms and evidence compliance, Wise again turned to open data to set goals and track performance. In the years since, the data management system they created has become a model for other police departments – and not just the ones looking to comply with a consent decree or to reset strained community relations.
The data management system created by New Orleans includes a dashboard that pulls data from different sources and displays them in user-friendly charts and tables and generates maps that highlight crime hotspots. Citizens or organizations interested in mining the data further can access detailed reports that show information such as response times at different times of day, or in different precincts. The New Orleans Police Department was one of the early leaders in the Police Data Initiative and many other agencies have adopted their model or have created and shared their own data sets.
The benefits of open data to police departments
Open data provides an opportunity for more productive and constructive conversations with constituents, says Wise, because all parties have access to the same information.
Police departments around the country are also creating their own data sets to gather insights that help them respond effectively to challenges with their respective communities. Example data sets include calls for service (911 calls) and self-initiated calls for police action, says Wise. "That is a massive data set, but it gives a very good handle on the pulse of your community and how people are interacting with the police system," he said.
Data can be pulled directly from an agency's records management system to show real-time information or historical trends, which departments use internally to inform decisions and gain a broader picture of day-to-day performance. Through the Dallas OpenData portal, citizens can access Dallas Police Department records to view active calls in real time, track officer-involved shootings or show progress toward performance goals.
Cincinnati, Ohio, a city laden with opioid deaths, created the Cincinnati Heroin Dashboard in 2016. The dashboard analyzes data from 911 calls to determine when and where emergency medical services administered naloxone for a suspected heroin or other opioid overdose. This location and time data helps public safety officials identify dangerous areas and peak times so they can anticipate when and where to deploy personal and medical resources. The dashboard also provides helpful information to families of addicts, and alerts them when there is a particularly potent drug on the street.
Governors around the level of detail accessible by the public are built into the data set. To protect privacy, the Cincinnati Heroin Dashboard does not include patient information or medical outcomes – just information such as the day, time and block address of the Emergency Medical Service (EMS) response (such as whether the patient was treated on scene or transported to the hospital).
The Dallas OpenData portal adheres to similar standards. A site visitor can view active calls and search police reports and arrest records by incident number, time, block location, physical description of the suspect and other details that convey useful data, but that do not compromise personal privacy or security.
How the cloud facilitates open data access
Cloud-based data storage from service providers like Amazon Web Services is what makes open data open. Instead of sequestering data sets in a set of binders accessible only to officials at headquarters, the cloud enables agencies to share data across an entire police department in a secure and compliant environment. Every rank-and-file officer, on whatever internet-connected device he or she prefers, can see that data.
"The big leap for putting data in the cloud and making it open is that it democratizes the data across the entire police department. Now that data's in the cloud, it's widely accessible. And the entire police force has access to that data at their fingertips," said Wise.
The data can also be shared with the district attorney, public health departments, or even nonprofit organizations working to solve community problems like chronic homelessness or gang violence.
How open data empowers officers and agencies
In New Orleans, Wise said, data made it easy to see where agencies were having problems with response times, and helped make the case for added resources.
"Having the data helped garner the political will to really change how the police department was staffed, resourced and allocated to more adequately respond to a resident request," he said. "Most importantly, we were able to boost the police budget to hire additional officers to address that issue."
In addition to benefits of open data for citizens, journalists, social service agencies, advocacy organizations and nonprofits, open data can not only help a law enforcement agency build trust with the community by showing transparency, but also by helping them share their successes and gain support for the resources it needs.
"We believe that data should be used first internally to create intelligence to shine a flashlight on where problems are occurring, so that they can be improved. And to provide insights to departments so that they can work smarter, not just harder," said Wise.

Request information from Amazon Web Services
Thank You!