Watch your 6: How to defend yourself against an ambush attack
Training, strategy and ballistic armor are vital tools to help officers prevent and survive surprise attacks
---
Sponsored by ATS Armor
By Police1 BrandFocus Staff
The attack on Dallas police in July 2016 and the shooting of three officers in Baton Rouge, Louisiana, a few days later are just two examples of how today's law enforcement officers are too often literally under fire.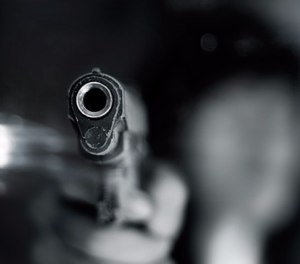 Firearms-related incidents were the No. 1 cause of death for LEOs in 2016, according to the National Law Enforcement Officers Memorial Fund, with 64 officers shot and killed across the country, including 21 who were ambushed.
While ambush attacks are by their very nature difficult to predict, planning ahead can help you fight back and survive – even prevail. In this article, we consider six tools and strategies to defend yourself against an ambush while on patrol.
1. Always wear your armor
Ballistic body armor provides significant protection, but only when you're wearing it. According to the IACP Ambush Fact Sheet, officers who were wearing protective body armor survived attacks 53 percent of the time, compared to 30 percent who were not.
Make sure your armor matches the threat you're most likely to encounter. Many agencies mandate wearing Level IIIA soft armor, which protects against handguns. But for proper protection in an active shooter scenario that involves a rifle, you need Level III or higher rifle-rated armor plates.
Some agencies have begun adopting active shooter kits, which include an external plate carrier with hard armor plates to be donned when responding to a rifle threat situation.
"Soft armor today is a must-have item for law enforcement while on duty," said Brian Beckwith, a retired Marine officer and co-founder of ATS Armor. "But soft armor protects only against handguns, so a rifle-rated active shooter kit allows first responders the ability to quickly armor up and continue with their front-line response."
A ballistic shield can offer additional protection, particularly if your standard armor is rated for handguns and you find yourself under fire from a high-powered rifle. Shields also provide extended protection from the head down through the pelvic triangle.
2. Watch your 6
No matter what you're doing in uniform, it's important to stay alert for any possible threats. A motto for many officers is "Keep your head on a swivel."
Look and listen carefully for full situational awareness, writes Police1 columnist Glenn French. Scan the area, formulate a tactical response in case of attack, identify cover points and an escape route, and recognize ambush points. This should be a constant loop of thought while you're on duty, he says. 
Police1 columnist Jonathan Page recommends scenario training and practicing your core skills to the point that you can perform them automatically, leaving your conscious mind free to recognize, plan, decide and act and putting you ahead of the action/reaction curve.
3. Don't make yourself an easy target
The relative shelter of a police cruiser can give you a false sense of security, and it's easy to get caught off guard while you're focused on filing reports or listening to radio chatter. But that brief lack of situational awareness can be fatal.
"The more time you spend looking at something other than your surroundings, the more vulnerable you become," writes Police1 editor Doug Wyllie.
When it's time for "paperwork," don't park in open public areas. Seek a safer environment such as your police station or precinct. Even a firehouse offers increased security if you are in your car. Further, doing reports in the parking lot of a school is a better location than out on the road, Wyllie says.
If you must work in your cruiser, don't let your situational awareness lapse, no matter where you are. Keep one eye and ear on your surroundings, and check your mirrors constantly.
Above all, stay unpredictable. Vary your routine and patrol route daily so your actions can't be mapped and targeted.
4. Patrol in pairs
Most ambush murders of police have occurred when the officer was alone. With good contact-and-cover tactics, partner officers are better able to protect each other against sudden attack.
According to a 2015 report from the Office of Community Oriented Policing Services, more than one-third of officers who are ambushed are alone, but officers who received assistance from another officer during an ambush nearly double the odds for survival.
5. Use your cruiser as cover
"You're sitting in a one-ton weapon – use it to your advantage," writes Wyllie.
Drive at the attacker(s) and become a difficult, rapidly moving target. You want to get away from the kill zone so you can fight back.
Practice drawing your weapon from inside your vehicle. You may need to fire through your own windows or windshield.
Also practice how to use the engine block for as much protection as possible, whether it's crouching down inside behind the dash or positioning yourself outside to return fire. Be mindful of which spots offer cover (such as the engine block and wheels/axles) and which don't (everything else).
6. Fight back
The IACP reports that officers who return fire are almost twice as likely to survive as those who do not. Train to take cover and fight back.
If you are hit and wearing body armor, you may be able to stay in the fight. One element of the NIJ standards testing is meant to ensure that an officer wearing a ballistic vest can take a hit and fall on the ground and still get back up and keep fighting. 
Also, consider that a strong command presence may deter an attack before it happens. Interviews with inmates who have attacked officers revealed that some chose their targets according to who looked less likely to fight back.
It's difficult to predict an ambush attack, which by its very nature relies on surprise. But preparation can help you survive and fight back. Protect yourself so you can protect and serve others.

Request information from ATS Armor
Thank You!