PRESS RELEASE
Dallas Officer Saves Life with SOF Tactical Tourniquet from Tactical Medical Solutions
---
A Dallas Police Department officer used the SOF Tactical Tourniquet – Wide from his Tac Med Downed Officer Kit to help save the life of a gunshot wound victim.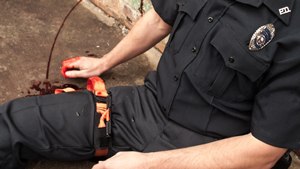 Responding to a shooting call, the Dallas officer found the victim lying on the ground with a gunshot wound to his left leg. As the officer approached, he could see blood spurting from the wound consistent with an arterial bleed. The officer put on his gloves, retrieved his tourniquet, and cinched it down on the victim's leg until the bleeding stopped. The victim was then transported by Dallas Fire and Rescue paramedics to the hospital.
The paramedics believed that the officer's quick-thinking in applying the tourniquet saved the victim's life, and the surgeon said that the tourniquet application was a big contributing factor.
The Downed Officer Kit was also used by Dallas PD earlier this year to help save the life of a fellow officer.
Tactical Medical Solutions, Inc. is a global developer and manufacturer of medical supplies for combat and tactical medicine.
About Tactical Medical Solutions
Law enforcement and first responders around the world face the same tough questions: Is a basic first aid kit capable of treating a serious injury? When a police officer is injured, who will reach them first? How long will a victim have to wait for a scene to be called safe? Tactical Medical Solutions® has provided the answer from the streets of Los Angeles, to the alleys of New York, on the duty belts of Philadelphia, to every patrol car in Dallas. TacMed™ offers a full range of trauma kits and components for patrol to SWAT with the ability of kit customization.
Reference articles:
•http://dpdbeat.com/2014/10/31/dallas-officer-saves-gunshot-victims-life/
•http://crimeblog.dallasnews.com/2014/10/dallas-officer-used-tourniquet-to-save-a-mans-life-after-he-was-shot-late-thursday-in-pleasant-grove-police-say.html/