Team One Network's Tactical 3 Gun Instructor Development Course
Team One Network provided the class listed below FREE to officers in the Katrina affected areas around Biloxi and Gulfport last week.
Tactical 3 Gun Instructor Development
Coordinator Klint P.D. Krieger,
Biloxi P.D., Biloxi, MS
Host Range Gulfport P.D., Gulfport, MS
July 25-27, 2006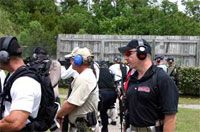 Ty Weaver working the line during rifle drill
Police Agencies sending 22 Participants to the free training:
Biloxi PD
Gulfport PD
Pass Christian PD
Long Beach PD
Harrison County Sheriff Department
MS Bureau of Marine Law Enforcement
MS Department Of Agriculture
US Navy

Participating Team One Instructors:
Bill Sandman, West Palm Beach PD
Ty Weaver, Blackhawk Products Group
Paul Wassill, Durham Regional Police, Ontario, Canada
John T. Meyer, JR, President Team One Network
Team One Network Sponsors supporting the Relief:
Blackhawk
TSSI
Streamlight
Under Armour
Zeiss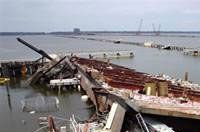 Barge that the Palace Casino was built on in Biloxi.This hotel gave free rooms to the Instructors
All Participants received the following:
1 Hydrastorm and a Coupon for a Serpa Holster from Blackhawk Products Group
Special Discount on all equipment from TSSI
1 Stylus from Streamlight
1 Tech T-shirt from Under Armour
$25 coupon from Zeiss and a bottle of Lens Cleaner
LE Targets donated $200.00 in Targets
Team One provided the course at no charge (a $495.00 per person value) and a Gold long sleeve Team One T-shirt sponsored by Blackhawk, Benelli/Beretta LE, Eagle Industries, Springfield Armory, Storm Cases and Redman
The Instructors donated their time and Team One paid the travel expenses.
The Palace Casino comped 4 rooms for 3 nights for the Instructors.
Blackhawk also paid all of Ty Weaver's expenses.