Here's why you should care about the afterlife of your bullet
From lead exposure to hefty fines, it turns out spent bullets shouldn't be considered out of sight, out of mind
---
Sponsored by Action Target
By Yoona Ha, Police1 BrandFocus Staff
Cops are serious about recycling. They're accustomed to dutifully separating coffee cups, used papers and cans of soda from their trash to divert them from heading to the landfill. But what if they could use their spent bullets and empty shells to reduce waste and help the environment as well? Turns out, there's a reward for recycling metals, too.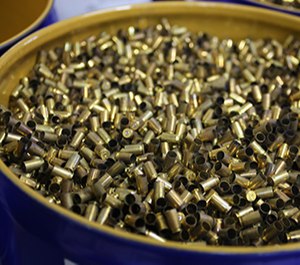 Action Target in Provo, Utah, is working with law enforcement agencies and shooting ranges across the country to pay them for their spent brass and lead. In the U.S. alone, metals recycling is a huge industry that handles millions of tons of scrap copper and lead on a yearly basis. It's estimated by the United States Department of Labor that around 1.5 million tons of copper and 1.3 million tons of scrap lead get recycled each year.
Police1 talked to Diana Rotolo, sales manager of range retail programs at Action Target, to understand why law enforcement should care about the afterlife of their spent ammunition.
P1: Tell us about your metal recycling program and why law enforcement should be thinking about metals recycling efforts.
Action Target: Action Target's metal recycling program offers a turnkey solution for law enforcement shooting ranges that have to dispose of their lead and brass. By law, any agency that disposes of hazardous material or waste, including lead, is responsible for these byproducts from the cradle to the grave – which means that it's their responsibility for where it ends up and how it gets there. If you're sending your scrap metals out and don't know where it's going and how it's been disposed of, then you're legally liable for that and can be subject to hefty fines and costly lawsuits.
Metals recycling can be a challenge, especially for many smaller law enforcement agencies, because it's easy to lose sight of how their metals recycling is being handled. We're the one-stop-shop solution for these police departments and are compliant with the Environmental Protection Agency and certified by the Occupational Safety and Health Administration. We give our clients all of the paperwork they need to be EPA and OSHA compliant.
P1: Possible risk of lead exposure is a known hazard. How does your organization handle occupational exposure to lead in the recycling and cleanup process?
Action Target: Everything from the range ventilation filters to the personal protective equipment used to clean the range is covered by our hazardous waste disposal program to prevent the risk of lead exposure or cross contamination. Improper disposal is illegal and the handling of lead is nothing to mess around with since it can poison our bodies and poison the environment.
We not only pay for the shipping of the scrap metal, but we also pay for the packaging that's used to collect these metals. In addition to these protective measures, we also offer transparent pricing details for agencies that sell their metal by relying on numbers from the London Metals Exchange, which is similar to the stock market in that the prices go up and down in real time, so we guarantee our customers the best rate possible. Our goal is to make recycling profitable for our law enforcement agency partners.
P1: Tell us more about the pricing and payment incentives of your metals recycling program.
Action Target: We offer to either cut our law enforcement ranges a check for the value of their metals they sold us, or they can opt to use that value as a credit with Action Target, which gives them a 10% value bonus. This means that customers can buy anything from products to services under the Action Target umbrella, which can include anything from shooting range parts, maintenance, and services to range ammo, paper targets or ventilation filters.
P1: What's one thing that often gets overlooked that you'd like to emphasize to our readers?
Action Target: Metals recycling can and should be a win-win scenario for everyone involved. Some agencies don't understand their responsibility for properly disposing of their recycled metals. This leads to unnecessary financial risks and worst potential physical and environmental harm.  In addition, many agencies do not understand how to leverage the true value of their metals to supplement their budgets for range ammunition, training and supplies.  Action Target is a trusted partner through every step of this process.

Request information from Action Target Inc.
Thank You!