How body-worn cameras can improve police transparency while promoting officer safety
A substantial majority of police officers see positive reasons for wearing body-worn cameras, according to Police1's State of the Industry survey
---
Sponsored by Getac Video Solutions
By James Careless for Police1 BrandFocus
Based on the positive benefits provided by body-worn cameras, 82% of police officers say they want to wear them on the job.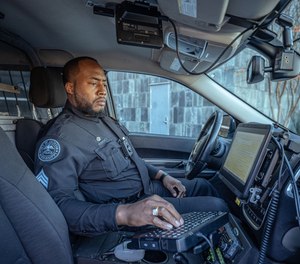 That's one of the telling facts revealed by Police1's State of the Industry survey. Conducted in September 2020, this online survey fielded 40 questions on a wide range of topics to active duty and retired U.S. police officers – and received responses from more than 4,300 of them.
In this same survey, 75% of respondents said that they joined the police to serve their communities. And despite the multiple issues being faced by today's law enforcement officers, 56% cited serving their communities as being the most satisfying part of their jobs.
BWCs viewed positively, and with good reason
The above positive police attitude towards BWCs is not new. In 2017, a Pew Research Institute survey of police and the public found that:
"Two-thirds of the police (66%) and an even larger share of the public (93%) favor the use of body cameras by police to record interactions between officers and the public. Half of officers and two-thirds of the public (66%) say a police officer would be more likely to act appropriately when wearing a body cam (BWC)."
According to a 2017 National Criminal Justice Reference Service study of more than 400 members of the Las Vegas Metropolitan Police Department – some wearing bodycams, some not – these expectations are backed up by facts.
"We find that BWC-wearing officers generated significantly fewer complaints and use of force reports relative to control officers without cameras," said the NCJRS study. "In addition, our cost-benefit analysis revealed that savings from reduced complaints against officers, and the reduced time required to resolve such complaints, resulted in substantial cost savings for the police department."
The study authors estimated that BWCs cost between $828 and $1,097 per user per year but generate net annual savings of between $2,909 and $3,178 per user."
Boosting transparency
The recording of police actions using BWCs makes it easy for police commanders, the courts and the public to see what actually happened during an incident. This level of video-based transparency eliminates any cause for dispute or doubt on anyone's part. The facts are there for everyone to see.
At a time when anyone with a smartphone can capture a police/public interaction and then selectively choose when to start and stop a posted video to support their own agenda, having unaltered video from the police perspective of what actually transpired is vital.
As Police1's State of the Industry survey found, one of the major problems facing law enforcement today is the public's stereotypical bias of the "police always being wrong." Law enforcement agencies need to be able to prove how their officers responded in high-stress situations – especially during the majority of times when those officers reacted in a professional, restrained and polite manner.
BWCs make this kind of transparency possible, particularly when they are set to automatically engage any time an officer leaves the station or their patrol cars. (Allowing officers to manually control their BWCs undercuts this transparency, because the public will always be suspicious about their reasons for turning the cameras off.)
Nothing tells the truth like video (and audio) captured by a BWC. Not only does this video show what happened, but it does so from the officer's point of view when they are encountering unwarranted hostility from the people they are dealing with.
Encouraging professional conduct    
According to the NCJRS study, the number of civilian complaints lodged against members of the Las Vegas Metropolitan Police Department dropped for those officers who were measured before being given bodycams (pre-intervention) and afterward (post-intervention). This drop in complaints was significant.
"Between the pre-intervention and intervention periods, the percentage of treatment officers that generated at least one complaint decreased by 16.5% from 54.6% to 38.1%," said the NCJRS study. "By comparison, the percentage of control (no BWC) officers that generated at least one complaint decreased by only 2.5% from 48.0% to 45.5%."
Evidently, knowing that these complaints were being scrutinized did motivate some LVMPD officers to act with more restraint during the NCJRS measurement period. Not measured was how much being captured on camera motivated some perpetrators to exercise restraint as well.
Nevertheless, the positive impact of BWCs on officer conduct is clear.
"The results of our randomized controlled trial suggest that the placement of BWCs on LVMPD officers reduced complaints and use of force reports for treatment officers relative to non-BWC comparison officers," said the NCJRS study. "These results support the position that BWCs may de-escalate aggression or have a 'civilizing' effect on the nature of police-citizen encounters."
BWC reliability matters
Getac cameras have clear extensive logging and audit trails that may prove a technical glitch or battery exhaustion in the event of a recording issue, preventing unintended perception of wrongdoing  the data tells the story and protects the citizens and officers.
This is why agencies should have tough and reliable BWCs, such as those made by Getac. This company's BWCs are rugged enough to meet the Department of Defense's MIL-STD 810G standard, which requires such devices to be repeatedly dropped from a height of five feet and still function, and do so in a wide range of temperature, climate and altitude extremes. Getac's BC-02 and BC-03 BWCs also meet the IP68 standards for dirt and dust resistance, plus remaining fully functional after being immersed in five feet of water for 30 minutes. However, devices have been retrieved from the ocean fulling functioning after 8 hours and 30 feet under water.
Beyond being tough, Getac's BWC records in full-HD video, even in low-light conditions. The system has a built-in prerecording function that captures up to 120 seconds before the device is automatically triggered by Getac's Trigger Box. (Prerecording is based on camera and configuration.) Located close to the officer in their vehicle or station, the Trigger Box activates their BWC whenever the car's light bar is activated, car door is opened, weapon is drawn or any departmentally configured combination of up to 14 triggers triggers. 1-1 Automatic Activation is also available.
The recorded video is geotagged with the officer's location and time/date stamp, and then the footage is offloaded from their BWC to Getac Enterprise, the evidence management solution provided by Getac. The footage can be offloaded via the 8-port Multi-dock housed at the station, or in the vehicle if the agency uses Getac's In-Car Video solution.
Getac offers a state of the art in-car video platform with server grade computing capabilities in the VR-X20 device. With the small footprint of the cameras and the ability to replace a wireless mic with the body worn camera, it is a no brainer to run these fully integrated solutions.
Restoring and maintaining public trust – and officer safety
When it comes to proving the truth, videos with clear, extensive data logs are priceless.
BWCs are an effective way for law enforcement agencies to document and then prove what their officers did on the job for everyone to see. Providing such proof as a matter of course can restore and maintain public confidence in their police, while keeping good officers safe from false and malicious complaints.
This article originally appeared in the Police1 Digital Edition: What cops want in 2021.

Request product info from top In-Car Camera Systems companies
Thank You!