Save money, vehicle space with 2-in-1 computer/DVR unit
Getac Mobile Edge combines a Windows 10 computer and DVR into a single compact in-vehicle unit, saving space and costing less than buying separate devices
---
Content provided by Getac Video Solutions
In today's policing, MDTs and separate video systems are considered necessities by agencies. MDTs run alongside in-car video systems and provide all the computing capabilities, while the separate video systems can handle all video recordings in the squad vehicle.
These two systems normally come from different vendors, usually have no integration and commonly run different operating systems. Additionally, there is the cost to install and maintain both systems in a single patrol vehicle, and the vehicle can be out of service for several days while installations are completed.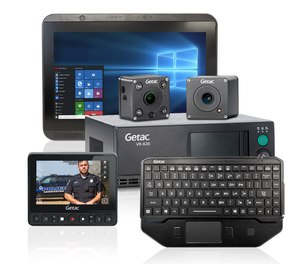 This is why Getac Mobile Edge is a popular solution for law enforcement. The Mobile Edge packs a true Windows 10 computer and Getac DVR into a single box that can be put in the trunk or another convenient location within the vehicle. Better yet, it cuts down on hardware and installation costs.
No-Compromise Computing
The Mobile Edge Solution is a full-fledged computing device that can function in extreme hot and cold environments. It comes with an Intel I7 processor, 16GB RAM, optional LTE and dual solid-state drives (512GB + 256GB). This provides enough headroom for multiple applications, technological advances and future expansions for years to come. With vehicle space at a premium, this device is tiny and has excellent cable management.
The feed from the Mobile Edge computer and DVR can be viewed using a wide range of user-selected displays, including multiple monitor options and sizes, such as 12- or 14-inch. Alongside the main display, there is an additional 5-inch HD touch display used to control and manage the video platform. This allows the officer to have whatever is needed on the main display, and the video on the 5-inch display to increase efficiency and performance.
Getac includes a rugged keyboard with smart card, USB and RFID built right in. Vehicle-specific mounts ensure that these are installed properly and reduce the hardware footprint as much as possible.
The numerous ports built into the Mobile Edge system make it easy to add peripherals, such as automatic license plate readers, barcode scanners, cameras, printers and magnetic card readers – and whatever new devices are developed to aid law enforcement in the future.
Supports Existing Windows Applications
Windows 10 in the car ensures that the department's office applications can be used seamlessly on the road. They include CAD, RMS, VPN, accident reporting, internet, email, Microsoft Office and any other Windows applications used for mission-critical functions. Getac Video Solutions is the only in-car DVR manufacturer to base their technology on Windows 10.
At the same time, the Getac Mobile Edge DVR comes with all the features found in the company's VR-X20 stand-alone DVR, including an internal battery backup and crash detection/automatic triggered recording as standard features. The system can have built-in LTE without requiring additional devices.
FirstNet Ready
The FirstNet wireless broadband network, which is allocated solely to first responders, is a vital communications link for U.S. law enforcement. Having access to this network, with its superior coverage and data priority, is a must for any police department that relies on in-car computing/information access platforms.
Mindful of this fact, Getac Mobile Edge accepts the AT&T "black SIM card" that provides access to the FirstNet broadband network. It can also work with SIM cards used by non-FirstNet wireless carriers.
Getac Mobile Edge does this without requiring a separate 4G/LTE piece of hardware to connect to these networks. It also connects to Wi-Fi when in range of authorized access points and is compatible with virtual private networks like Cisco AnyConnect or NetMotion.
Optional Body-Worn Cameras
The Mobile Edge platform is designed to integrate fully with Getac body-worn cameras. This means that officers wearing these cameras can offload their videos to the department's self-hosted or cloud storage infrastructure by using the car's Mobile Edge wireless connection to transfer their video securely. It also allows the body-worn camera to replace the wireless mic.
Military-Grade Tough
Law enforcement work puts serious demands on its equipment. Getac Mobile Edge's rugged hardware has been built to meet the U.S. Department of Defense's various MIL-STD 810G standards.
Secure Storage
Video data can be stored on the two internal storage devices simultaneously. The systems support industry-standard encrypted data at rest and transit, and they specifically meet CJIS and FedRamp compliance criteria. Additionally, the Getac Enterprise Evidence management solution has received SOC-2 Type II certification.
Simpler to Service
As any police department vehicle technician will tell you, managing the mass of devices, cables and equipment mounts in a patrol car can be tremendously challenging. This is especially true during installations and system maintenance.
By selecting Getac Mobile Edge for new vehicles or as replacements for existing cars and trucks, police departments can substantially reduce the amount of equipment that must be installed and maintained. There are fewer devices and cables to manage during the troubleshooting process, which leads to faster resolutions, more uptime and happier technicians and officers.
A high performance, budget-minded solution
Buying one device that can do the job of two makes good economic sense – saving money and gaining performance – but only if this piece of equipment does both jobs well.
Getac Mobile Edge fulfills dual roles of an in-car MDT and in-car video system just as effectively as the best standalone units, but without their combined cost and footprint. With Getac Mobile Edge, officers will have access to the rugged computing power and DVR functions that they need without any compromises.
Visit Getac Video Solutions for more information and detailed specifications (subject to change without notice).
Read next: How body-worn cameras can improve police transparency while promoting officer safety

Request product info from top In-Car Camera Systems companies
Thank You!