PRESS RELEASE
Havis introduces Panasonic laptop docks with connector covers
---
WARMINSTER, Pa. — Havis, Inc., is pleased to release updated Panasonic Laptop Docking Stations with new designs that offer increased connector protection. These connector covers will be standard features that prevent accidental damage to the dock's connector pins when the laptop isn't present.
After listening to the market, we wanted to make a great product even better," said David Skiver, Program Manager for Connectivity at Havis. "We're excited about the innovative, increased protection we're now able to offer with this suite."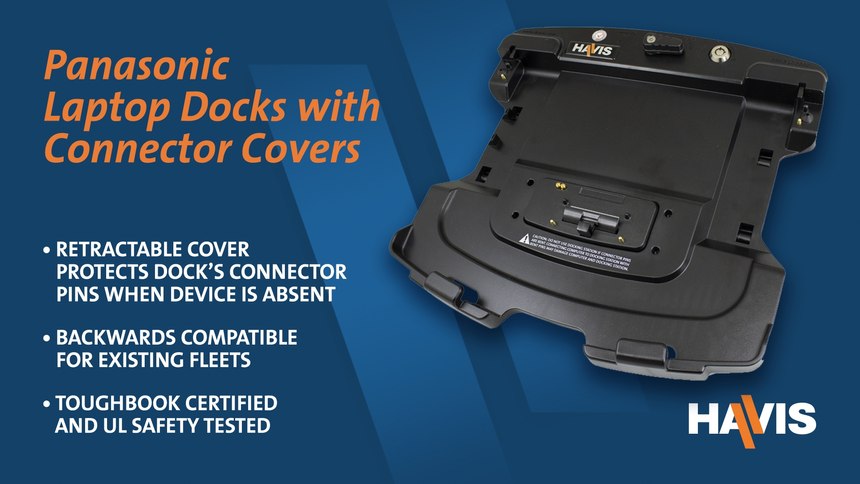 Havis is committed to continually reevaluating and iterating its products. These new models demonstrate our ongoing efforts to provide the best possible solutions for CF-20, CF-33, and CF-54/55 customers in Public Safety, Utilities, and other markets.
"Our customers depend on mission-critical equipment, and we depend on their input," said Brett Young, Public Safety National Sales Manager at Havis. "Based on the feedback we received from hands-on users, we've enhanced our Panasonic laptop docks to push device uptime even higher and to offer the most reliable solution possible."
Toughbook certified and UL safety tested, the new connector cover docks are backward compatible for existing fleets. All docks are available entirely in black and are shipping now.
From vehicle-specific consoles to unique device mounts to K9 transport systems and more, Havis offers a dash-to-trunk line of purpose-built and innovative solutions that provide extreme officer protection. For more information, contact media@havis.com or visit www.havis.com.
About Havis
Havis, Inc., is a privately held, ISO 9001:2015 certified company that manufactures in-vehicle mobile office solutions for public safety, public works, government agencies, and mobile professionals. For more than 80 years, the Havis mission has been to increase mobile worker productivity with industry-leading products that are built to the highest safety and quality standards and are designed with comfort in mind. Havis is dedicated to responsible intellectual property management and fosters ongoing innovation. Its patent and trademark portfolio demonstrates commitment to consistently researching and developing unique products and solutions for mobile industries around the world. Havis currently employs more than 300 people, with headquarters in Warminster, PA, and additional locations in Plymouth, MI, and globally. For more information on Havis, please call 1-800-524-9900 or visit www.havis.com.

Request more info from Havis
Thank You!