PRESS RELEASE
Chevy Tahoe Rapid Access Weapon Locker 2.0 configurations now available
---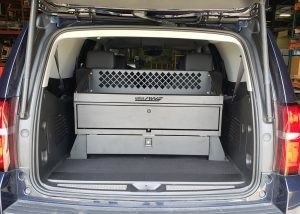 Over the past few months, the 2020 Ford PIU has been in the headlines, but at Estes AWS, also recognizes that the Chevy Tahoe is a popular police vehicle for many United States law enforcement departments. If you have visited the Estes AWS SUV Rapid Access Weapon Locker 2.0 product page recently, you likely noticed a small update to the webpage. Our Chevy Tahoe page with images is now available.
As a reminder, our Rapid Access Weapon Lockers are designed to safely secure your weapons while keeping them accessible at the push of a button. With locker models for SUVs, Sedans, and Pickups, Estes AWS has a weapon locker to fit a wide assortment of police vehicles.
 
Contact us for more information or watch our videos of products in action.

Request more info from Estes AWS
Thank You!