Axon's virtual reality simulator is the future of police training
The VR training provides officers with hands-on person-in-crisis training; arms users with de-escalation skills
---
By Ron LaPedis
Ensuring public safety in the 21st century requires constant training. Traditional police training can be time-consuming, unrealistic and expensive. Axon's Virtual Reality (VR) Simulator Training aims to revolutionize how public safety training is done.
VR Simulator Training provides officers with access to what they need most: training on how to best interact with individuals in crisis and the community more broadly. It strengthens de-escalation skills to allow officers to resolve situations more efficiently and effectively in the field.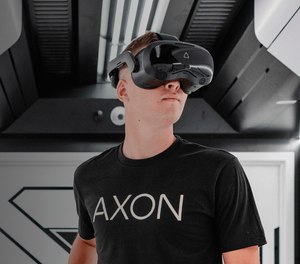 "Through the use of this breakthrough simulator, we are able to fully immerse officers into common situations, helping prepare them for a number of different variables with an emphasis on de-escalation," explained Rick Smith, CEO and Founder, Axon. "Our mission has always been to protect life, and by giving law enforcement the ability to work through the situations they see in the field daily, we can help create outcomes that are better for everyone."
VR Simulator Training allows trainees to work through complex scenarios that have been refined and validated by a diverse network of first responders and subject matter experts. One of the first training modules included at launch covers domestic violence. It allows officers to talk and walk through a scenario as they would in the field, allowing them to practice and enhance their skills, and receive real-time feedback from trainers and supervisors. 
Axon uses the industry-leading wireless HTC VIVE Focus 3 VR headset, an all-in-one unit that's simple to deploy and includes no extraneous hardware, time, or space constraints. The Axon system is an on-demand training platform that can be accessed anytime and allows for both in-person and remote experiences. VR headsets can even be packed up and taken to public meetings or locations to provide community engagement training to members of the public. This training allows the public to understand and practice the same skills, empathy and de-escalation tactics that officers use and help them understand the stresses public safety face every day.
HOW VR TRAINING WORKS
Due to its immersive nature, virtual reality causes the brain to experience learning differently than traditional mediums. The combination of visual processing, audio and other stimuli cause trainees to process information they are seeing similarly to a lived experience. This produces meaningful benefits when it comes to training, including:
Up to 4 times better retention of content after one year
4 times faster skill/knowledge development
4 times more focused than e-learning peers
275% greater confidence to apply skills learned after training
AXON VR TRAINING BENEFITS
Simulator Training - Refines skills through a variety of virtual drills and increasingly complex scenarios. Trainees assess, give verbal commands and make split-second decisions including drawing on their TASER energy weapon and training firearms should a situation demand it.
Community Engagement Training - Develops skills, empathy and de-escalation tactics. Current scenarios include schizophrenia, autism, suicidal ideation, hard of hearing, Alzheimer's/dementia, veteran post-traumatic stress injury, peer intervention, domestic violence and more. New content is released monthly.
Axon Academy - Houses a library of supplemental e-learning content to strengthen skills taught in VR. For trainers, after-action reports stored on Academy provide performance and progress metrics, insight into an officer's decisions, and new opportunities for coaching and program development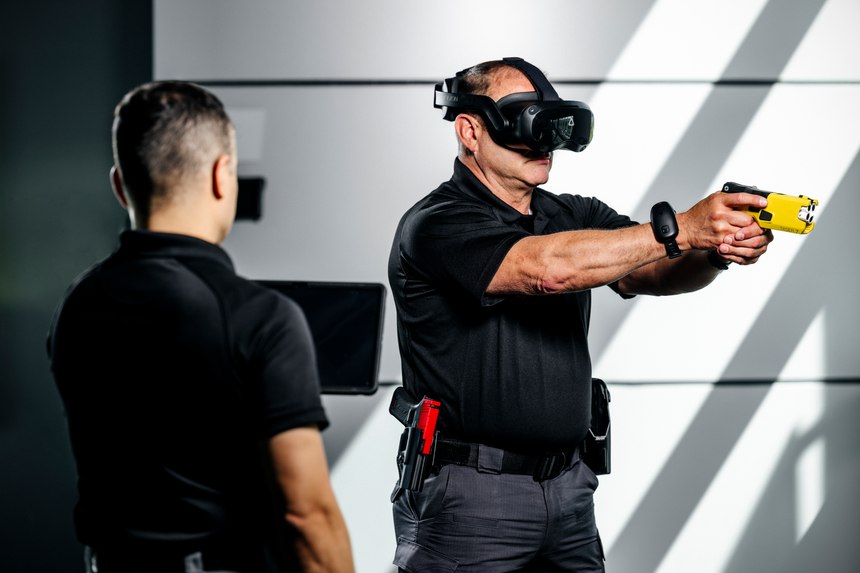 SUMMARy
As part of one of the largest suppliers of integrated hardware and software solutions for law enforcement, Axon knows just how much it takes to give an officer all they need to succeed in their duties.

Axon draws upon the expert research and collaboration of over 250 senior law enforcement trainers, command staff, crisis intervention specialists and patrol officers in the development of their VR training content. Over 275 hours of development are put into each VR scenario to ensure the training is realistic to and effective for trainees.

As JB McRee, Axon's Director of Product Marketing says, "Increased competence, communication skills and confidence translate to more effective interactions which increases the safety of the officers and the community they serve." And who doesn't want the best for their officers, agency and community?

For more information about the Axon VR system check out the company's product page here.
---
About the author
Ron LaPedis is an NRA-certified Chief Range Safety Officer, NRA, USCCA and California DOJ-certified instructor, is a uniformed first responder, and frequently writes and speaks on law enforcement, business continuity, cybersecurity, physical security and public/private partnerships.
He has been recognized as a Fellow of the Business Continuity Institute (FBCI), a Distinguished Fellow of the Ponemon Institute, Master Business Continuity Professional (MBCP), and a Certified Information Systems Security Professional (CISSP).

Request information from Axon
Thank You!