Fla. governor's new law enforcement bonus program draws out-of-state officers
The program includes signing bonuses for recruits, funds for relocation expenses, pay raises and bonuses, in addition to adoption support for officers
---
By Ashley Silver
Police1 Staff
LEE COUNTY, Fla. — More and more police officers are leaving their current positions to join police forces in Florida, and Gov. Ron DeSantis is touting one innovative program as the central reason for the state's recruitment success.
The Washington Examiner shed light on the Law Enforcement Recruitment Bonus Payment Program, which stems from a bill signed by Gov. DeSantis that allocates $20 million toward officer signing bonuses for new recruits, costs for training programs and relocation expenses, pay raises and $1,000 bonuses.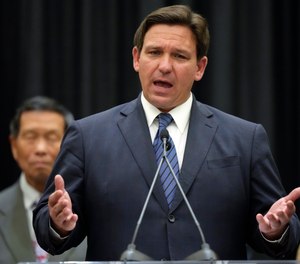 Through the program, DeSantis delivered $5,000 in new-hire bonuses to six recruits joining the Cape Coral Police Department last week, according to the Washington Examiner.
"We are glad these officers chose to bring their talents to the law enforcement profession in Florida," DeSantis said. "The heroism all our officers displayed when responding to Hurricane Ian is yet another example of why we must always back the blue."
[RELATED: All Atlanta police officers getting retention bonuses, mayor announces]
DeSantis went on to say the program is "part of the strongest law enforcement support initiative" in the country. His police recruitment efforts essentially started last year when the governor began inviting officers from Minneapolis, Seattle and New York, who believed they were being undervalued or mistreated, to come to Florida because "you fill important needs for us, and we'll compensate you as a result."
According to The Center Square, shortly after the announcement, 14 NYPD officers resigned from the New York City police force and joined the Lakeland Police Department near Tampa.
The new recruitment initiative also includes a Law Enforcement Academy Scholarship Program for children of law enforcement officers and authorizes funding for law enforcement officers who adopt children through the state's child welfare system. Officers can receive a $10,000 benefit per child or a $25,000 benefit for adopting a child with special needs, according to the Washington Examiner.
Funding for the bonuses derived from the 2022–2023 General Appropriations Act, which provided $125 million for the Florida Essential First Responders Recognition Program.