'Heroic' Calif. cop rescues unconscious man from burning car
Police Chief Ronald Lawrence praised the officer who "no doubt saved this driver's life"
---
By Michael McGough
The Sacramento Bee
CITRUS HEIGHTS, Calif. — A Citrus Heights police officer is being hailed for pulling an incapacitated man out of a burning vehicle early Thursday morning, according to a news release from the department.
Police were at the scene of a different call about 4 a.m. Thursday when they heard screeching tires near Auburn Boulevard and Greenback Lane. A 911 call soon after reported a crash in which the sole vehicle involved had caught fire, the news release said.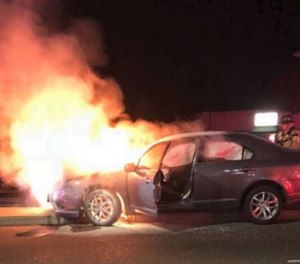 Two officers arrived to find a car, appearing in a photo to be a gray sedan, stuck on the center median with its engine on fire. Officers found a man sitting in the driver's seat who was appeared unconscious, according to the news release.
Officer Josh Page removed the driver from the burning car, suffering minor injuries in the process, the news release said. The driver, who was not identified, reportedly suffered non-life-threatening injuries and was taken to an area hospital.
Police Chief Ronald Lawrence praised Page's actions as "heroic," saying they "no doubt saved this driver's life," in a statement.
"Police officers all over the world risk their lives every day for the communities they serve. Every call an officer responds to has the potential to become life threatening," Lawrence said in the statement.
Anyone who witnessed or may have information about the crash is urged to call the Citrus Heights Police Department at 916-727-5500.
McClatchy-Tribune News Service