How would you respond to an active shooter call at your child's school?
Officer Dave Boucher thought he was prepared for an active shooter call — until it happened at the school where his son attends seventh grade
---
As part of our year-end coverage, we look back at some of the biggest and most heroic news stories, and reconnect with some of the officers and departments involved in the incidents to find out what has developed since.

In this article, Officer Dave Boucher describes what it was like to respond to an active shooter call at the school his son attends.
Officer Dave Boucher of the Centerville (Utah) Police Department was on his way to conduct a school zone radar enforcement detail when dispatch called over the radio that there was an active shooter at Mueller Park Junior High School in the neighboring town of Bountiful — the school where Boucher's son Garrett attends seventh grade.
"I could hear it in her voice that this was the real deal," Boucher told Police1. "My first thought was, 'Is my son okay?' and 'What am I going to see when I get there?'"
Concerned for his son's safety, Boucher called him while running code en route to the scene. "Like a good little boy on lockdown he didn't answer. In hindsight I was proud of him, but the whole way there I needed to know he was okay," Boucher said.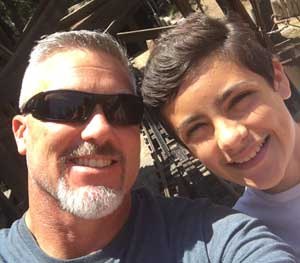 Meanwhile, the radio was lighting up. Dozens of officers were calling in their response. Cops from Bountiful, Centerville, Kaysville, Layton City, North Salt Lake City, West Bountiful, and the Davis County Sheriff's Office were charging hard toward the scene. It was a "y'all come situation" — and everybody came.
"Right before I got to the school, I heard over the radio that they had one in custody," Boucher said.
Upon arrival, Boucher knew that there were already officers in the building. He approached the entrance, said 'Where do you need me?' and with a few other officers began clearing rooms adjacent to the front door. He hooked up with a group of about six or seven officers holding the hallway until they got keys to clear more rooms.
For five long minutes — perhaps more, he wasn't checking his watch — Boucher and his impromptu teammates held the hallway. All the while, Boucher yearned for an inbound text from Garrett. Then he heard over the radio that no students had been injured, and that the only student involved had been disarmed and taken into custody.
Imagine the relief.
Best-case scenario
The gunman in this incident — a 15-year-old boy whose name has been withheld because he is a minor — had reportedly fired a shot into the ceiling of a classroom and then turned the gun on himself.
Bountiful Police Chief Tom Ross said during a press conference that a teacher and a student immediately engaged the gunman verbally — trying to talk him out of firing any more rounds either at himself or others. This delay allowed the boy's own parents — who had already driven to the school because they noticed unusual behavior in their son and a couple of guns missing from the house — to get into the classroom and disarm him. 
"The real heroes in this are the suspect's parents," Boucher said. "It was stopped because his parents were smart enough to know he was off that morning."
With absolutely nobody hurt, the incident at Mueller Park Junior High can accurately be described as a best-case scenario. Boucher and all the other responding officers know that it could have been much, much worse.
Boucher said that he has no doubt in his mind that he would be able to handle an active shooter, but he admits to finding out in the aftermath of this incident that he was a little unprepared for it to happen at this particular venue.
"My academy instructors pounded into our heads that we should play the 'What if…?' game as much as possible. I can tell you that I never did a 'What if' of this happening at my son's school. As a dad going there I was in a panic, but as an officer going there I was prepared to do what I had to do so that no injuries occurred," Boucher said.
His training as a medic in the Air Force also prepared Boucher to render aid to the wounded at the scene.
"It's funny, as old as I am and as long as it's been since then, I still remember quite a bit of stuff, so it does come in handy when I go to accidents or when I am on scenes where people are injured. I know enough to at least help people or save a couple of lives if I'm ever called on."
Fortunately, that skillset was not required this time around.
A bond between father and son
One look at the picture of Garrett and his dad and it's clear that the bond between father and son is strong. 
Boucher said that he and Garrett have been duck hunting together with his older brother since the boy was five.
"The single greatest text I've ever received in my entire life was him responding," Boucher said.
Boucher was effusive in describing his son. "He's a really intelligent kid — a great kid. He's got this super-infectious smile. He's got a really good attitude about things. He's just a very kind spirit and a good kid."
Boucher said the he's not totally sure about how Garrett feels about his dad being a cop. He does know that the boy will not let him pick him up from school in a patrol car, and that most of the 600+ students at the school don't know his dad is a cop.
Well, they didn't know that up until Dec. 1, 2016 — that cat is now entirely out of the bag.
"I know that he worries about me. He thinks about things. We talk about things. He gets angry every time he hears me talking about my brothers and sisters being killed in the line of duty. It pisses him off because he knows that these are people — that they're not what some people look at as just robots doing a job. He looks at them as human beings because he knows how I am. But I know that he does worry about me." Boucher said.
Father and son have had candid conversations about the danger he faces on the job.
"I've told him not to be mad or angry if anything does happen to me because I'm doing what I want to do and what I feel like I should be doing," he said. "He knows how much I love him, and he knows that my kids are my world."
Lessons learned
Boucher was blunt in relating his lessons learned from this incident. For starters, Boucher said that he now regrets making that phone call to Garrett while en route. Had there been an active shooter nearby and Garrett's ringer suddenly started chiming, he could have put his son — and any kids around him — in a dangerous spot. 
"My son went to a private school for the first six years of his scholastic life," Boucher said. "I never really worried about active shooter situations at the private school. I can't tell you why — I just never worried about it that much. I thought about it, but it wasn't a worry. When Garrett made the decision to attend public school for his junior high and high school years, the very first thing that I thought about was this. It was the first thing that came to my mind because you see it happen more in a public school setting," Boucher said.
Despite this, Boucher said that he was not prepared for the call.
"I just want to put this out there: If you think you're prepared for this call — no matter how much you've thought about it — you're not," he said. "If people think that they're prepared to hear that call over the radio, they're not. It's the worst, most horrible thing to hear over the radio."
Another lesson learned was that if he had the chance to do it all over again — knowing that the threat was ended at the time of his arrival — Boucher said that he would have found another way to contribute outside the building.
It was close to two hours of primary and secondary room clears before he was finally able to go to Garrett's classroom to see him.
"I wanted to stay and do the job," Boucher said.
Eventually, Boucher and his brother — Matt Boucher, who serves with the Davis County Sheriff's Office and who also responded to the scene — made their way to Garrett's classroom. They each gave the boy a hug. 
Officer Dave Boucher's emotions were plainly evident — he cried.
Garrett's response: "Geez dad, you're always so emotional."
"I'm a dad," Boucher said.