'Never quit, never': An officer's journey from a childhood dream to reality
Jim Calams always knew he wanted to protect and serve, but his path to policing wasn't easy; perseverance, grit and a never quit mindset led him to achieve his dream
---
"Unwavering Honor," by veteran police officer Jim Calams, takes readers on a ridealong as he responds to calls while working as an officer in Phoenix, Arizona, and Los Angeles in the '80s and '90s. You can order the book on Amazon here. All proceeds from the book support the Stephanie Lynne Calams Memorial Scholarship Foundation. Calams is currently working on writing his second book, slated to debut in 2022.
"911, what's your emergency?"
Instead of a response or plea for help on the other line, the call fell silent.
It was a hang up.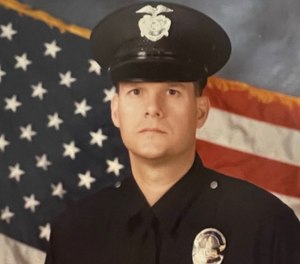 Police were dispatched to the location – a nursing home – with no information.
But in this case, there was only one officer available to take the call – Officer Jim Calams – my dad. Dispatch advised him they were still looking for backup and to arrive on scene with caution.
Upon entering the nursing home, the staff coordinator asked my dad if there was a problem.
"I don't know. We received a 911 hang up call from this location. Is everyone OK here?" he asked.
The staff coordinator wasn't aware of anyone calling 911. My dad decided to ask dispatch for more information. "4John25. Do you have any further info on which area this call may have been generated from?"
"It looks like it came from the maintenance area," the dispatcher replied.
My dad's sergeant at the time arrived as backup just as he was heading toward the maintenance area. After turning a corner, they both stepped in something wet.
They looked down and saw a pool of blood. It was coming from a man lying on the floor, who had a knife in his hand. The man had no pulse.
They found more blood in a hallway with two more bodies. And in the maintenance office, there were three more bodies.
"There was no need to check pulses," my dad said.
Their boots were covered in blood. It was a horrific scene.
This incident happened in the summer of 1987. My dad was 31 years old at the time – the same age I am today. He had been working with the Phoenix (Arizona) Police Department for four years.
My dad later found out that the suspect, the man they found lying on the floor, was upset with a woman who broke up with him. The suspect approached the woman, who worked in the nursing home's maintenance office, with a knife, threatening to kill her. Her colleagues tried to stop the attack, but the man killed them as well as the woman. The suspect then turned the knife on himself.
This is just one of many cases my dad has worked on over his 20-plus-year law enforcement career and it's highlighted in his new book, "Unwavering Honor," which takes readers on a ridealong as he responds to calls as an officer in Phoenix and Los Angeles in the '80s and '90s.
A career in law enforcement
Born and raised in Illinois, my dad took several tests to get on a police hiring list but never got hired.
"When I tried getting on in the late '70s, the job market was tight. A lot of people went after police and fire jobs. There were hundreds – sometimes even thousands – of people showing up just for a handful of jobs," he said.
"I asked someone one time, 'You keep telling me you'd like to hire me, but I don't have any experience. How am I supposed to get experience if you don't hire me?' The guy responded, 'Well, with the job market as it is right now, we have people that are already cops and want to come over for whatever reason. It's a no-brainer to hire somebody with experience compared to somebody without experience.'"
Still frustrated, he asked again: "How do I get experience if you're not going to give me a job?"
[READ: "Unwavering Honor" book excerpt details shooting on the Black Canyon Freeway] 
That's when the man suggested looking into getting a job at a jail or prison. My grandparents, who were looking to retire somewhere warm after spending most of their lives living in Illinois, decided to move to Tucson, Arizona. My dad followed them soon after – realizing his childhood dream job as a Chicago police officer was slipping further and further away.
Arizona is also where he met my mom, who had moved from Florida to Arizona on a whim. They got married in October 1983. "We moved to the Phoenix area one week later and rented an apartment," he said.
His law enforcement career started with the Maricopa County (Arizona) Sheriff's Office as a detention officer. He worked with the sheriff's office for three years, but still had his sights set on becoming a police officer.
"I tested with the Phoenix Police Department and it took about a year to get on when they hired me," he recalled. On November 3, 1985, my dad graduated from Phoenix's police academy – the same day my older sister, Stephanie, was born.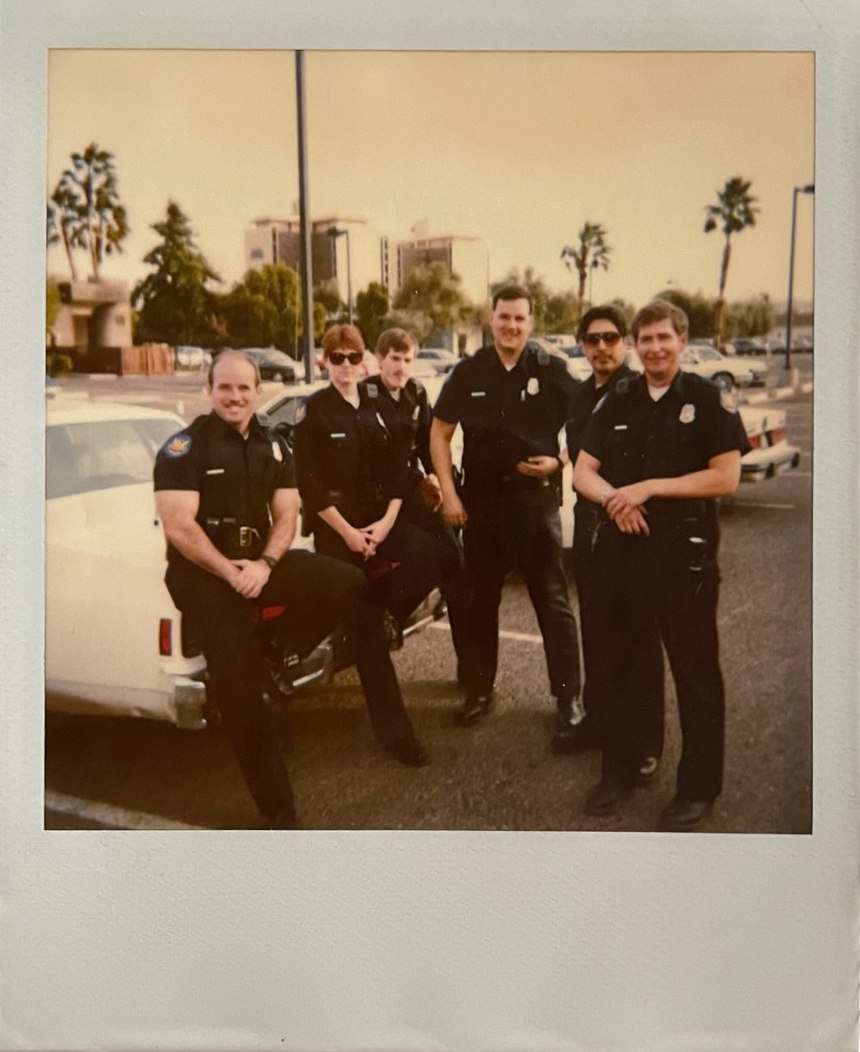 Phoenix walking beat 1. (Photo/Jim Calams)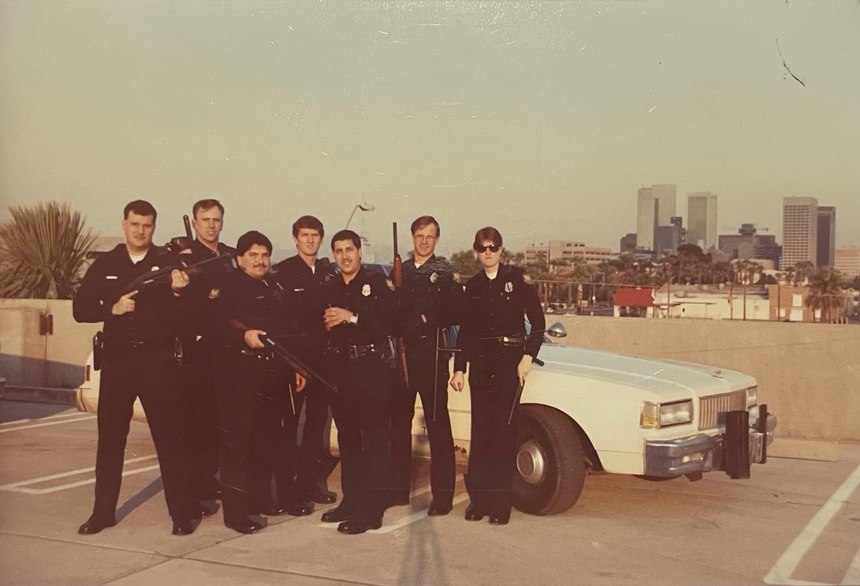 Phoenix walking beat 2. (Photo/Jim Calams)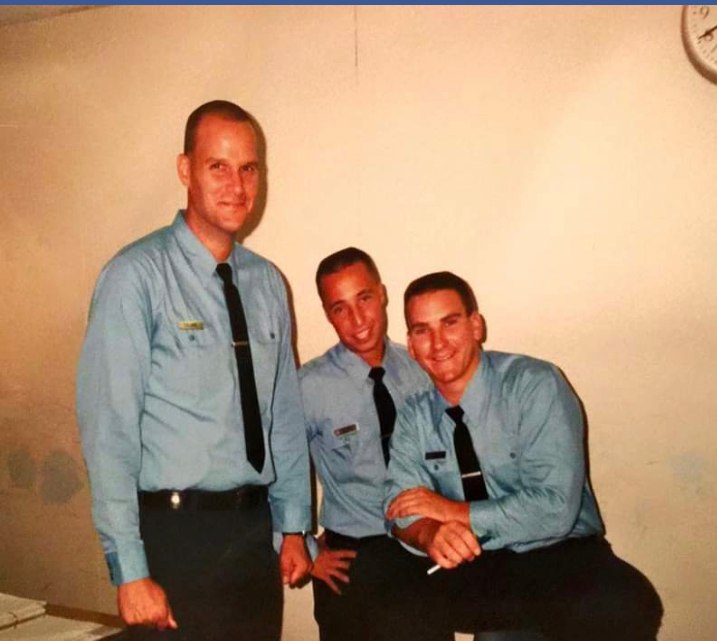 Calams (left) with LAPD classmates Pete Foster and Mike Gilbert. (Photo/Jim Calams)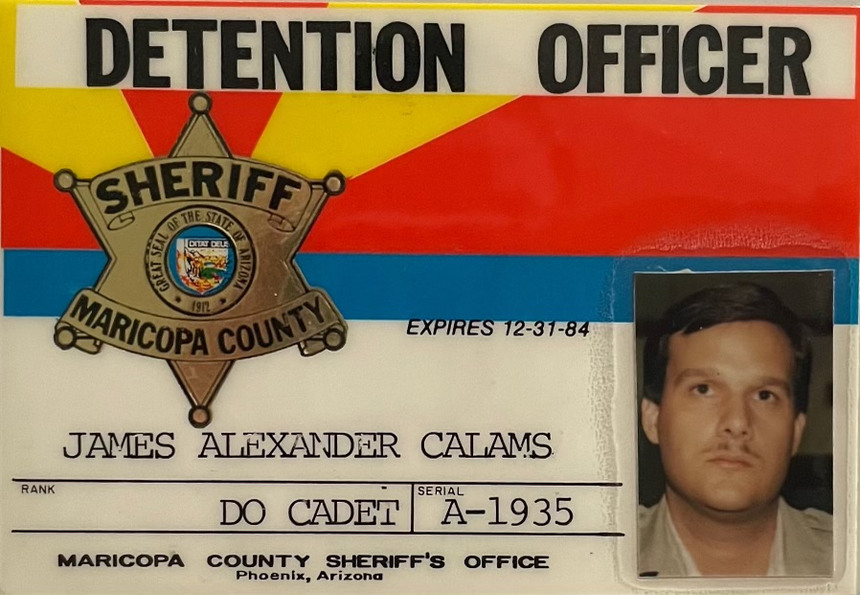 Maricopa County (Arizona) Sheriff's Office ID card. (Photo/Jim Calams)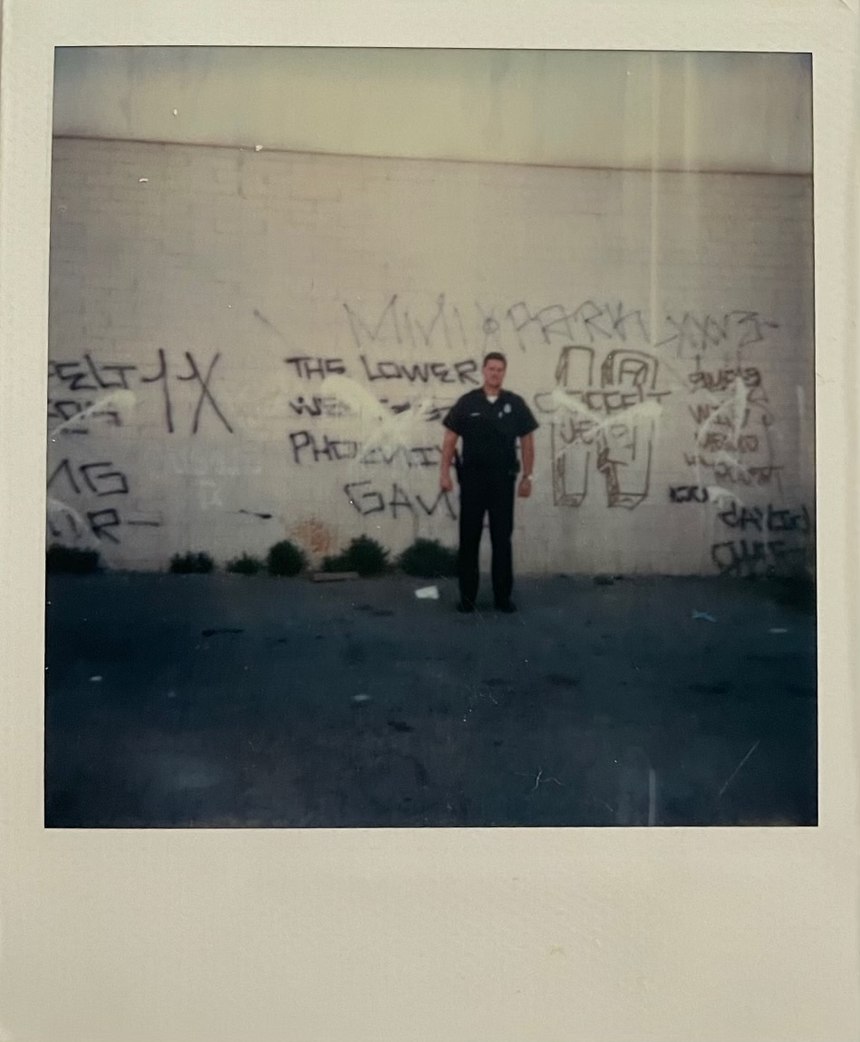 Photo taken in Phoenix, Arizona, while working walking beat. (Photo/Jim Calams)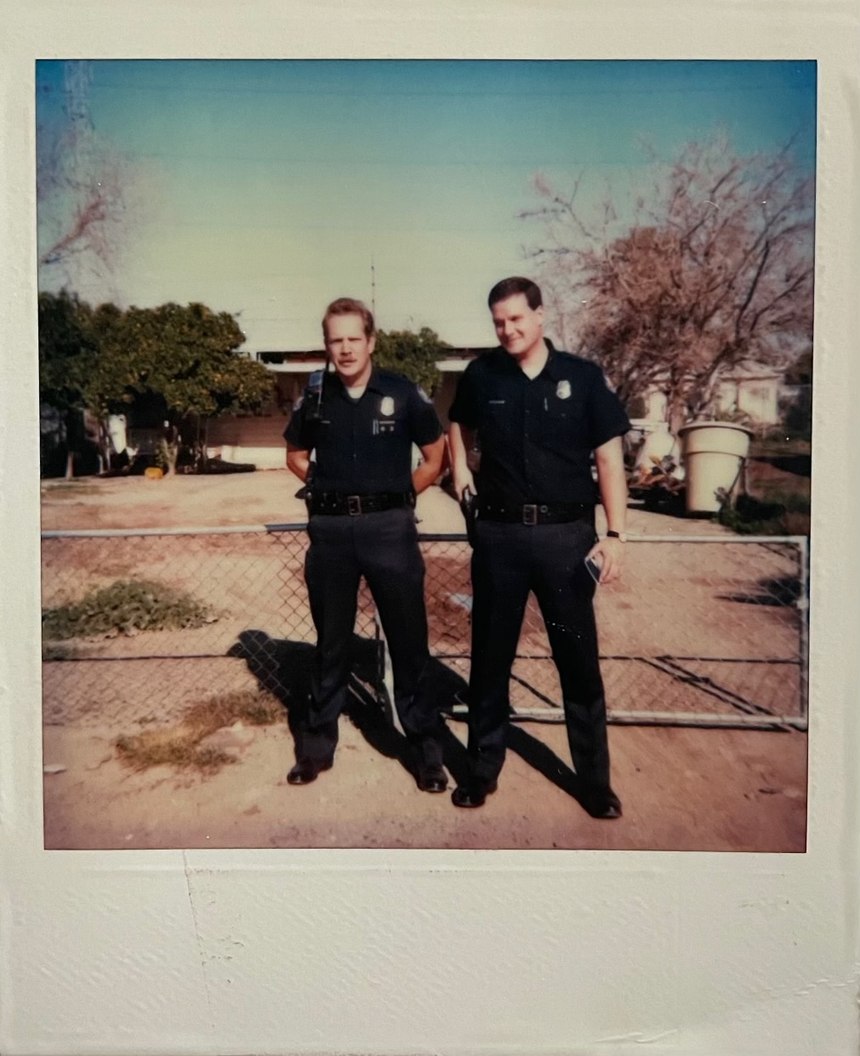 Mark Beadles (FTO) and Calams (right). (Photo/Jim Calams)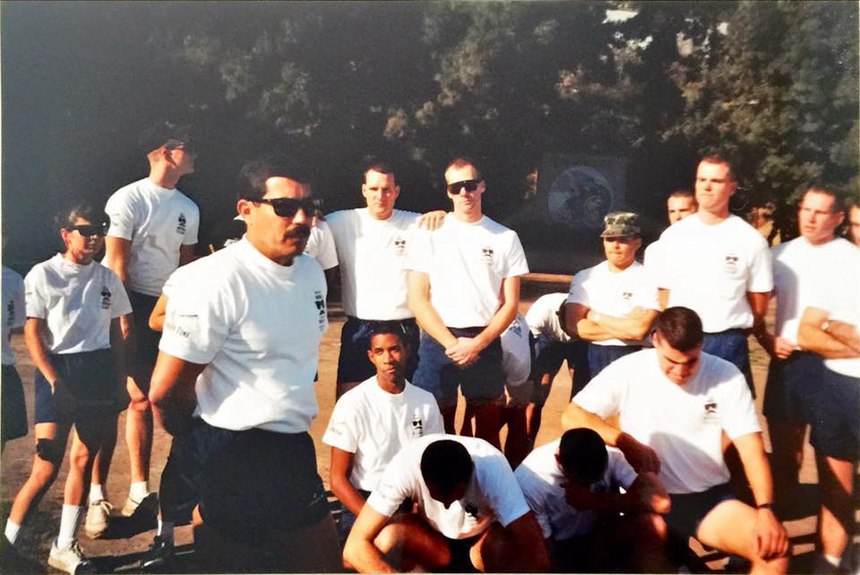 Spirit Run with LAPD Academy classmates. (Photo/Jim Calams)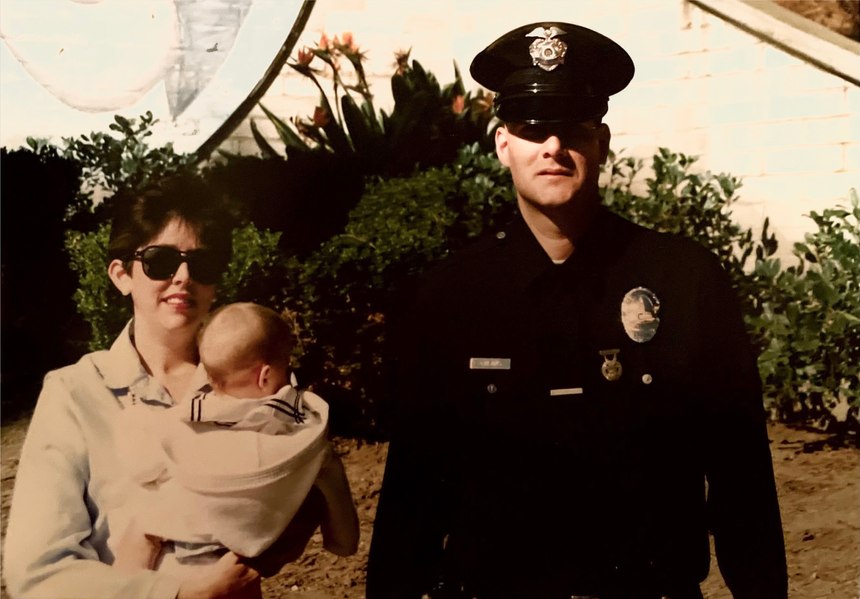 My mom holding me as a baby after my dad's LAPD graduation. (Photo/Jim Calams)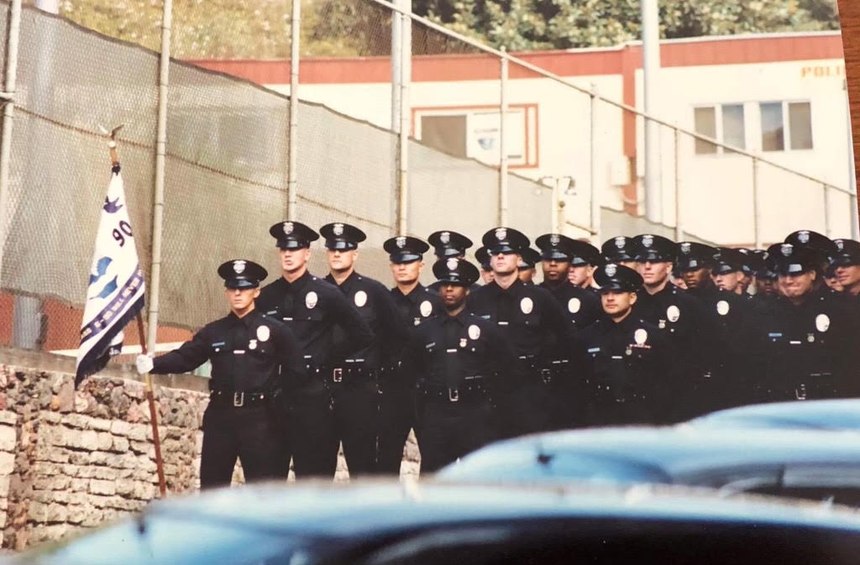 LAPD graduation day. Calams is to the left, third back. (Photo/Jim Calams)








A difficult chapter
For many, writing is therapeutic, but it can also bring up difficult memories and emotions.
My dad, who had saved his reports and notes from his career, knew he wanted to write something down one day. He just never imagined it would be a book.
"I just thought I would write something down to pass along to people I know," he said. "When I thought about it some more, I realized it would also be a good read for anybody that's a new hire or considering a job in law enforcement. They could read about what really goes through our minds and what you're actually getting yourself into."
Starting the writing process, he said, was emotional: "It brought back a lot of memories; a lot of them weren't good ones."
But writing the book, he continued, was a way of telling his story and what he went through.
"The older you get, the more you think about stuff. When you leave that line of work, you kind of try to forget about it, you know? And then, ultimately, as time goes on, when you get around people you know, they say, 'Hey, you remember when?' I'd say, 'Oh, yeah!' Stuff you forgot about that happened 20 years ago."
The writing process took about nine months. "I did it the whole time during the pandemic and then the editing process took about four months."
Half of the book's chapters delve into my dad's time with the Phoenix Police Department and the other half details incidents he responded to while working as an officer with the Los Angeles Police Department. He graduated from the LAPD Academy in 1990 – the same year I was born.
The most difficult chapter to write, he said, was the final one. For me, it was the hardest one to read.
"Throughout my career, my job required death notifications to surviving members of a family," he wrote in his book. "By no means did I find this part of my job an easy feat. I wouldn't wish that responsibility on anyone, but, unfortunately, it went with the job."
As a teenager, my dad would always tell me before I went out the door with my friends for the night: "Remember, nothing good ever happens after midnight."  
"As an officer, I faced an uncomfortable moment, then I got to walk away," he said. "Secretly, we hoped never to know by experience how those people crumbled inside, yet always fearing someday we might."
So, when we got a call around 1 a.m. from my older sister, Stephanie, in July 2012, we all knew it meant something wasn't right. "It's a parent's worst way to wake from a sound sleep," my dad recalled.
On the other line, my sister's boyfriend was screaming, "Stephanie passed out. She's turning blue." My dad asked if he had started CPR. "I don't know how," he wept. My dad walked her boyfriend through each step of CPR. Moments later, paramedics arrived to transport her to the emergency room.
We all raced to the hospital – my parents arriving first.
"'Mom and Dad are here, sweetie. Hold on. Stay with us.' I'd uttered those words before as a cop, but that was my child. Not the same," my dad wrote. Having been in a lot of ERs throughout his career, my dad knew Stephanie's condition was critical.
Knowing this, he had Stephanie transported via CareFlight to a trauma center. She was in the ICU for five days with no signs of waking up. "The doctors ordered a test with dye placed intravenously in her arm. With a scan, they could then observe the dye's flow and how it traveled through her body's functions," he said.
The doctors didn't have good news for us: "The dye flowed perfectly through her body but stopped right at her neck. I'm sorry. Your daughter lacked blood flow to her brain for too long. She has no brain function. I am so sorry. I wish there was something else we could do."
We all broke in this moment. Stephanie was only 26 years old.
"I knew better – having been the one telling a parent their child was gone, but it never prepared me to hear those words about my daughter. When making notifications to families as a police officer, I could just walk away. I did my best to show compassion in those moments and hoped I offered some comfort in a split second that changed a family's life forever. But in the end, I walked away and went home to my wife and children. We cannot walk away. This time, the notification came for us."
Writing his book, my dad said, was another way to raise funds for a foundation that's near and dear to our hearts: The Stephanie Lynne Calams Memorial Scholarship Foundation, which raises funds to help students attend college or technical school. All proceeds from the book go toward helping students achieve this dream – something my sister, a sixth-grade reading teacher, devoted her life to.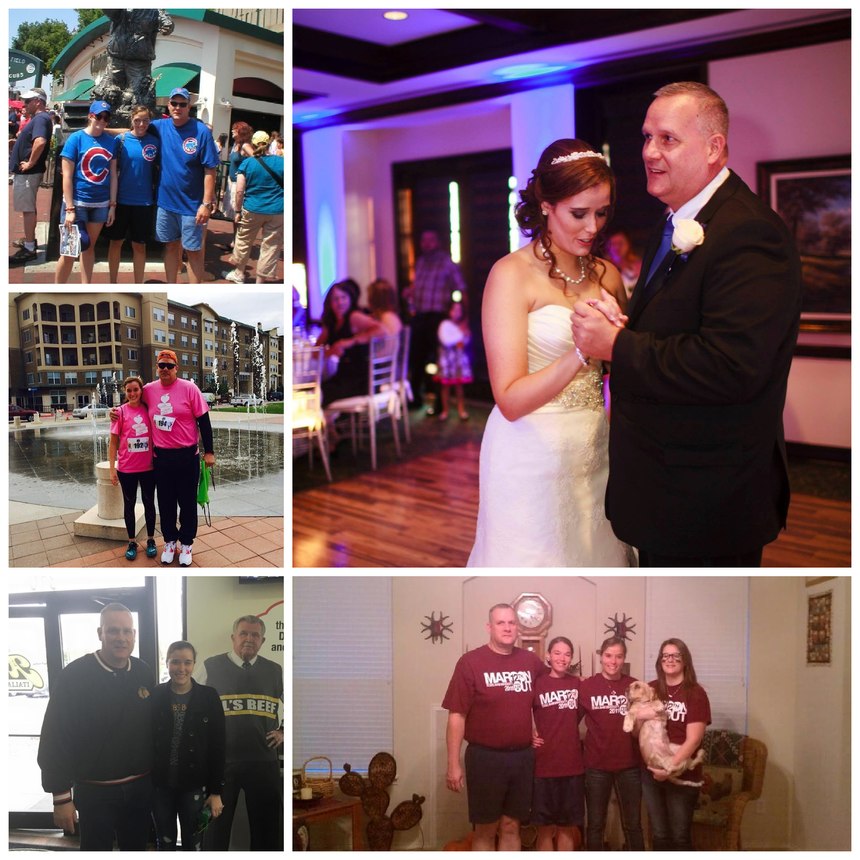 Perspective from a cop's kid
Growing up, my dad didn't talk to us about his police work much. I know he did this because he didn't want to worry us. It is probably bizarre for most of you to read this, but I learned a lot about my dad's "police life" from his book.
His book begins with his first day at Phoenix's South Mountain Precinct. It was fun to read about how excited he was – it truly was his lifelong dream coming true.
"I left the house, bouncing toward my car, breathless with anticipation. After so many years of trying, I finally reached my goal of becoming a police officer and was super pumped to get to my duty station," he wrote.
The following chapters detail incidents he responded to throughout his career, including his first homicide investigation, locating a lost elderly man after the 1994 Northridge earthquake in L.A., as well as his involvement with cornering O.J. Simpson and a case related to Michael Jackson.
I read the book in under an hour and found myself holding my breath often as I went from chapter to chapter. It was like I was in his head and I felt a similar pounding in my chest with each page turn.
[READ: "Unwavering Honor" book excerpt about locating lost elderly man after 1994 Northridge earthquake] 
After reading a handful of reviews, most readers have come to a similar conclusion: this book is about a great officer with an even greater career. But, to me, that's just my dad.
The same dad who woke up early with me to drive me to basketball practice for years on end; the same one who worked overtime to pay for my select team; the same one who watched and counted every basket I made during practice and at games; the same one who came with me to school in sixth grade every morning until I was comfortable enough being able to open my locker on my own.
As a kid, I always thought it was "so cool" that he would drive me to school in his patrol car. All the kids would "oooh" and "ahhh." And when someone asked who that was, I would beam with pride: "Oh, that's my dad!"
Jerry VanHeldebrecht, a retired police detective from the Chicago area, was a professor for one of my dad's criminal justice classes in college. He later became a mentor and close friend of my dad's. Frustrated by the obstacles of landing a job as a police officer, my dad went to Jerry for advice and encouragement. Jerry told him something my dad has never forgotten: "Never quit, never."  
This phrase quickly became my dad's personal mantra, but it also became mine as well. It was something I told myself often as an athlete – especially when things didn't always go my way. Even now, after enduring two difficult life experiences this year, I have found myself repeating this phrase in my head. "Never quit, Sarah, never."
Little did I know I had Jerry to thank for that.