Police: Ill. teen accidentally kills accomplice while shooting at house
The suspect and his friend decided to fire upon a home before he accidentally shot and killed him
---
By Mary Cooley and Dana Rieck
Belleville News-Democrat
BELLEVILLE, Ill. — A 16-year-old charged with murder in the shooting death of a Belleville 18-year-old was trying to fire shots into a house when a bullet hit the older teen, police said Friday.
The 16-year-old, Quantez Jones, has been charged with first-degree murder and aggravated discharge of a firearm, Belleville Police Capt. Matt Eiskant and St. Clair County State's Attorney Brendan Kelly announced at a news conference Friday.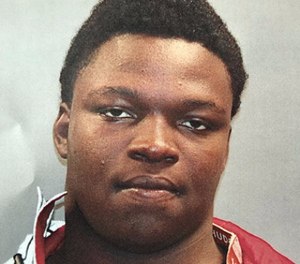 Deveon Hunt was shot and killed a little after 10 p.m. Sunday evening in an alley behind West Main Street in Belleville. Police were nearby and responded to multiple 911 calls of gunshots within a minute, Eiskant said earlier this week.
Eiskant said the suspect and Hunt were friends, and were walking in the alley behind the 7600 block of West Main after 10 p.m. Sunday. The two decided to fire upon a home there, he said.
"Our victim and suspect were walking down the alley, walked up on a house unknown to them, and committed a crime," Eiskant said, by firing multiple rounds into the home. The home was occupied at the time, but no one inside was injured.
The teens were "staggered in their stances," Eiskant said, with Hunt somewhat in front of the suspect.
"And the suspect, Quantez Jones, struck the victim, Deveon Hunt, with a round of ammunition resulting in his death," Eiskant said.
The shooting death appears accidental, Eiskant said.
Kelly, the prosecutor, said that although Jones may not have been trying to shoot Hunt, he still can be charged with murder under Illinois' felony murder law. Under that law, a person can be charged with first-degree murder if he or she commits a felony, and a person dies during the commission of the felony. In this case, Kelly said, Hunt died while Jones was committing a felony — shooting at the house.
Eiskant said some details, such as where the teens acquired the guns, why they decided to shoot at that particular house, and what kinds of weapons they used, would be saved for trial.
Kelly declined to say more about the suspect.
"If he had a record, we could not talk about it. And if the victim had a record (as a juvenile), we could not talk about it," Kelly said.
Although Jones is 16, he has been charged as an adult. Defendants ages 16-18 who are charged with certain crimes, including murder, automatically have their cases handled in adult court.
The Major Case Squad of Greater St. Louis was activated the night of the shooting, and announced on Thursday morning that a suspect was in custody and the St. Clair County State's Attorney's office was reviewing a "lengthy" case.
"We dig into everything. It generates a lot of leads and a lot of reports," Eiskant said on Thursday. He said the public, including local businesses, had been very helpful during the investigation.
Hunt's father, Eric Deboe, earlier this week said his eldest son had worked at the KFC on West Main for two years. He had played football and ran track at school, but had stopped attending Belleville West.
"He started getting in trouble... with the law," his brother Sir Deboe told reporters earlier this week.
Hunt was on probation for the beating of a man in O'Fallon, for which he'd been found guilty of aggravated battery and mob action.
"I try to push all the kids to go into the military and get out of here," Eric Deboe said.
Hunt's killing was the first homicide inside Belleville city limits in 2017, according to police.
©2017 the Belleville News-Democrat (Belleville, Ill.)
McClatchy-Tribune News Service