Mass shootings at New Zealand mosques: 40 dead, 4 in custody
Police have reportedly defused multiple IEDs left on vehicles around the mosques
---
UPDATE 11:40 p.m. (PST):
According to the New York Times, 40 people were killed and over 20 were wounded in the mass shootings at two mosques. 
This is a breaking news update. Original story below.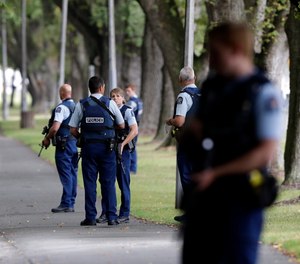 By Jule Scherer
dpa
WELLINGTON, New Zealand — Four people have been arrested including one woman following shooting attacks on two mosques in Christchurch on Friday, New Zealand Police Commissioner Mike Bush said.
Local media reported that as many as 30 people were feared dead after the shootings at the Masjid Al Noor mosque in central Christchurch and the Masjid mosque in the suburb of Linwood.
Bush would not confirm the death toll but called it "significant" and said there had been some "absolute acts of bravery" by police officers as they detained the suspects.
He also said "there were a number of IEDs (improved explosive devices) that were attached to vehicles that we stopped."
He said he could not comment "conclusively" on the motives of the attackers but said "it doesn't get any more serious."
"Let's not presume the danger has gone," he added.
Police earlier said there was extremely distressing footage of the attack at one mosque that has been published online.
"We would strongly urge that the link not be shared. We are working to have any footage removed," the statement said.
An extreme right-wing manifesto has also been released under the same name as the footage on other social media sites.
In it the person claims to be a 28-year-old Australian man from a working class family.
Prime Minister Jacinda Ardern said it was one of New Zealand's "darkest days."
"This is an extraordinary and unprecedented act of violence," she told reporters.
"Many of the people affected by this act of extreme violence will be from our refugee and migrant communities," she said. "New Zealand is their home. They should be safe here."
The prime minister was speaking from the city of New Plymouth and said she would fly back to Wellington immediately to hold emergency meetings with national security agencies.
After an initial lockdown on schools across the city, police hours later said it had been lifted.
"We would like to reassure members of the public that there is a large police presence in the city and the safety of the community is our priority," they said in a tweet.
The city's hospital was also earlier put in total lockdown. "All appointments have been canceled this afternoon, and no staff or patients are to enter or leave the building," the hospital said in a statement.
Several hundred people had been at Al Noor mosque for Friday prayers when the attack began, witnesses told local media.
Ahmad Al-Mahmoud told Stuff the shooter was white-skinned, blond, quite short and wearing a helmet and a bulletproof vest.
He reportedly had an automatic gun and emptied at least two magazines.
Bangladeshi cricketer Tamim Iqbal said that the entire national team had been at the mosque.
"Entire team got saved from active shooters!!! Frightening experience and please keep us in your prayers," he wrote on Twitter.
Farhaan Farheez was in the Linwood Mosque praying with about 100 others when the shooting there started.
"I didn't know what a gun sounded like. It is customary when we are praying not to pay attention to the outside world … ," he told news website Stuff. "Gunshots kept happening and people kept praying."
"I saw two females and four or five males dead and the rest were severe casualties … The whole mosque was filled with blood and dead bodies. It was like a battlefield," he added.
Australian Prime Minister Scott Morrison said reports of the deadly shootings "horrified" him.
"The situation is still unfolding but our thoughts and prayers are with our Kiwi cousins," he tweeted.
New Zealand's last mass shooting was in 1990 when David Gray shot 13 people in the Aramoana massacre.
©2019 Deutsche Presse-Agentur GmbH (Hamburg, Germany)
McClatchy-Tribune News Service