Drug runners, mini-subs, and maritime law enforcement
Most cops consider the idea of submarines operating off their beaches to be an obscure possibility — it's certainly not commonplace! — but drug runners are getting more and more creative
---
When I first entered U.S. domestic maritime law enforcement, I never expected to face the prospect of submarines in my patrol areas. However, like many preconceived notions I may have held back then, it was recently proven wrong. Furthermore, if the recent discoveries by DEA, Customs, and U.S. Coast Guard officials are to be believed, there is a distinct possibility that your PD will soon have a need for "sub patrol."
My personal experience began while performing what I usually think of as a routine administrative function of my current position — the review of Special Activity Permit applications. These are simply written requests for permission to conduct activities which either require the use of property under the control of my agency or present the potential for disrupting the normal use of a particular body of water. Generally, these requests involve races, regattas, on the water fireworks displays, and the like. However, a few seasons ago I found myself reviewing a request by a group of builders wishing to use a nearby lake as the site for a submarine builders' convention.
Subs In The Lake? You Can't Be Serious!
At first I wondered if this may have been a joke being played by a fellow officer. I had never heard of people making homemade submarines, and certainly did not believe there were enough people interested in such a thing to require a convention. But the more I looked into it, the more I realized that not only was this legitimate, it was also a largely-ignored aspect of maritime enforcement.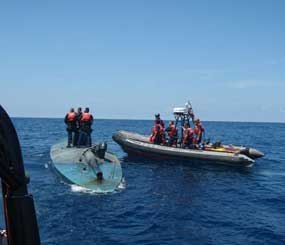 During the course of reviewing the permit I spoke to the sponsor who informed me that the vessels were true submarines capable of submerged travel, rather than submersible diving craft or semisubmersibles which are actually low profile boats. Furthermore, they were largely homemade by individuals from a variety of backgrounds — not just bored engineers looking for a weekend escape. I was even directed to a website through which similar submarine enthusiasts could communicate and share tips.
Many jurisdictions consider the idea of homemade submarines operating off their beaches to be obscure possibility. Rightly so, I suppose — it's certainly not commonplace! So how does this bizarre, isolated incident affect you? The answer to that is two fold. First, during my research I found that very few jurisdictions have any regulations addressing the issue. That can be — and probably should be — addressed by your local lawmakers. Second, in recent months, the idea of homemade submarines has grown past worrying about weekend enthusiasts and into the realm of homeland security and drug enforcement.
Although officials from the DEA, USCG and Customs had long heard rumors about potential smugglers attempting to build mini subs as a possible means of circumventing boarder patrols, the idea was generally dismissed. Many officials believed that the equipment and expertise needed to construct a submarine was difficult for the cartels to obtain. Even if they did manage to build such a craft, the possibility of successfully navigating one from South America to the United States coastline was considered slim at best.
Bigfoot's Big Splash
That changed in 2008, when officials interdicted a craft unlike any they had seen before — a semi submarine they dubbed "Bigfoot" — laden with cocaine — some 90 miles of the coast of Costa Rica. The rumors had become a real threat. Since that first interdiction, officials have uncovered several more craft of a similar design, both at sea and while under construction in the jungles of South America.
One such craft, which the Houston Chronicle reported was discovered in an Ecuadorian jungle ship yard, was approximately 73 feet in length and capable of fully-submerged travel. Although the cost of such a craft was estimated to exceed $5 million, it was also estimated that it was capable of carrying approximately $100 million worth of cocaine and could not only make it to the U.S. but also return to South America for additional loads.
U.S. officials took the threat serious enough that they lobbied Congress for laws which would make the operation of such craft both illegal and the subject of stiff penalties. In 2010 Congress passed, and the President signed into law, the Drug Trafficking Vessel Interdiction Act.
Drug Trafficking Vessel Interdiction Act of 2008
Drug Trafficking Vessel Interdiction Act of 2008 — Title I: Criminal Prohibition — Amends the federal criminal code to impose a fine and/or prison term of up to 15 years for knowingly operating, attempting or conspiring to operate, or embarking in any submersible or semi-submersible vessel that is without nationality in, through, or from waters beyond the outer limit of the territorial sea of a single country or a lateral limit of that country's territorial sea with an adjacent country, with the intent to avoid detection. Grants extraterritorial federal jurisdiction over an offense under this Act.
Specifies that a claim of nationality or registry under this Act includes only: (1) possession on board the vessel and production of documents evidencing the vessel's nationality as provided in the 1958 Convention on the High Seas; (2) flying its nation's ensign or flag; or (3) a verbal claim of nationality or registry by the person in charge of the vessel.
Makes it an affirmative defense to a prosecution under this Act that a vessel operated at the time of a violation was: (1) a vessel of the Untied States or lawfully registered in a foreign nation; (2) classed by and designated in accordance with the rules of a classification society; (3) lawfully operated in a government regulated or licensed activity; or (4) equipped with and using an operable automatic identification system, vessel monitoring system, or a long range identification and tracking system. Specifies the documents required to conclusively prove an affirmative defense.
Directs the U.S. Sentencing Commission to promulgate or amend sentencing guidelines to provide adequate penalties for violating the criminal prohibition imposed by this Act.
Defines a "semi-submersible vessel" as any manned or unmanned watercraft constructed or adapted to operate with most of its hull and bulk under the surface of the water. Defines a "submersible vessel" as a manned or unmanned vessel capable of operating completely below the surface of the water.
Key components of this Act include:
1.) allowing prosecution of those who operate such craft regardless of whether or not narcotics are recovered, and,
2.) granting extraterritorial federal jurisdiction.
This allows prosecution even if the crew scuttles the submarine upon detection and permits officials to interdict the craft prior to their entering U.S. waters. More importantly, despite the Act's title, it addresses a secondary but growing concern – a fear that rather than narcotics these same submarines could be used to transport terrorists.
Defensetech.org, an online nation defense website, recently quoted a professor from the U.S. Naval War College as stating "The U.S. military is taking this threat very seriously and thinking through all the implications of this sort of platform." Navy Adm. Jim Stavridis, commander of the U.S. Southern Command, was also quoted as wondering, "Can you put a weapon of mass destruction in it?"
So, the question now becomes, "How will your nearby maritime enforcement unit adapt to this new threat?"