Inmate adds pig image to Vt. police cruiser decals
State police discovered the pig images Wednesday and believe they have been added to about 30 cruisers in the past year
---
Associated Press
MONTPELIER, Vt. — A Vermont prison inmate who makes stationery and license plates has gotten the best of the state police by adding the image of a pig to the state decal on their cruisers.
One of the spots on the cow in the state crest has been changed to the shape of a pig, a derogatory term for police. The 16-inch car door decals are made by prisoners in Windsor.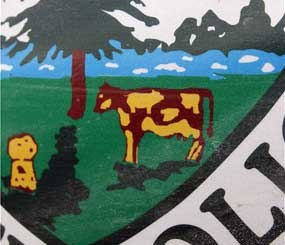 State police discovered the pig images Wednesday. They say they believe the decals have been added to about 30 cruisers in the past year.
Who made the modification and when is being reviewed by the Department of Corrections. Corrections Commissioner Andy Pallito said Thursday new decals will be made by Monday for about $800.
The Burlington Free Press newspaper first reported the pig decals.
Copyright 2012 Associated Press