Md. deputies, animal control officers rescue bald eagle after 45-minute chase
Two deputies and two animal control officers worked together to corner the injured bird
---
The Aegis, Bel Air, Md.
HARFORD COUNTY, Md. — Harford County Sheriff's deputies, Animal Control officers and a nearby citizen chased down an injured bald eagle in northern Harford County last week. The large bird is being treated at the Phoenix Wildlife Center in Baltimore County.
Deputies were called after the eagle flew into a vehicle traveling in the area of Route 165 and Old Pylesville Road around 10 a.m. Feb. 9. The driver of a vehicle reported the bird being struck.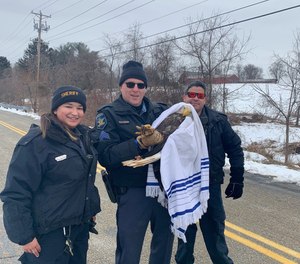 It took the responders — two deputies and two Animal Control officers — about 45 minutes to corner the eagle, with help from a citizen who was in the area, according to Cristie Hopkins, a spokesperson for the sheriff's office.
"The deputies and Animal Control officers who caught it were able to safely secure it so nobody was injured," Hopkins said.
The eagle apparently had an eye issue that cause it to fly into the car, she said. It broke its wing after being struck.
Kathy Woods, the executive director of the Phoenix Wildlife Center, confirmed the eagle had a broken wing and a detached retina, both on its right side.
"The wing will be wrapped for several weeks and then we will start physical therapy," Woods wrote in an email. "If he does well, we'll get the retina fixed by a veterinary ophthalmologist."
(c)2021 The Aegis (Bel Air, Md.)
McClatchy-Tribune News Service